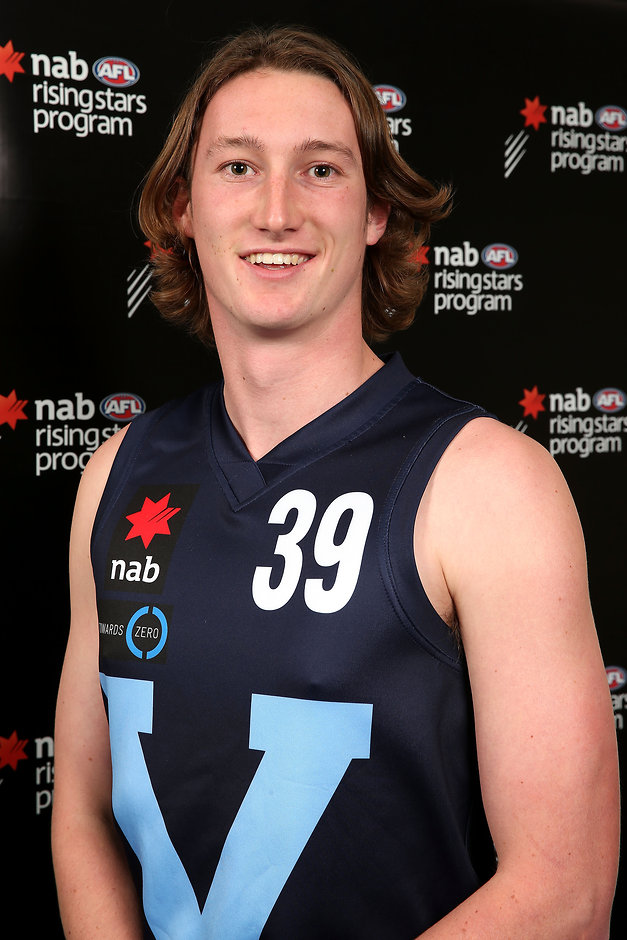 I don't know if mentor is the right word – he mucks around a bit and doesn't take everything too seriously, but when it's serious he gives me the right insight and guides the way for me
Lachlan Filipovic
LACHLAN Filipovic's quick rise onto an AFL list has been nothing short of outstanding.
Mentored by none other than Melbourne's 2016 All-Australian representative, ruckman, Max Gawn, Filipovic was the club's first pick in the recent NAB AFL Rookie Draft.
Claimed at No.8, Filipovic was drafted on the back of 40 to 50 games of football, after he started playing competitively in 2014.
Of Croatian heritage – his father played for Melbourne Knights and his grandparents came to Australia in the 1950s – Filipovic played soccer and basketball before turning his hand to footy. It wasn't until his mates kept at him to play that he thought "why not".
"I was tossing up between a few clubs and my good mates at Ormond said Max Gawn from Melbourne was coaching there so that was the selling point for me. I wound up at Ormond and within a year I was playing at the Sandy Dragons and then before I knew it, I was nominating for the draft and playing for Vic Metro and here I am," he told Melbourne TV.
"I grew up playing soccer – my dad was pretty keen on soccer, so I went through GoalKick and then picked up basketball when I was young as well.
"I made the decision between soccer and basketball and went with basketball when I was about 14 and then footy came into my life and the rest is history and basketball was out the window."
Filipovic said Gawn had been instrumental in his career and he couldn't wait to continue learning from him at Melbourne.
"Gawny was coaching at Ormond and I was just another one of his players," he said.
"All of the boys got along with him pretty well and had a similar relationship, but I think we moved into that deeper connection when I moved onto Sandy and he gave me a few pointers and then he came down helped out the Sandy boys and the ruckmen as well.
"I got some extra tips off him and then some good guidance from him leading up to the Draft and then the Rookie Draft.
Filipovic had a laugh when asked what Gawn was like as a mentor, but added that the 2016 All-Australian ruckman had the right balance between knowing how to have fun and when to be fair dinkum.
"I don't know if mentor is the right word – he mucks around a bit and doesn't take everything too seriously, but when it's serious he gives me the right insight and guides the way for me," he said.
"The cold nights at EE Gunn Reserve training for Ormond, if I wasn't training, we'd just have a chat about footy and what life was like for him as an AFL player and coming up against other ruckmen as well."
Reflecting on the day he was drafted, Filipovic said he was watching it unfold on his computer when he found out about his destination.
"It was a nothing day leading up to four o'clock [when the draft took place] – a bit of PlayStation and a bit of sitting around. All of my mates are on schoolies so there wasn't really much to do," he said.
"At 3.30pm, my heart really started pumping and at 3.55pm, I got the computer set up and had the draft tracker going. Richmond was at pick No.6 and I refreshed the page and sure enough there was my name, so it all went a bit crazy from there. I was on the phone to Dad all excited and it was a good afternoon.
"I thought that it was the best opportunity and the best outcome for me being at Melbourne with the relationship being there already with Gawny [Max Gawn] and my local team, so I was happy."
Filipovic thought his best chance of being recruited was in the NAB AFL Rookie Draft – not the main draft a few days prior.
"I thought I was a chance but I wasn't expecting to go in Friday's draft. I think everyone thinks they're a chance but I wasn't thinking that I was definitely going to go," he said.
"I was nervous watching it but I was also really happy for all my mates that went as well, more so than being worried about myself. Monday's Rookie Draft was when the real nerves hit.
"I had a few [clubs interested] but it really came down to two, which was Melbourne and one other. The other five were all looking to take ruckmen but probably weren't sure if they wanted me or someone else."
Despite not playing much football as a kid, Filipovic said he had always been a footy fan.
"I've always been into footy my whole life. It was just the decision to actually start playing it and take on the sport but I was always a footy-card nut and into SuperCoach and that sort of thing. I've always loved footy," he said.
"I was a Western Bulldogs supporter, unfortunately. We got the Grand Final this year but that doesn't matter now, it's Melbourne all the way."
Filipovic said his football career started getting serious last year.
"The turning point for me was playing futures in 2015 … because I came into my first Dragons pre-season late and didn't know a lot of the boys, so I thought I probably won't play this year but in round four I got a game," he said.
"I then got a letter in the mail from [Vic] Metro and AFL Victoria inviting me to partake in a future's game and that was really a turning point for me – [I thought] that I might be a shot at this.
"Going into the next year, I was a bit anxious about whether or not I'd make the initial Metro squad and I was lucky enough to."
In describing his style of ruck play, Filipovic said he was "a big mobile guy that really likes to follow up and get involved".
"I like to spread … tap the ball down and get involved initially and then boot off down there.
"I really like to crack in and get my hands dirty. I think that's my biggest asset as a footballer."