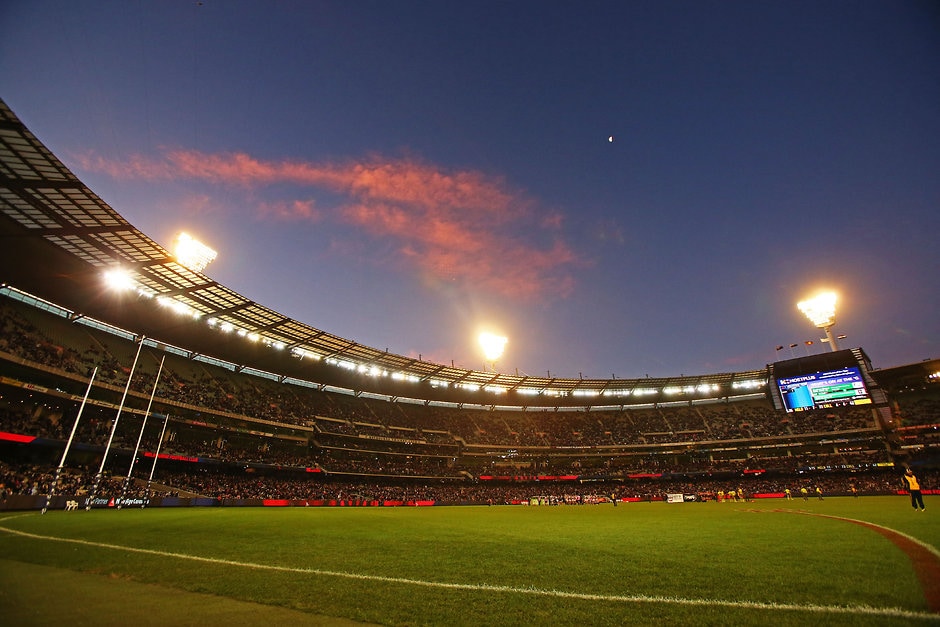 Overall it's a positive fixture for our members and supporters
Peter Jackson
MELBOURNE will play 12 matches at the MCG in 2017, after the AFL released next year's fixture on Thursday.
Among the highlights, Melbourne will:
Play the annual Queen's Birthday home match against Collingwood
Play an ANZAC Day Eve match at the MCG for the third consecutive season (note: it will be Richmond's turn to host next year's game)
Play a home Friday night match against the Sydney Swans in round 15
Play a home game against a big Victorian club (Carlton) early in the season in round two
Play new opponents in the Northern Territory (Gold Coast Suns at TIO Traeger Park, Alice Springs and the Adelaide Crows at TIO Stadium, Darwin)
Play no home matches at Etihad Stadium
Chief executive Peter Jackson said the club was pleased with the fixture.
"Overall it's a positive fixture for our members and supporters," he said.
"We wanted an early home game against a Victorian club and we are pleased that our home opener is against the Blues. It's been five years since we've hosted Carlton at the MCG and I know that our members will come out and support our first home game of the season against a traditional rival.
"We hoped for a long time that we would play all of our Victorian home games at the MCG we know that our supporters will be pleased with that outcome. The MCG is our home and a really significant part of our club and we are pleased that our Victorian home games will be played at the 'G, which will include our Friday night game against the Swans.
"The club again looks forward to partnering with Richmond for the ANZAC Eve game in round five. The game is now into its third year and is growing into an important event on the AFL calendar, with both clubs' supporter-bases embracing the significance of the occasion.
"We are partnered with the NT Government to play two games in the Northern Territory in 2017. While this deal is important financially for the club it will provide one of the highlights of the fixture, when we host the Suns in the centre of Australia during Sir Doug Nicholls Round, which will be a truly unique experience."
Melbourne will open its 2017 campaign against St Kilda at Etihad Stadium on Saturday, March 25 at 4.35pm. Its first MCG match will be in round two against Carlton on Sunday, April 2 at 3.20pm.
The red and blue only plays one top six team from 2016 twice next year: the Adelaide Crows.
Melbourne also plays North Melbourne, St Kilda and Collingwood twice in 2017 – three teams that finished in the middle six on the ladder this year.
Of the bottom six 2016 teams, it plays Carlton twice next year.
Its first seven rounds will be in Victoria, with four matches played at the MCG and three at Etihad Stadium.
Six of Melbourne's last nine home and away matches will be played at the 'G, including three in a row to conclude the season.
Its MCG home games are against Carlton (round two), Fremantle (round four), Hawthorn (round seven), North Melbourne (round nine), Collingwood (round 12), Sydney Swans (round 15), Port Adelaide (round 18), St Kilda (round 21) and Brisbane Lions (round 22).
Melbourne will play two home matches in the Northern Territory against the Gold Coast Suns at TIO Traeger Park (round 10) and the Adelaide Crows at Darwin (round 17).
It will play its away games against St Kilda (round one, Etihad Stadium), Geelong Cats (round three, Etihad Stadium), Richmond (round five, MCG), Essendon (round six, Etihad Stadium), Adelaide Crows (round eight, Adelaide Oval), Western Bulldogs (round 13, Etihad Stadium), West Coast Eagles (round 14, Domain Stadium), Carlton (round 16, MCG), North Melbourne (round 19, Blundstone Arena), GWS Giants (round 20, Manuka Oval) and Collingwood (round 23, MCG).
Melbourne's first non-Victorian match will be in round eight against the Adelaide Crows at Adelaide Oval on Saturday, May 13 at 7.10pm. It will play outside of Victoria six times in 2017, with those matches occurring from rounds eight to 20.
It will play six non-Victorian games next year: two in the Northern Territory, one in the Australian Capital Territory, a game in South Australia, a match in Tasmania and another in Western Australia.
The red and blue has back-to-back travel in rounds 19 and 20, when it plays North Melbourne at Blundstone Arena in round 19 and GWS Giants at Manuka Oval in round 20.
Melbourne has eight six-day breaks, which includes two after travel, two back-to-back six-day breaks and two against teams that are also coming off six-day breaks.
It has one Friday night appearance, 10 Saturday games (three early, one afternoon, three twilight and three night), eight Sunday matches (three early and five afternoon) and two Monday fixtures (one afternoon and one night).
Melbourne's bye will come in round 11 and its last home match for the season is round 22. Round 23 is again a floating fixture and will be confirmed closer to the date next year.
Nine Melbourne matches will be broadcast on Channel Seven and 12 on Fox Footy.
In regards to Melbourne membership details, there are 16 Melbourne-based home and away games that eligible members can attend.
With no home game at Etihad Stadium in 2017, there will be nine home games and two replacement home games at the MCG. This is a great result for all club members.
Melbourne will have two replacement games for its two Northern Territory home matches. All Melbourne members will be able to attend these replacement games.
Details of those two matches will be announced in the coming weeks.
Sync our 2017 fixture to your calendar: https://bit.ly/1p8bbYF
Melbourne's 2017 fixture
Round 1 - Saturday, March 25 v St Kilda, Etihad Stadium (Away) - 4.35pm, Foxtel
Round 2 - Sunday, April 2 v Carlton, MCG (Home) - 3.20pm, Seven
Round 3 - Saturday, April 8 v Geelong Cats, Etihad Stadium (Away) - 4.35pm, Foxtel
Round 4 - Saturday, April 15 v Fremantle, MCG (Home) - 1.45pm, Foxtel
Round 5 - Monday, April 24 v Richmond, MCG (Away) - 7.25pm, Seven
Round 6 - Sunday, April 30 v Essendon, Etihad Stadium (Away) - 1.10pm, Foxtel
Round 7 - Sunday, May 7 v Hawthorn, MCG (Home) - 3.20pm, Seven
Round 8 - Saturday, May 13 v Adelaide Crows, Adelaide Oval (Away) - 7.10pm, Foxtel
Round 9 - Sunday, May 21 v North Melbourne v MCG (Home) - 3.20pm, Seven
Round 10 - Saturday, May 27 v Gold Coast Suns, TIO Traeger Park (Home) - 4.05pm, Foxtel
Round 11 - Bye
Round 12 - Monday, June 12 v Collingwood, MCG (Home) - 3.20pm, Seven
Round 13 - Sunday, June 18 v Western Bulldogs, Etihad Stadium (Away) - 3.20pm, Foxtel
Round 14 - Saturday, June 24 v West Coast Eagles, Domain Stadium (Away) - 5.40pm, Seven
Round 15 - Friday, June 30 v Sydney Swans, MCG (Home) - 7.50pm, Seven
Round 16 - Sunday, July 9 v Carlton, MCG (Away) - 3.20pm, Seven
Round 17 - Saturday, July 15 v Adelaide Crows, TIO Stadium (Home) - 7.10pm, Seven
Round 18 - Saturday, July 22 v Port Adelaide, MCG (Home) - 2.10pm, Foxtel
Round 19 - Saturday, July 29 v North Melbourne, Blundstone Arena (Away) - 1.45pm, Foxtel
Round 20 - Saturday, August 5 v GWS Giants, Manuka Oval (Away) - 1.45pm, Foxtel
Round 21 - Sunday, August 13 v St Kilda, MCG (Home) - 1.10pm, Foxtel
Round 22 - Sunday, August 20 v Brisbane Lions, MCG (Home) - 1.10pm, Foxtel
Round 23 - Day and date (TBC) v Collingwood, MCG (Away) - Time and broadcaster TBC