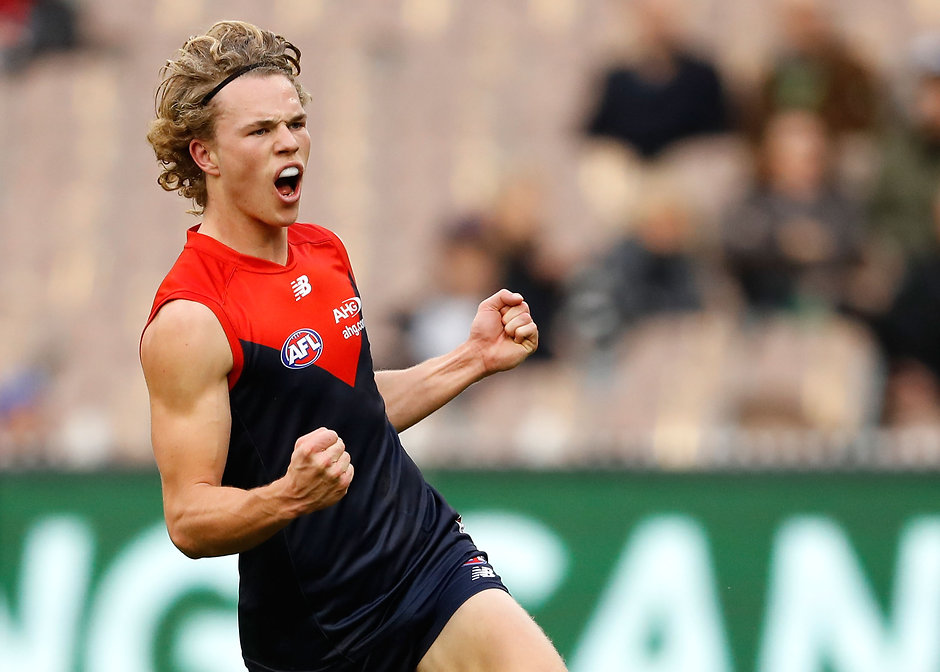 I get on with him (Andrew Moir) really well; he's living in Tassie at the moment
Jayden Hunt
JAYDEN Hunt says his close family ties and their love of football plays an important part in his game.
Hunt's great uncle Harold Rumney played in Collingwood's famous four premierships from 1927-30 and his uncle Andrew Moir played 73 games for Melbourne from 1977-81.
The 21-year-old said it was a great to wear the No.29 jumper – the same as what Moir wore at Melbourne.
"I get on with him (Moir) really well; he's living in Tassie at the moment," he said.
"I got his number which he was really happy about. Whenever I talk to him, I get on really well. His brothers, my sister and cousins are big Melbourne fans so we've got a family group.
"I don't like all of the attention in the family but I love the support they give me. All they want is the best for me and they're super excited about what's happening."
Hunt said it family was a blend of Melbourne and Collingwood supporters, given the history of Rumney and Moir. But since Hunt joined the red and blue, there has also been some changes.

"With mum's side of the family, which is Andrew's side, it's all pretty much Melbourne now, but Dad was one of nine [kids] and they all pretty much go for Collingwood because of Harold Rumney who was my great-great uncle," he said.
"Dad has actually somehow transferred over to the Dees, which I would never have thought in my wildest imagination that he would transfer.
"Slowly they're taking more interest but there are still some strong Collingwood fans in the family, so it's quite funny.

Hunt said he was proud of his family's football heritage. And if things had have turned out differently, Hunt's dad could've been a Saint.
"Dad left his run a bit too late – he was like me, he grew really late," he said.
"St Kilda actually asked him to train one day and they thought he was like me, a bit of a baby face and they thought he was about 21 or something and they found out on his birth certificate that he was 28 so they said "nope" and flicked him off.
"It's quite funny that he actually had a chance but he was kind of lying about his age."