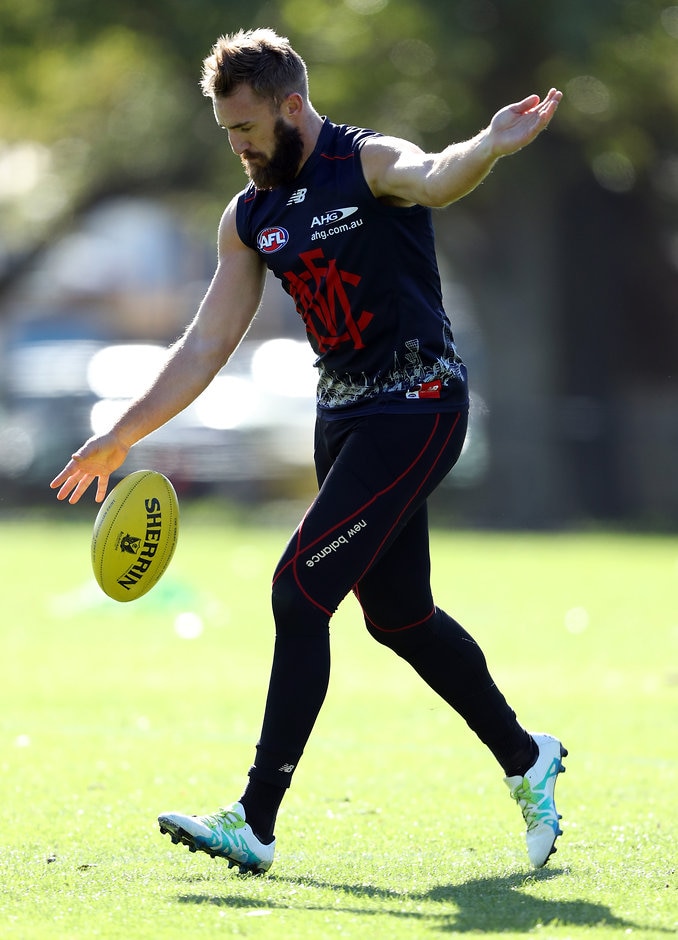 He (Dunn) just tweaked a hammy late in the first quarter – not a bad one, but he'll probably [be available] after the bye
Dave Misson
KEY defender Lynden Dunn (hamstring) will miss the next two to three matches and rookie Joel Smith (groin) will be sidelined for the next six weeks.
Elite performance manager Dave Misson confirmed the duo would be out until after the AFL's mid-season bye in late June.
"He (Dunn) just tweaked a hammy late in the first quarter – not a bad one, but he'll probably [be available] after the bye," he told Melbourne TV.
"Joel's got some groin [issues] and being a young player and a very athletic player who we've got high hopes for, we're going to take a bit of time with him (Smith).
"He's probably going to be four to six weeks I reckon until we get him right."
Midfielder Angus Brayshaw and rebounder Heritier Lumumba, who have both been out with concussion, were progressing well, although they are on different timeframes, according to Misson.
"Gus actually did a bit of training today (Thursday) without contact and he'll do a bit of contact on Saturday and we expect him to play in the VFL next week," he said.
"'H' is slowly coming back into activity and he did a little bit of work with the boys today and he'll continue to do that, but it's probably hard to put a timeframe on him at the moment.
Misson said half-back Christian Salem was "going ok", as he overcomes an illness.
"We're hoping that it's going to turn around over the next week or so," he said.
"He's probably three or four weeks away I reckon."
As announced by coach Paul Roos earlier on Thursday, tough-nut Jack Viney is set to be named in the 25-man squad for Monday's Queen's Birthday clash against Collingwood.
But Misson said Viney still needed to overcome some hurdles.
"We need him to train fully on Saturday, but sometimes injuries get determined by the person, and the person's attitude that we're talking about is pretty solid, so we're hopeful," he said.
"He's got a fair few boxes to tick, before he gets cleared to play."
Melbourne injury list: round 12
Angus Brayshaw (concussion) – 1 week
Lynden Dunn (hamstring) – 2-3 weeks
Heritier Lumumba (concussion) – indefinite
Christian Salem (illness) – 3-4 weeks
Joel Smith (groin) – 6 weeks
Jack Viney (knucklebone) – test