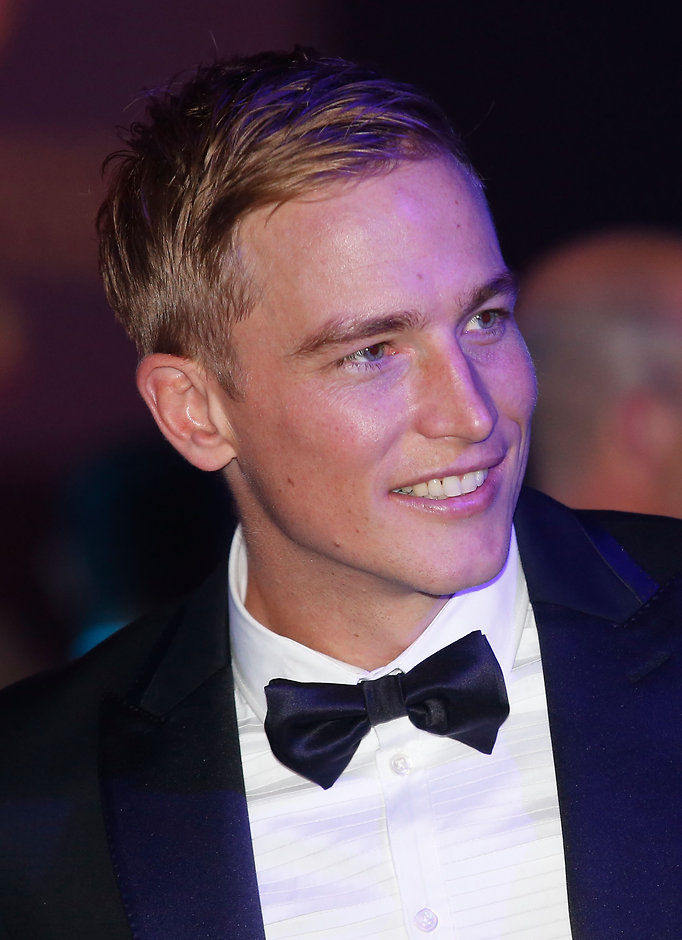 MIDFIELDER Bernie Vince has, as expected, topped Melbourne's votes at this year's Brownlow Medal count.
Although Vince was regarded a genuine smoky entering this year's Brownlow, he was the favourite to poll the most votes for Melbourne.
He polled 14 votes to finish 16th overall.
Fremantle's Nat Fyfe (31 votes) was this year's winner of the Brownlow Medal, ahead of last year's winner, West Coast's Matt Priddis (28) and Hawthorn's Sam Mitchell (26).
Vince had an outstanding 2015, winning his second club best and fairest award, taking home the Keith 'Bluey' Truscott Memorial Trophy earlier this month.
In the process, he became the 19th player in VFL/AFL history to win a club champion award at two clubs, having won the Malcolm Blight Medal with Adelaide in 2009.
Although he was surprisingly left out of the 40-man All-Australian squad, the AFL coaches thought otherwise, naming Vince in this year's AFLCA All-Australian team.
Skipper Nathan Jones (10 votes) was Melbourne's next best behind Vince. Jones finished 28th overall. This year's 2015 NAB AFL Rising Star winner Jesse Hogan finished with five votes. Ruckman Max Gawn was next with four votes and three Demons – Jeremy Howe, Aaron vandenBerg and Jack Viney – polled three votes each. Surprisingly, key defender Tom McDonald didn't poll a vote.
Melbourne's Brownlow Medal winners are: Ivor Warne-Smith (1926 and 1928), Don Cordner (1946), Brian Wilson (1982), Peter Moore (1984), Jim Stynes (1991) and Shane Woewodin (2000).
2015 Melbourne Brownlow Medal votes: round-by-round
Round 1: Melbourne v Gold Coast Suns, MCG
3. N.Jones (Melb), 2. J.Viney (Melb), 1. D.Presita (GCS)
Round 2: Greater Western Sydney v Melbourne, StarTrack Oval
3. C.Ward (GWS), 2. S.Mumford (GWS), 1. S.Coniglio (GWS)
Round 3: Adelaide Crows v Melbourne, Adelaide Oval
3. S.Thompson (Ade), 2. R.Sloane (Ade), 1. D.Mackay (Ade)
Round 4: Richmond v Melbourne, MCG
3. N.Jones (Melb), 2. B.Vince (Melb), 1. S.Edwards (Rich)
Round 5: Melbourne v Fremantle, MCG
3. N.Fyfe (Fre), 2. D.Mundy (Fre), 1. C.Mayne (Fre)
Round 6: Melbourne v Sydney Swans, MCG
3. T.Mitchell (SS), 2. J.Kennedy (SS), 1. K.Tippett (SS)
Round 7: Hawthorn v Melbourne, MCG
3. J.Roughead (Haw), 2. S.Burgoyne (Haw), 1. S.Mitchell (Haw)
Round 8: Melbourne v Western Bulldogs, MCG
3. A.vandenBerg (Melb), 2. J.Hogan (Melb), 1. N.Jones (Melb)
Round 9: Melbourne v Port Adelaide, TIO Traeger Park
3. R.Gray (PA), 2. B.Ebert (PA), 1. T.Boak (PA)
Round 10: Melbourne v Collingwood, MCG
3. T.Cloke (Coll), 2. B.Vince (Melb), 1. N.Jones (Melb)
Round 11: St Kilda v Melbourne, Etihad Stadium
3. L.Montagna (St K), 2. J.Hogan (Melb), 1. B.Vince (Melb)
Round 12: Geelong Cats v Melbourne, Simonds Stadium
3. M.Gawn (Melb), 2. B.Vince (Melb), 1. S.Motlop (Geel)
Round 13: Bye
Round 14: Melbourne v West Coast Eagles, TIO Stadium
3. J.Darling (WCE), 2. C.Masten (WCE), A.Gaff (WCE)
Round 15: Essendon v Melbourne, MCG
3. B.Stanton (Ess), 2 J. Daniher (Ess), 1. B.Vince (Melb)
Round 16: Melbourne v Brisbane Lions, MCG
3. J.Hogan (Melb), 2. J.Howe (Melb), 1. J.Viney (Melb)
Round 17: Melbourne v St Kilda, MCG
3. N.Riewoldt (St K), 2. S.Dempster (St K), 1. J.Viney (Melb)
Round 18: Collingwood v Melbourne, MCG
3. B.Vince (Melb), 2. D.Swan (Coll), 1. M.Gawn (Melb)
Round 19: Melbourne v North Melbourne, MCG
3. S.Higgins (NM), 2. T.Goldstein (NM), 1. N.Dal Santo (NM)
Round 20: Western Bulldogs v Melbourne, Etihad Stadium
3. L.Dahlhaus (WB), 2. R.Murphy (WB), 1. L.Hunter (WB)
Round 21: Carlton v Melbourne, MCG
3. M.Kreuzer (Carl), 2. P.Cripps (Carl), 2. 1. A.Walker (Carl)
Round 22: Fremantle v Melbourne, Domain Stadium
3. D.Mundy (Fre), 2. L.Neale (Fre), 1. D.Pearce (Fre)
Round 23: Melbourne v Greater Western Sydney, Etihad Stadium
3. B.Vince (Melb), 2. N.Jones (Melb), 1. C.Ward (GWS)
2015 Melbourne Brownlow Medal tally guide
16th – Bernie Vince – 2, 2, 1, 2, 1, 3, 3 (total 14)
28th – Nathan Jones – 3, 3, 1, 1, 2 (10)
70th – Jesse Hogan – 2, 2, 1 (5)
81st – Max Gawn – 3, 1 (4)
96th – Jeremy Howe – 3 (3)
Aaron vandenBerg – 3 (3)
Jack Viney – 2, 1 (3)