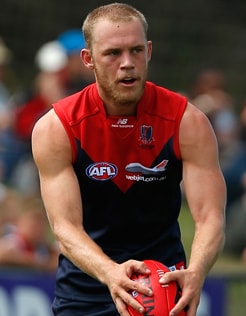 As a 17 year-old, going from a country farm into the big smoke – there's that much going on around your head [and you're] taking it all in. Now I know what to expect and I know what to take on board.
Dean Terlich
IF YOU'RE a hardcore footy nut or Sydney Swans supporter, you would've done well to recognise the name Dean Terlich, selected by Melbourne at No. 68 in last year's NAB AFL Draft.
That the New South Welshman hadn't been in the AFL for four seasons and is back in the competition was a credit to the now 23 year-old – and for those who remembered he was a former Sydney rookie in 2008.
Yet, after a fine 2012 with Norwood in the SANFL – he won the Jack Oatey Medal for his best-on-ground performance in last year's premiership – Terlich gained his second crack at the big time.
And this time he was ready.
"It's worlds apart," Terlich told melbournefc.com.au, when reflecting about the differences between his time at Sydney to now.
"Going from a country farm into the big smoke – there's that much going on around your head [and you're] taking it all in. Now I know what to expect and I know what to take on board.
"[With the] young boys like Jimmy Toumpas and Jesse Hogan, I try and support them as much as possible, because it's a big step up and it takes time to adjust."
Terlich's message is a timely reminder to all about the demands and expectations to make it at the highest level.  
Although he was delisted after one season with the Swans – he didn't play an AFL match and spent that year in the AFL Canberra competition – Terlich didn't give up hope of having another crack at the big time. So he headed to Norwood, which kick-started his revival and his return to the AFL.
"There was always that hope, but you never really expect it. There is never a guarantee in football," he said.
"My first year out of the system, I trained with Port [Adelaide] for a rookie spot and I missed that one. I thought that was a good opportunity that I missed, and I thought the light was starting to fade a bit.
"I had a couple of mates from country NSW, who were playing for Norwood and they were a really great club. They were down the bottom, but had a great culture and great history, so I wanted to help [them] work back up.
"[Last year] I put a really good year together and I moved down back at Norwood. Halfway through the year, I had a couple of interviews with clubs … and now I've got another opportunity and I'm really enjoying it."
Originally from Henty, a south-west New South Wales township almost halfway between Albury and Wagga Wagga, Terlich's family has a rich history in the region.
The Terlichs emigrated from Germany to the Barossa Valley. They then settled a small community town called Pleasant Hills, which has a post office, pub and a population of roughly 29 people today.
Terlich's Mum is from nearby Yerong Creek, which, along with another neigbouring town, forms one of the great footy club names going around: the Rock-Yerong Creek Football Netball Club.
Terlich played his junior football with local club Osborne, a team St Kilda's Adam Schneider played with before he became a premiership player with the Sydney Swans in 2005. But Terlich and Schneider just missed playing with each other at the Swans, as he explained.  
"By the time I got there and started playing my footy, he was gone from Sydney and we've crossed paths every now and then and said 'hello'," he said.
"The year I got there, he went to St Kilda, so I was there with him for about a week, I reckon."
Terlich's football journey to the Swans was also via the Murray Bushrangers, which involved a "fair bit of travelling": two and a half hours and back once a week for training to be exact.
After being drafted from the Bushies by the Swans – at No. 61 in the December 2007 NAB AFL Rookie Draft – Terlich headed for the SANFL.
There, he played 72 matches with Norwood before the Demons called.
His story – from a Redleg to the AFL – continued a good recent stint of older draftees from Norwood joining the AFL.
"There are a few Norwood boys over here now – [Hawthorn's] Paul Puopolo and [Carlton pair] Nick Duigan and Sam Rowe – all mature-agers," he said.
"In fact, I had a barbecue with Sam last weekend."
Despite his return to the AFL, Terlich has already set his sights on the future. He is undertaking a business degree, and has pinpointed where he will utilise his skills.
"I got into viticulture and winemaking, so that's the next plan," he said.
"I want to finish this business degree off and get into winemaking and hopefully end up back in the Barossa or Adelaide Hills – there are some good wineries over there."
But for the moment, Terlich is determined to make the most of his time at Melbourne, after learning plenty from his Sydney experience.
"It's [been] a help. I'm a bigger body [now] and I'm stronger. It's about knowing yourself," he said.
"When you're a 17 year-old, you're trying to make an impression all the time, and sometimes you push your body too far and that's when accidents can happen. But when you're a 23 year-old mature-ager, you know when to pull things up a bit."
Terlich has played three NAB Cup matches against Richmond, Port Adelaide and St Kilda so far this year, and is in the squad for Saturday's clash against the Gold Coast Suns at Southport. He caught the eye in particular against the Power and Saints with his rebound and attack out of defence.  
The mid-sized defender, who previously played much of his career throughout the midfield and up forward, said his divisional coach, Jade Rawlings, had given him the confidence and licence to back his own game.  
"When they drafted me, they said that they needed someone to run and carry the ball and distribute with good skills out of the backline," he said.
"They said I fitted that role really well, and they're happy with my skills. The biggest thing for me to work on is defending, because I've been forward for seven or eight years of football and I've had one year as a defender, so it's a big change.
"I'm still learning a lot and there is a lot to take on board, but the coaches have been really good. Twig (Jade Rawlings) and Daniel Nicholson have been really good. He's taken me through one-on-one defender and drop ball defending."
Having undertaken his first pre-season with the Demons, Terlich said he was quietly confident about 2013.
"I think the boys are going to surprise a few people this year," he said.
"We've had a really good pre-season – everyone. Coming into the system, you realise how much hard work is going in behind the scenes that people don't see. I think it's going to leave the boys in really good stead.
"We're a really young group, but [I'm] looking forward to this year and the future years – we'll surprise a few people."
And so might Terlich.