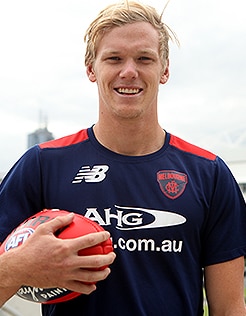 ROOKIE Josh Wagner will make his AFL debut against North Melbourne at Blundstone Arena on Sunday.
Wagner, 21, was told on Thursday afternoon that he would be in Melbourne's round three side for its inaugural clash at Bellerive Oval – the club's first game in Tasmania since 1952.
"I was just in the gym and Misso (Dave Misson) came down and got me and said 'Roosy (Paul Roos) wants to see you' and I found out then, when Roosy told me," he told Melbourne TV.
"It was good [to be told the news] and I couldn't wipe the smile off my face the whole time. I wasn't really expecting it this week, but I played a few NAB [Challenge] games and last weekend, and had a crack and it paid off.
"I've never been there before [to Tasmania]. It's good again – it's another adventure."
Wagner, who was the sixth player selected in last November's NAB AFL Rookie Draft, said he had completed "a lot of hard work" since joining Melbourne from Queensland club Aspley.
"It's very different to Queensland footy and I thought I adapted well, but I'm still trying to work hard and trying to improve again. It's a bit different to a full-time job," he said.
"You work hard and you get rewarded for it. You get all of your massages and your rest, so it's a bit different, but I like it.
"I'd say I'd just be playing in the backline, like what I've been doing all pre-season. I don't think it'll change much."
Wagner, whose brother Corey was selected by North Melbourne at No.43 in last year's NAB AFL Draft, said he would love to come up against his younger sibling. But at this stage, Corey hasn't been selected for the match.
"We don't actually talk much footy really – we just talk about surfing outside of footy," he said with a smile.
"He'll get his chance soon – he's going well."
But as soon as he Wagner found out about his selection, he was on the phone to his parents.
"They'll be down there on the weekend," he said.
Wagner added that teammate Aaron vandenBerg had inspired him to be promoted from the rookie to senior list in his first season.
"I looked up to Vanders as soon as I got here. I knew his story, so I wanted to do the same thing and you can tell why he's on an AFL list – he works hard," he said.


Josh Wagner will play his first game this week for the Melbourne Football Club (Photo: Matthew Goodrope)