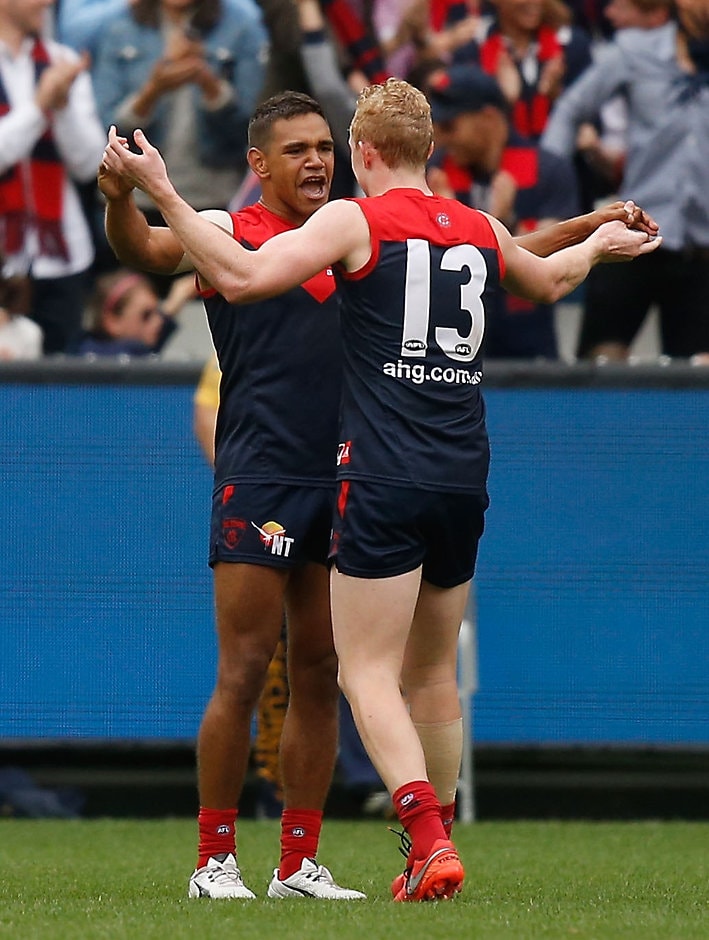 NAB AFL Rising Star nominee Clayton Oliver says playing a role in Melbourne's round one win was a "surreal" experience.
The young midfielder collected 22 disposals, including 15 contested possessions, and had seven clearances in the win over GWS Giants.
Oliver, who went from a player left out of the Victoria Country squad to Melbourne's first draft pick (no. 4 overall), said it had been an exciting journey to his first game of AFL football.
"I can't really believe it… it's just a bit surreal to be honest," he said.
"I didn't think I'd be playing AFL at all or getting drafted, let alone playing round one, so I'm pretty happy."
Oliver made a big impression in the first half of the game against the Giants, racking up 15 early disposals to make his mark through the midfield.
The 18-year-old said development coach Brendan McCartney and his teammates had given him some good advice ahead of his AFL debut.
"Macca, my development coach, told me to just 'see ball, get ball' and as long as you play your role, you can do that as well," Oliver said.
"[My teammates] pretty much told me to just treat it like another game and just go out there and play your role and do your bit, and the rest will take care of itself."
Oliver said he'd learned a lot from his older teammates in his first pre-season at Melbourne.
"I've looked up a fair bit to Neville Jetta," he said.
"He's been pretty good after training just helping me with my tackling [and] we've been kicking a bit after training.
"I've also been watching the older boys like Bernie Vince and Nathan Jones and even Jack Viney now as well, they're the ones to watch at training, just see what they do and learn off them."
Oliver said having pushed through his first AFL pre-season without injury, he was taking a week-by-week approach to his football.
With Melbourne now in its third season under Paul Roos, the midfielder said it was an exciting time to have joined the club.
"Roosy's been saying we've been working on this game plan for the past two years and it's all coming together," Oliver said.
"I guess I'm just lucky to be here at the start of the journey and I think if we just carry on like that for the whole year, we should be good."