SANTA Monica pier is only a few torpedo punts away, with its famous roller coaster and ferris wheel sparkling in the Sunday morning sun as tourists survey the local attractions.
Meanwhile, the NAB AFL Academy is lined up on the bike track overlooking the Los Angeles beach for the final session of its two-week training camp in America.
Jy Simpkin's tour diary, part one
Jy Simpkin's tour diary: part two
Jy Simpkin's tour diary: part three
During the light skills run under the direction of head coach Brenton Sanderson, balls spill onto the running track, and the players attract quizzical looks from locals.
"Hey, it's the Springboks!" one runner shouts as he goes by, only to be informed of the team's Australian origins. When he runs back 30 minutes later, he obliges with an 'Aussie, Aussie, Aussie' chant that catches some players by surprise.
This was only one of many new and varied experiences for the 34 teenagers during their high performance camp in the US, which started in Orlando, continued in Tampa and ended in LA last weekend.
The trip was designed to reflect an AFL club's weekly program, and the sprawling IMG Academy (set over 450 acres) was the boys' base in Bradenton, Florida. It is a private athletic training centre for youth, high school and professional athletes, and costs around $80,000 a year for each student.
On their first morning at IMG, the draft hopefuls went through a "four-quarter" conditioning session, consisting of a 3km time-trial, a body weight circuit, speed running and hill sprints.
Victorian Josh Battle, who wasn't in the level one group that travelled to New Zealand last year, won the time trial and performed well across the day. It was fortunate he did; he hurt a quad muscle afterwards and was limited during training thereafter.
"I wanted to make a good impression early and had done a fair bit of training with my running," Battle said. "It was pleasing to go well."
Each player entered the camp with different aims and from different places. Most are yet to turn 18, but many have already moved from home to pursue their footy ambitions.
Brandan Parfitt shifted to Adelaide from the Northern Territory and has already experienced senior football in the SANFL, while Sam Petrevski-Seton – originally from Halls Creek in Western Australia – spent time in Sydney as a young teenager and now lives in Perth.
Northern Territory midfielder Brandan Parfitt shows his skills. Picture: AFL Media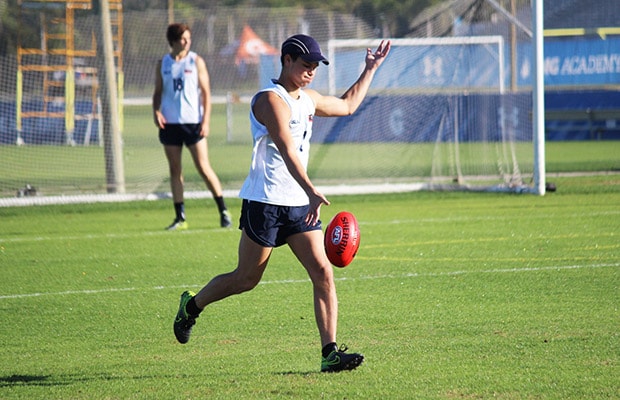 Will Setterfield took a chance at Caulfield Grammar having grown up in Albury, and Kobe Mutch, whose mum shares a business with Taylor Walker's mum in Broken Hill, saw his footy would benefit by getting closer to the Bendigo Pioneers - so packed his bags and moved there.
Jack Bowes left Cairns at the end of 2014 and started year 12 at a new school on the Gold Coast so the academy product could spend more time at the Suns, while potential GWS academy pick-up Harrison Macreadie starts at The King's School in Sydney this week having grown up in Henty in country New South Wales.
"I've had a few dreams about changing schools – some good and some bad – but it should be OK," Macreadie said.
Jy Simpkin and Will Brodie would know what's going through his mind. Both left county Victoria to head to Scotch College in Melbourne. They had known each other for years in the Mooroopna and Shepparton regions and been rivals for most of that time, but were inseparable on tour.
Victorian midfielder Will Brodie gives his all during the hills sprints session at the IMG Academy in Florida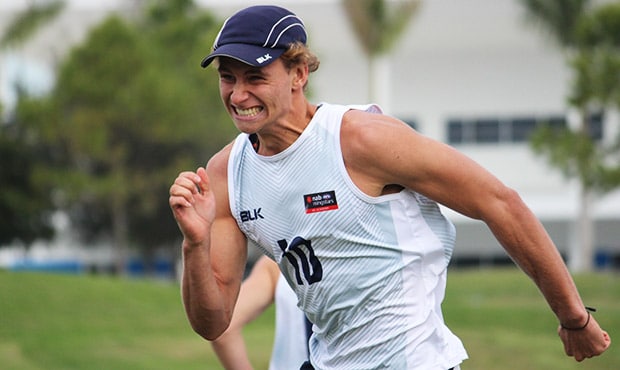 "It's good to live with someone who is going through thesame things, and we train together all the time," Simpkin said. "I know if I beat him at something he will train, train and train until he gets me the next time."
Nobody had come further than Tony Olango, who has Sudanese parents, was born in Kenya, migrated to Darwin when he was two and travelled to Scotland two years ago to try out for Glasgow Rangers soccer team.
Some already had an insight into the top level. Jake Waterman has heard his dad Chris tell stories of success at the Eagles, but also seen his brother Alec struck down by debilitating illness in the early part of his time at West Coast.
Few have had a bumpier start to their career than Matthew Scharenberg with his two knee reconstructions and his younger brother Jonty has ridden those with him. Ben McGuinness, too, has noticed the frustrations his brother Josh has had with injuries in his first year-and-a-half at the Brisbane Lions.
Luke Strnadica stopped a promising cricket career to give footy a proper go, and fellow West Australian tall Jeremy Goddard had tried just about every other sport before focusing on footy. He was a boxer, rugby player and basketballer, and will spend this year working as an engine specialist, with cars his biggest passion.
Others had their own point of differences. Jarrod Korewha wasn't hard to spot on the track. He remembers the exact date he last cut his ponytail – March 28, 2012. He has heard every possible sledge about his flowing locks, but only one put him off last year.
"Darcy Parish walked right past me as I was lining up for goal and said 'Be careful, you might trip on your hair'. And yeah, I missed the shot," said Korewha, whose father is from New Zealand.
The tour provided a new challenge for Ben Ainsworth. The classy forward, who starts the year as a contender for the national draft's No.1 pick, fractured his wrist on the second day and spent the rest of the camp with his arm in a cast.
He had to find other ways to get involved, like doing the running, and joining in kicking drills when he could.
"It's pretty frustrating. We came here for a high performance training camp and obviously I can't do that now," Ainsworth said.
Queenslanders Jack Bowes (left) and Jacob Allison (right) square off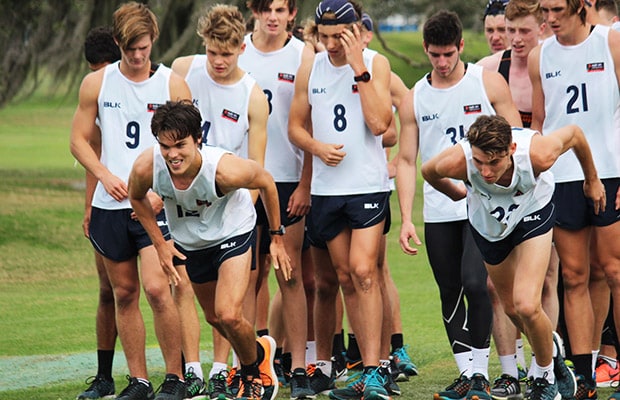 The group was so quiet in the opening few days of the tour that Jarrod Berry took it upon himself to lift everyone. He encouraged others at training, including helping the three Irish prospects on tour, and had a strong idea of the leader he wanted to be.
"Leadership to me isn't just talking," Berry said. "It's about giving something to your mate and making them better. There's a couple of guys in the team that I've really tried to help with their game and I expect the same back from them. Leadership is best when everyone's doing it."
Josh Rotham showed his confidence, Zach Sproule had a permanent smile on his face and Alex Witherden made sure to enjoy the tour as much as possible.
"Some of the guys get really nervous and go into their shells, but there's no point doing that. You've just got to be yourself and take it on," said Witherden, a composed half-back and a chatty, popular member of the squad.
The players grew in voice with each of their four main sessions at the IMG Academy, which were set around other on-campus programs.
They did eye training, leadership courses, had their lung capacity and fuel intake measured by Gatorade's sports science team, did nightly pilates sessions and were treated to a special sprinting class from Olympic coach Loren Seagrave.
Eleven AFL clubs sent scouts to follow the team, with each interviewing every player.
As well as closely observing training, they watched who players gravitated to, the ones who kept to themselves, and the ones who asked questions, made things easier for others and led the way.
"When they're looking, they're looking, but you know when they're not looking, that's probably when they're looking most," said Irish prospect Darragh Joyce.
The players go through a recovery swimming session at the IMG Academy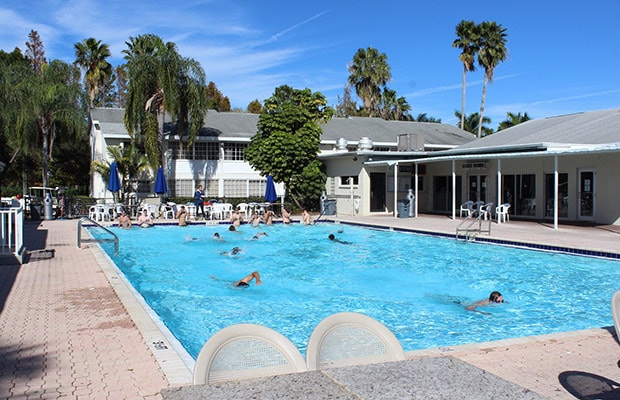 One afternoon the clubs were addressed by Jerry Angelo, who has worked at several NFL clubs and was general manager at the Chicago Bears. They found their own recruiting techniques and principles matched up similarly to those in America, but on a smaller scale.
"We want tough guys," Angelo said. "You've got to stay with the tough guys. You can't compromise on competitiveness, durability and football IQ."
The football department tax meant some clubs choose not to attend the camp – expect them to lobby for the expense to sit outside the cap in future – but those who went were given a comprehensive briefing by Sanderson on each player's strengths, weaknesses, plans for this year, life off the field and his expectations for them.
The tour, however, is mainly for the players. The League competes with other sports for the best athletes around Australia – particularly in the NSW and Queensland regions – and sees its international component as a chance to reward the best young footballers with an experience that binds them to the AFL.
As well as training hard, the squad saw America: they attended a NHL ice hockey game in Tampa and toured the Tampa Bay Buccaneers' headquarters, watched an NBA game in Los Angeles and met Australian star Patty Mills afterwards, rode bikes through crowds around Venice and Muscle Beach, and had a craft session at the University of Southern California.
They also began in Orlando, where the group travelled to the John F. Kennedy Space Centre en route to the IMG Academy.
At the end of the two-week trip, Kevin Sheehan, the AFL's national and international talent manager, addressed the touring party. Sheehan explained the rationale behind visiting the world famous space centre, which celebrates history being made and new frontiers being reached.
"They went to the moon. They did it," Sheehan told the players.
"You're not astronauts, and you won't be flying around in space. But you've got talent, and it's in the game of footy. You've got to give yourself every chance to fly to the moon in our sense, which is achieving your goals in football. The message is anything's possible."