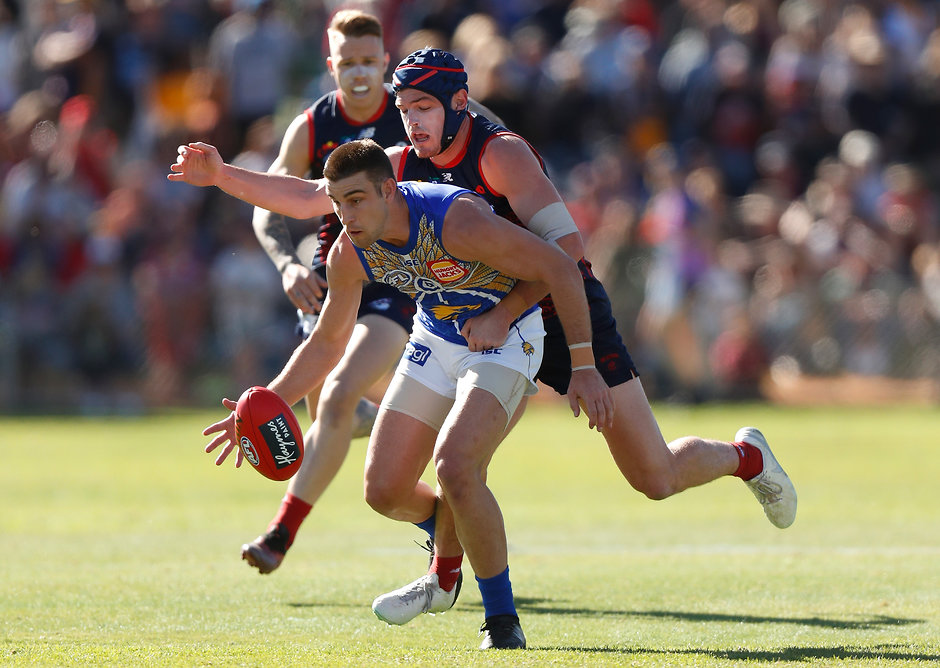 He's got the potential to play way better than that – he's a real game winner – so I felt like I played my role for the team.
Angus Brayshaw
ANGUS Brayshaw has been used in a variety of ways this season, and on Sunday afternoon, he performed another crucial role for his team.
The 23-year-old was tasked with negating star West Coast midfielder Elliot Yeo in Round 18, and he successfully minimised the Eagle's impact at TIO Traeger Park.
"He's a super player and his strengths are around the contest and hunting the ball and I think those are my strengths as well, so it was good to play inside for most of the day and go head-to-head with a pretty good player," Brayshaw told Melbourne Media post-game.
"Unfortunately we didn't get the win, so nothing else really matters, but for what it's worth I thought we had a really good battle and it was a good experience to play on a really good player."
Brayshaw held Yeo to just 16 disposals for the match – eight touches below his season average – proving to be more than capable in his new position.
"He's got the potential to play way better than that – he's a real game winner – so I felt like I played my role for the team," Brayshaw said.
"I had a lot of help from Harmesy (James Harmes), Clarry (Clayton Oliver) and Vines (Jack Viney), because as much as I'd like to, I can't hold him out for an entire game by myself.
"So my teammates really helped me out which was great, and as a team, that was a really good player that we stopped. I'm looking at it positively, even though we lost the game."
It's been well publicised that Brayshaw's form hasn't reached the lofty heights set in 2018, but he has been adding to his skillset and learning throughout the season.
"I've been playing a heap of different roles this year, and Lewy (Jordan Lewis) has been tagging the last couple of weeks, so the coaches just thought his (Yeo's) strengths and my strengths would match up well and it'd be good to see if I can add another string to my bow," Brayshaw said.
"I thought I equipped myself well today doing that role.
"Unfortunately, we didn't win, but I feel like I helped the team out in some way, so I was happy to play it."
After leading at three quarter-time, Melbourne went down by 13 points on Sunday, with plenty of learnings to come from another tight loss.
"We have the belief as a team that we can win, and we've been in close games the last few weeks, we just need to be able to finish games off," Brayshaw said.
The Demons will be looking to make some adjustments and register a sixth win for the year when they take on St Kilda at Marvel Stadium on Saturday night.