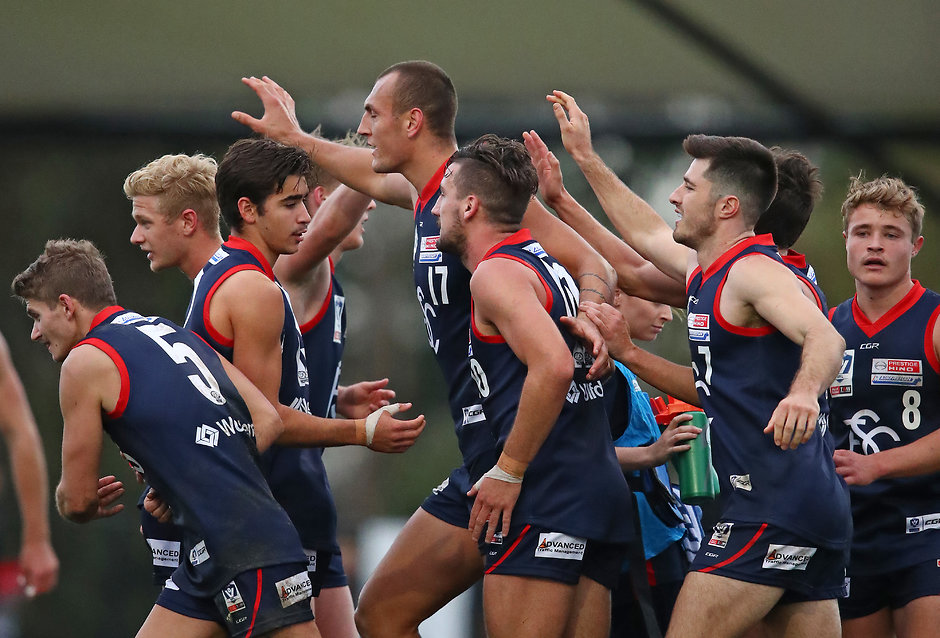 That's what VFL is about – developing players and exposing them to situations that they'll be exposed to at AFL level.
Jade Rawlings
IT HAS been a difficult start to 2019 for the Casey Demons, with Melbourne's injury troubles impacting the VFL side, but coach Jade Rawlings is comfortable with where his side is at.
Although the Dees sit in 11th spot on the ladder with just three wins from nine games, the momentum is beginning to shift.
"I've been pretty pleased with the last month – with how the group has played the way we have asked them to play," Rawlings told Melbourne Media.
"We haven't played to full capacity, but we've been quite inexperienced in age and in physical maturity and that's probably caught us out a bit in the backend of games against strong opposition.
"It's a week-to-week proposition in the VFL and we'll keep taking on board whatever lands our way with AFL players to VFL players and keep setting them to play each week.
"I've been pleased with the groups willingness to take onboard instruction and message and adhere to the way we want to go about it.
"It's been a productive first half and although it hasn't been as favourable a win/loss as we had last year, there have been different circumstances."
While the Demons have been well and truly challenged in the early stages of the season, Rawlings has enjoyed the opportunity to blood some youth.
"We've played 20 VFL-listed players already in the first half of the year and we played 21 for the whole of last year, so that's a positive," he said.
"When you have a VFL list you can supply them with opportunity and it's up to them how much they grasp it.
"We've also given a lot of exposure to a lot of first year AFL players – (Kade) Chandler, (James) Jordon, (Tom) Sparrow, (Toby) Bedford, (Kyle) Dunkley, (Austin) Bradtke.
"That's what VFL is about – developing players and exposing them to situations that they'll be exposed to at AFL level."
Although the Dees haven't hit their straps just yet in 2019, there is plenty of upside after defeating Collingwood by 63 points last weekend.
"Our best footy is ahead of us, no doubt about that," Rawlings said.
"We've been able to find out a lot of our VFL list and we're starting to get players back from injury at AFL level which starts to put pressure on selection, then it's up to us to put all that together."
While the Demons will enjoy the chance to refresh this week, Rawlings isn't searching for any excuses.
"I don't go looking for byes … how you work right up to that point is the most critical thing," he said.
"These few days are a chance to slow things down a little bit, but your mind is still actively engaged in footy and that's the way I like to operate.
"I like, when our backs are against the wall, how we all as a whole club, Melbourne and Casey, are going to be able to respond in the back half of the year."
Casey will face Coburg on the road next Sunday when it returns from the Round 11 bye.