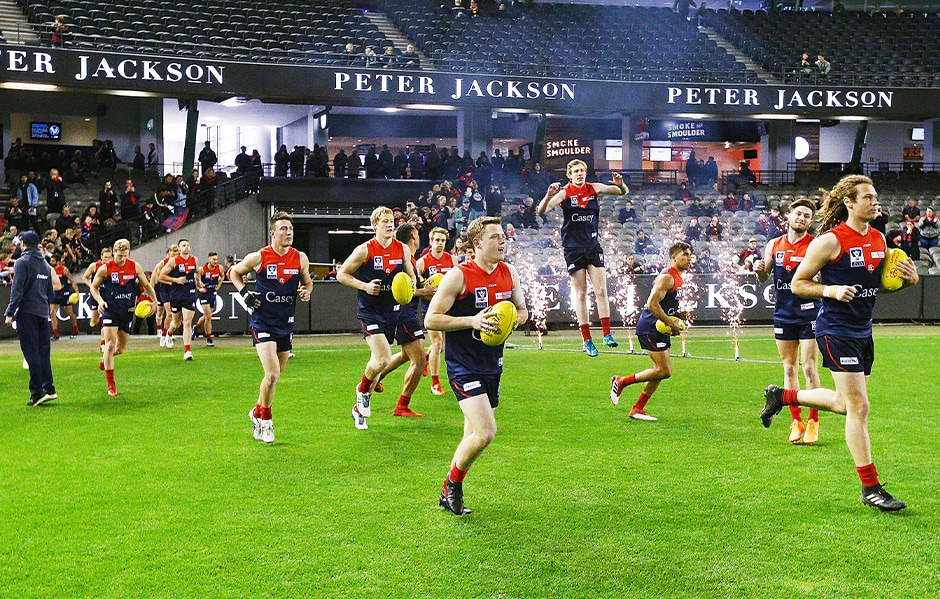 To be led at VFL level by our two AFL captains is going to be great for all the people involved in the game on the day.
Jade Rawlings
THE CASEY Demons will play their first game of 2019 on Saturday, taking on the Brisbane Lions NEAFL side during a big day at Casey Fields.
This VFL practice match is set to kick off proceedings at Casey from 12:30pm and will be followed by Melbourne's second JLT match.
Demons coach Jade Rawlings is thrilled by the opportunity and encourages fans to embrace the day.
"I think it's fantastic for the club to be able to have a full club day, for both Brisbane and Melbourne/Casey," Rawlings told Melbourne Media.
"To be able to get a hit-out against a non-VFL team is healthy for our group, and the fact this is going to be our first game, that generates excitement amongst our whole club as well."
And the opportunity to play some fresh faces isn't the only thing to excite Rawlings.
He can't wait to see the old-fashioned double header take place on Saturday afternoon.
"It takes you back to the 90s when the reserves used to play before the seniors," he said.
"It's a really good opportunity as a club to put on a really good display of how we go about our footy and hopefully generate a good crowd to watch both games as well."
Casey fell agonisingly short of a VFL premiership in 2018, falling to Box Hill in the Grand Final, but there were plenty of positives for the Demons to take into this season.
"I'm really looking forward to seeing our Casey group of players coming together with our Melbourne listed players," Rawlings said.
"That was one of our strengths last year – we were able to be a really united group of players.
"There was genuine chemistry between the players to play for one club and we get the first opportunity to start that momentum.
"There's high expectations from our coaching group with our AFL players to engage with our VFL and our VFL to really contribute to building relationships."
The VFL-listed Demons players will have the rare opportunity to play alongside some stars of the Melbourne side, with co-captains Nathan Jones and Jack Viney, as well as dynamic forward Jake Melksham, running out for Casey.
"We had our players train with a lot of those senior boys who didn't play JLT last weekend," Rawlings said.
"Some of them are from regional footy … so it's a big deal for them and the challenge is for them to overcome the star-struck mentality and get straight to work.
"But the experience is great.
"To be led at VFL level by our two AFL captains is going to be great for all the people involved in the game on the day."