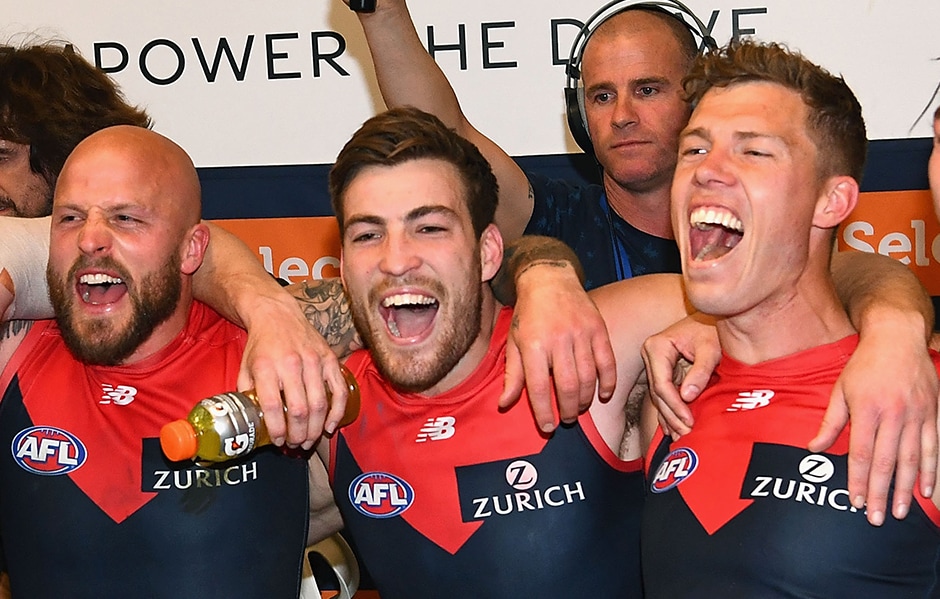 They'll be in a good position to be selected for Round 1 with all things going well
Josh Mahoney
THREE Demon stars will be lining up for the Casey Demons on Saturday, with co-captains Nathan Jones and Jack Viney, as well as forward Jake Melksham, pulling on the red and blue at Casey Fields this weekend.
General Manager of Football and Operations Josh Mahoney said it was a good chance for the trio to get some match fitness under their belts prior to the home and away season.
"Nathan Jones, Jack Viney and Jake Melksham will all return to football this week through the VFL Casey Demons," Mahoney told Melbourne Media.
"It's important for all three of these players that they get as much game time as they can.
"They'll play potentially three quarters of the game at Casey Fields on Saturday."
The Casey Demons are playing Brisbane's NEAFL side in a practice match prior to Melbourne's JLT hit-out against the Lions, with plenty of exciting action on at Casey Fields throughout the day.
While the Melbourne stars are more than capable of playing at the top level, Mahoney said having them play in the twos was the best result for the team.
"The decision not to play them in the AFL JLT game was based on their limited game time and how that would impact other players," Mahoney said.
"We look forward to them getting into some really valuable match practice and some good training sessions next week.
"They'll be in a good position to be selected for Round 1 with all things going well."
Casey's game will be a precursor to the JLT clash, providing Demons fans a great opportunity to get along early and see plenty of action.
"It's an exciting day of football for Melbourne supporters down at Casey Fields on Saturday," Mahoney told Melbourne Media.
"Starting with Casey Demons practice match at 12:30pm which features our two co-captains – Nathan Jones and Jack Viney – as well as Jake Melksham who is coming into his first game of the year.
"That leads into what should be a really competitive JLT game against Brisbane who we expect will be playing a strong side.
"We will also be playing our strongest side which is available."
The day doesn't end after the JLT clash, with another game to cap of the evening at Casey, as well as the crucial Round 6 AFLW match for the red and blue.
"After that game we have our AFLW side playing at Marvel Stadium in a really important game for us against the Bulldogs," Mahoney said.
"And continuing at Casey we also have our under 15s academy players playing a game out at Casey Fields.
"So we're getting to see all aspects of our club in one day at Casey Fields and Marvel Stadium which is going to be a big weekend for Melbourne supporters with the Family Day the next day as well."
The annual Melbourne Football Club Family Day will be held at Yarra Park on Sunday from 10:30am with all Demons players in attendance.