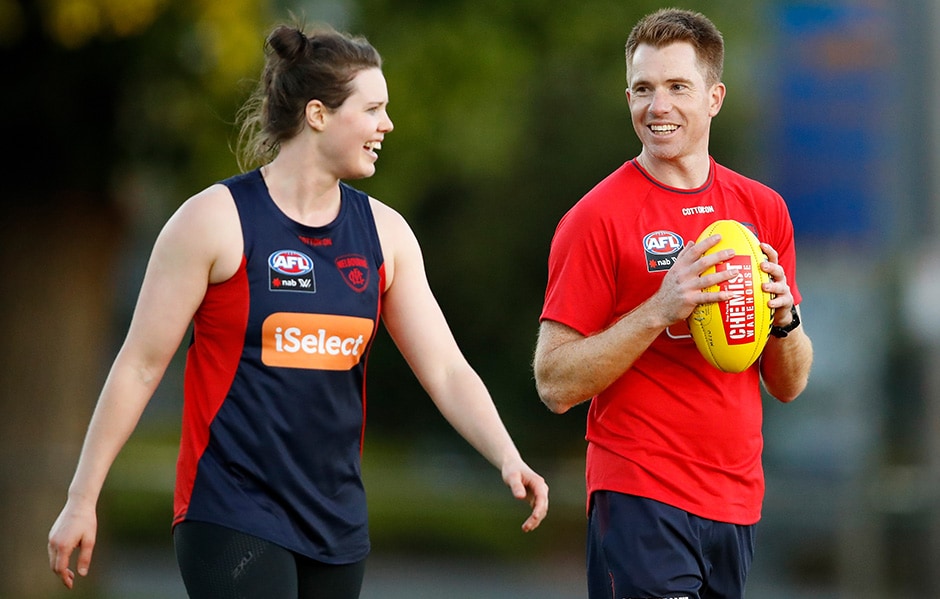 I just thought we were having an afternoon tea.
Elise O'Dea
IN the weeks leading up to Christmas, Elise O'Dea thought an invite to the coach's house was simply for a bite to eat.
But as it turned out, O'Dea was told the biggest news of her playing career.
"I got invited over to [Mick Stinear's] house along with [Shelley Scott] and a couple of the other staff members," O'Dea said, speaking on SEN on Thursday morning.
"And I've rocked up there and there's this huge spread of food and some drinks out and we just sort of sat down and had a chat for a little while.
"I just thought we were having an afternoon tea."
But Stinear had other intentions – to reveal the co-captaincy arrangement to the red and blue standouts.
"It was a really, really special way to tell us," O'Dea said.
"He ended up sending us through what the players had said about us in their feedback towards the leadership and it was really amazing – I was blown away by what the girls had said."
Melbourne's AFLW leadership squad was largely voted by the playing group, as Stinear gained a wide range of feedback to make the most informed decision.
And with her teammate's approval, O'Dea is humbled by the accolade.
"It's a huge honour and a huge privilege to really lead this group," she said.
"I look around at the group and I'm really inspired by all the players and they're all leaders in their own way."
While the new role comes with a greater expectation, O'Dea knows she's not in it alone.
"Obviously it's an added weight of responsibility but to have [Scott] alongside me, it takes the pressure off," she said.
"She's terrific in what she does, I just watch her – she doesn't change.
"She goes about doing what she normally does and obviously that's why the girls saw leadership qualities in her.
"So I have to trust that just being myself is enough and I'll just keep doing that."