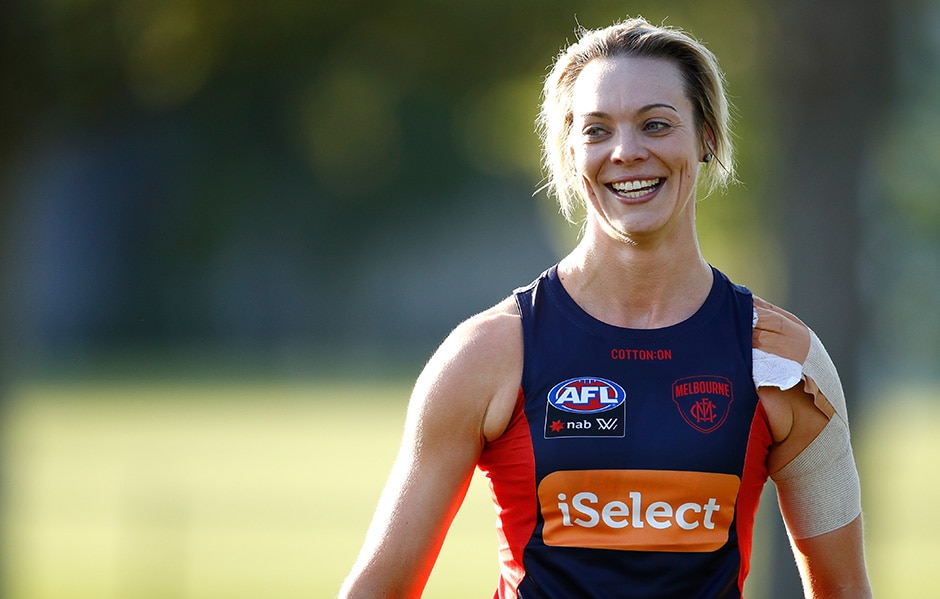 It was a fairly heavy load and it's based on the same training days that we're doing at the moment.
Talia Radan
TALIA Radan has made a successful return from the Christmas break, overcoming a shoulder injury to set her sights on Round 1 of the AFLW season.
The 30-year-old, who was traded from Adelaide at the end of the 2018 competition, has had to put in the hard yards to ensure she's fully recovered from an off-season shoulder reconstruction.
And there was no slowing down over the two-week holiday period.
"I went home to Adelaide for the first time since I moved over here, and I accidentally ran into some old teammates which was pretty funny," Radan told Melbourne Media.
"Every day was over 38 degrees mostly, so I had to do my training at six o'clock in the morning and by the time you do the football, running and gym, it takes like three hours.
"I had to do it super early in the morning or super late at night."
The Adelaide heat was a challenge for Radan, but she stuck to her plan to ensure she would come back fully fit.
"We had a schedule for the whole time we were away, so most of that was half-football and half-conditioning," she said.
"It was a fairly heavy load and it's based on the same training days that we're doing at the moment."
After an interrupted pre-season, the key defender has ticked all the boxes of her recovery and is set to return to the field quicker than initially expected.
"The surgeon wasn't really happy about me going back to footy this year, but the medicos backed me in to get back in time," Radan said.
"I had to do the last bit of my shoulder rehab going back to Adelaide… but I got cleared two weeks ago, so I'm on track [for Round 1]."
It's been a big few months for Radan, moving interstate and transferring her life to Melbourne.
But the South Australian said she had no fears in adjusting to the new city.
"I've lived interstate before," she said.
"I lived in Canberra/Sydney for four years so this is actually nothing compared to that move.
"For me coming over here, it was pretty straight forward and being in the system for three years now I knew the expectations of what to do."
While settling into a new club can be challenging, Radan has had a smooth transition into the red and blue.
"One thing I've noticed about Melbourne is it's a very even playing field," she said.
"You walk into the group and there's an expectation that everyone can give feedback to everyone.
"It's a really refreshing thing … and because I walked into that sort of environment you feel a part of it straight away."
As a former premiership player with the Crows, Radan understands the expectations of being an AFLW athlete and felt instantly comfortable among the group.
"As soon as I got stuck into the program it was nothing new to what I'd been doing so it hasn't been daunting at all," she said.
And after a positive induction to the club and the city, Radan has no intentions of leaving her new home in Melbourne.
"I'm here for good," she said.