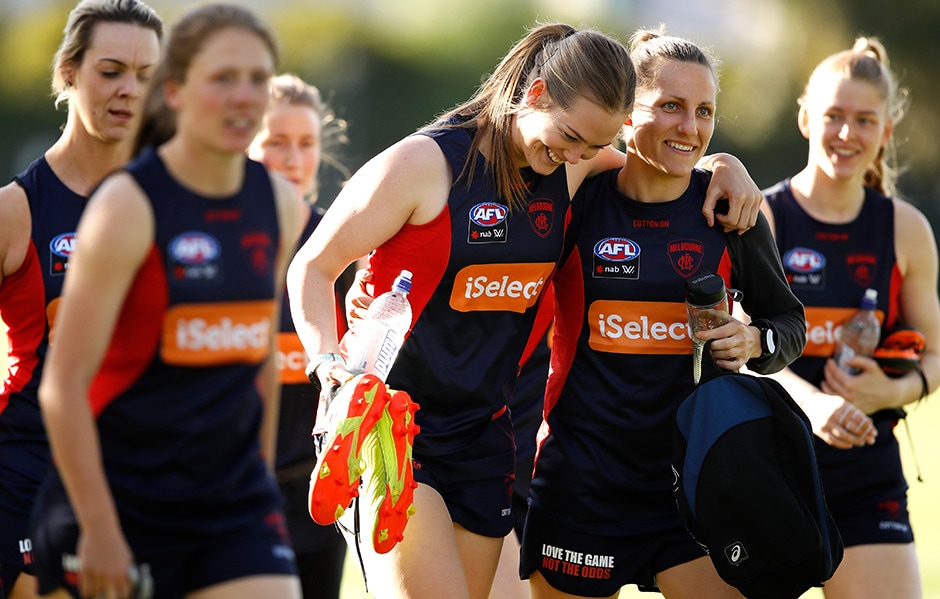 The team's looking pretty good this year so in the weeks leading up to the games I've got to work hard and actually earn my spot.
Eden Zanker
WITH just one month remaining until the AFLW season kicks off, Eden Zanker says the Melbourne playing group is channeling their excitement in order to get the best out of themselves this season.
The girls are about to get stuck into the final stages of the pre-season, but with the competition standard expected to rise again this year, all players are keeping a level head.
"There's heaps of excitement but we get told not to let that excitement overwhelm us," Zanker told Melbourne Media.
"Because if we get a bit excited before training, we can't give our best in training.
"So we learn to channel that excitement into training and not use it all in one burst, but use it in short outbursts through our communication on the track."
The Demons worked incredibly hard on the track prior to Christmas and are well prepared for the last month of pre-season training.
"We had about nine weeks of running before we actually got into pre-season, so we've had a pretty big hit out," Zanker said.
"It's been really huge, but I think it's going to be beneficial and it's definitely going to pay off.
"All the girls are looking really fit and we don't want to finish third place again so we're pushing ourselves to the limit.
"We know we can reach different lengths because we've proved it throughout our pre-season."
While the Demons training schedule has had a strong focus on fitness, Zanker said there has also been an emphasis on bonding the team together.
"In terms of me being a forward we haven't done any structure at all, we've just been playing around with a few bits and pieces and seeing what chemistry we have as a forward line," she said.
"When we do come back it'll be more of a focus on our structure and our skill and technique rather than the long minutes of running."
Personally, Zanker can't wait to get stuck into the season after taking plenty of confidence from her form in the VFLW last year.
"It's definitely lifted my confidence with my body language, my marking, just everything really," she said.
"I think the VFL season has been very beneficial for me coming into season three and hopefully I can channel what I've learned and what I've gained through VFL into my AFL."
There are some high expectations of Zanker after the key forward was taken with pick No.6 in the 2017 AFLW Draft, but she isn't concerned about the pressure and understands where she fits into the side.
"I guess at the start it was a bit overwhelming because it was pick one for Melbourne, but it doesn't make me any different to any of the other girls," Zanker said.
"The team's looking pretty good this year so in the weeks leading up to the games I've got to work hard and actually earn my spot.
"But I'm pretty excited to hopefully get a game and watch the girls grow as a group."