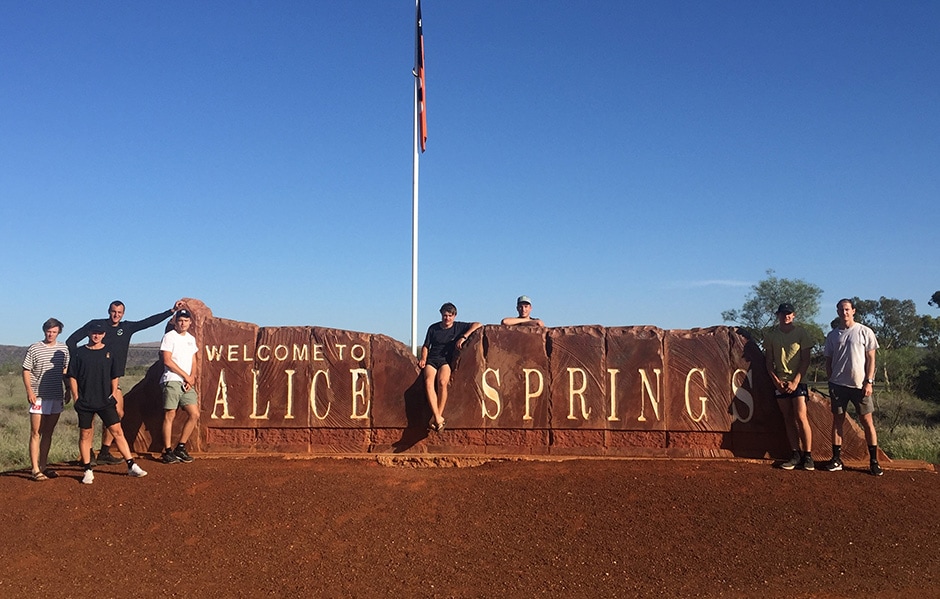 We all share something in common which is now being a Demons footballer, and that's pretty special.
Steven May
ALL of Melbourne's first-year players and new recruits from the off-season embarked on a trip to the Northern Territory last week, spending two nights together to help them settle into the club.
The bonding camp helped the 12 new Demons players build relationships with each other, as well as senior players Nathan Jones and Max Gawn who also travelled up North.
From Wednesday to Friday, the Melbourne players had a range of experiences which ultimately brought them closer together.
They ran clinics for kids, had a hit of golf, slept under the stars and went for a kick on Santa Teresa Oval.
The variety of activities were designed to mix some fun, bonding and training, creating a rewarding experience for all.
Senior coach Simon Goodwin led the trip along with Shannon Byrnes, Bernie Vince and Matthew Whelan, helping the group feel more comfortable ahead of the 2019 season.
A wide demographic of players toured the NT, with draftees, seasoned recruits and leaders all enjoying the trip, so find out more about how the camp went from each perspective.
The Draftee – Tom Sparrow
Tom Sparrow, who was taken by the club with pick No.27 in the National Draft, would have had the right to feel unsettled when arriving at the club.
The South Australian has made the move to Victoria to begin his AFL career and instantly felt welcome, but says the camp provided a rare opportunity to connect with his new teammates in a more meaningful way.
"Everyone spoke about their lives and the significant things in their lives," Sparrow told Melbourne Media.
"It was good just to get to know each other a bit better on a personal level.
"I think it was really good bonding just to see where everyone is from and what they enjoy doing."
While the sun was shining during the day, Sparrow says the temperatures drooped extremely low on a night where the group camped out under the stars.
"Not everyone got a whole lot of sleep, everyone was freezing in their swags," he said.
"But it was really good fun.
"We woke up really early to go watch the sunrise out in the outback, so that was really nice."
But the highlight for the 18-year-old was getting to know his leaders on a deeper level.
(Nathan Jones has a kick with one of the local kids)
"I'd been rooming with Gawny in the first week, so I knew him fairly well, but I hadn't met Jonesy a whole lot," Sparrow said.
"It was good to have them there for their expertise and leadership, especially for the training session to get us going and really put an emphasis on fundamentals.
"They were really helpful and good people to look up to around the club."
While it's only natural for the draftees to feel out of place upon arrival at an AFL club, Sparrow believes this camp has really helped them all settle in at Melbourne.
"Now everyone has opened up to each other we sort of see them in a different light," he said.
"You're not really too scared to go up and have a chat to anyone now.
"You feel like you're really amongst it and a part of the group which is really important.
"That was always the case from the get-go, I settled in really well, but now it's just enhanced that even more."
The Seasoned Recruit – Steven May
Although Steven May has captained an AFL club, the Gold Coast Suns, he is starting fresh as the new boy at the Melbourne Football Club.
And while he still looks to use his leadership skills where possible, the 26-year-old was out of his comfort zone on last week's camp.
"I still felt like one of the young guys because we were learning about the Melbourne person and the club values," May told Melbourne Media.
"So I did feel like a new young fella even though I'm a bit older than those guys.
"But it was great to meet all the young guys and spend a bit more time intimately because we're all new and we can relate to being 'the new guy at school' I suppose."
May is a leader in his own rights, but even he appreciated having Gawn and Jones accompany the new group on the camp.
"When Goody would speak it was good to have live examples of what those boys went through," May said.
"We learnt how they've developed the culture that they have now and what they require from us, so it was pretty clear."
(Nathan Jones and Braydon Preuss play with the kids at the local pool)
While a lot of the boys were facing brand new challenges in the Northern Territory, this trip was extra special for May.
"I'm from Darwin so it was unreal to get back to the Territory and show the guys some of the places I've been," he said.
"We went to the heart of Australia and the community Santa Teresa where a lot of guys had never been.
"It was a bit of an eye opener for them, but I suppose it's a good place to get to know each other because you're out of your comfort zone."
As a result of the trip, May believes the new players already feel like they belong at the club.
"We were part of the Demons culture the last couple of weeks, but we didn't actually know what it was like and what's expected," he said.
"I think coming back into training on Monday we just feel a bit more a part of the team.
"We shared a lot of stories about where we're from and what drives us, and I suppose we got a better understanding of each other.
"We all share something in common which is now being a Demons footballer, and that's pretty special."
The Leader – Max Gawn
Gawn has been at the Melbourne Football Club since the end of 2009 and went on the NT trip to impart his wisdom on the younger squad.
With 99 games under his belt, the bubbly ruckman was the perfect person to help the new recruits settle in.
"The two leaders who were in full training at the time went up, which was me and Jonesy," Gawn told Melbourne Media.
"I went up to a first-year camp two years ago and absolutely loved it, so I was always going to jump at the opportunity."
This camp was the perfect chance for two members of the leadership group to show their natural side and help their new teammates transition into the club.
"We're pretty scary looking characters so it can break down a few barriers a little bit quicker than it normally would," Gawn said.
"Mainly Nathan Jones, who's the captain and played over 250 games and has tattoos from head to toe, he can be quite a daunting person to talk to.
"And it's all about fast tracking when you're in football because unfortunately everyone is very impatient, and they want to get the best out of each other very soon."
(Max Gawn takes the local kids for a footy clinic)
Gawn believes being in the centre of the country was the perfect place to open up and take some big steps forward as a group.
"To have a couple of days in Alice Springs, and to be honest there was one night there where there was no one within 400km's of us … it was definitely worth it," he said.
"I've been to the Northern Territory a lot … all for footy, and you don't usually get the opportunity to go two hours out of Alice and see some of the community out there."
The 26-year-old said there were some similarities in the way he was inducted into the club, but believes the current system in place is significantly helping the development of younger players.
"This is pretty much a Goodwin influence, along with Shannon Byrnes and Jimmy Plunkett and some guys that are involved in that area of the football club," Gawn said.
"They have managed to nail the player induction and that's probably why the last few years we've seen the young guys come on."
Gawn is thriving in his leadership role at the club and truly enjoyed helping out on the trip to the NT.
"Being involved in a camp like that where there's lots of young kids listening to every word you have to say, it makes the leadership role very important," he said.
"I really did love [the camp] and would love to do it again."