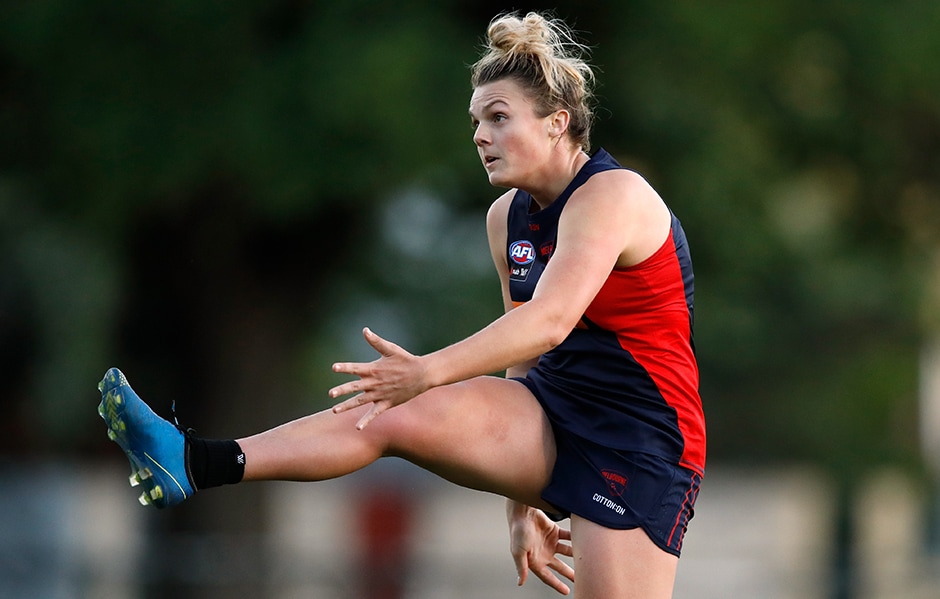 It was definitely worth it because it helped with my game and then helped to show the coaches I could play at a higher level.
Jordann Hickey
JORDANN Hickey had to fly to games to prove her footballing ability, but after being drafted to Melbourne with pick 31 in the AFLW Draft, it's fair to say her dedication has paid off.
The 24-year-old began her career in Alice Springs, but wanted to challenge herself at a higher level, pulling on the boots for the Darwin Buffaloes in 2017.
"I played a season up in Darwin, so I would fly in for games on weekends," Hickey told Melbourne Media.
"And then I played in the VFLW this year with NT Thunder, so still travelling every weekend."
Hickey laid it all on the line to chase her dream of playing in the AFLW, knowing her best chance to prover herself was by venturing up north.
"It was definitely worth it because it helped with my game and then helped to show the coaches I could play at a higher level," Hickey said.
"To be able to show I can play in the competition in Darwin helped me with getting picked for Thunder, which led to playing in VFL, which then helped in getting drafted."
But along with playing football away from home comes some hefty expenses.
"I was quite lucky; the club had done some fundraising, so they would meet me half way (with travel costs)," Hickey said.
The talented athlete has showed incredible commitment to a sport she simply stumbled across a mere five years ago.
"A friend who I played netball with said, 'We need someone to fill in, can you come?'," Hickey said.
"Back then it was only nine (players) a side … so I had more of an understanding playing on the smaller field.
"So I went down, filled in, and must have done alright because they asked me to keep playing.
"I think it was the fitness side that I fell in love with, and the competitiveness that comes pretty natural to me on the field definitely helped with continuing to play."
From a fill in to a draftee, Hickey has chased a professional career and couldn't contain her excitement when she landed a spot on an AFLW list.
"I think it was just pretty overwhelming that all the hard work that's gone over the past 18 months has finally paid off and finally my goal had been achieved," she said.
While Hickey is no stranger to travelling, she now faces a brand-new challenge – settling into Melbourne.
But the determined footballer was open to the move and says the timing couldn't have been better.
"I wanted to relocate in the coming year anyway," Hickey said.
"I've been in Alice the majority of my life, so just to experience something new … Melbourne was perfect."
But the Melbourne lifestyle is worlds apart from what Hickey has become accustomed to back home.
"The whole city life is very different to Alice," she said.
"It's getting used to all the traffic and the business of it.
"But so far it's been good, and I think I've adjusted pretty well."
With a strong culture being built at Melbourne, Hickey praises the club for helping her instantly settle in.
"Coming in was very easy because the club as a whole – as well as the girls as teammates – are so welcoming and lovely, it makes it so much easier," she said.
"It's a very family orientated environment, that's the feel I get.
"Everyone's looking out for each other … and wanting the best out of each other."
The small forward is ready to develop her game in 2019 and hopes to play on the big stage throughout the season.
"I definitely want to play as many games I can, but also just to improve my skill level is one of the main things," Hickey said.
"I guess I'm still very new to it, not playing very long at all compared to the fellas and some of the girls.
"So I just want to learn more about the game and improve my overall knowledge of it."
In just her fifth year of football, Hickey is thrilled to be a part of a professional club and is embracing every element of it.
"I'm just so excited for everything this experience and this journey is going to bring," she said.
"It's a whole new world really for me now so I'm just trying to take in everything as I go and enjoy it."