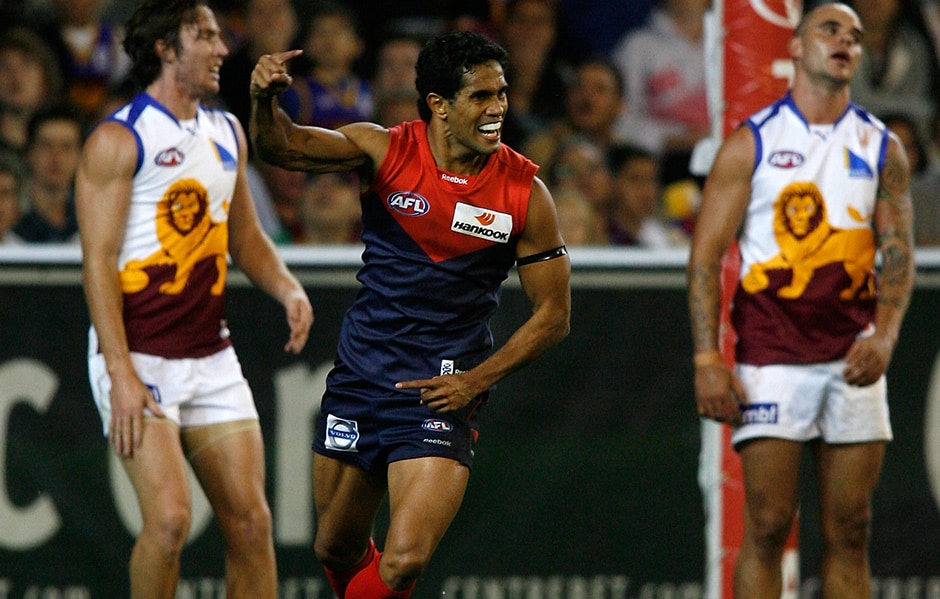 AS HISTORY can show, the best players in the AFL aren't always selected inside the first 40 draft picks, either slipping in the order or even going in the Rookie and Pre-Season drafts.
Melbourne has had a stroke of luck in this department, with several Club greats emerging from later picks.
With that in mind, here are Melbourne's best players taken past pick 40 or in the Rookie and Pre-Season drafts.
Stephen Tingay
1987 National Draft – Pick 50
Earlier VFL/AFL drafts were a more speculative endeavour, with Melbourne nabbing a future club champion at pick 50 back in 1987 in Stephen Tingay.
Known for his flowing blonde hair, Tingay was a fan favourite amongst the red and blue, playing 162 games between 1989 and 1999.
He played a pivotal role in Melbourne's outstanding 1994 season, earning All-Australian and Victorian selection.
Nev Jetta
2008 National Draft – Pick 51
Nev Jetta – then a nippy small forward from WAFL Club Swan Districs – was selected by Melbourne with their second-last pick at the 2008 draft.
Jetta played just 41 games in his first five seasons on the list and was delisted by the Club at the conclusion of the 2013 season.
Incoming coach Paul Roos saw something in the Bunbury product and he was famously redrafted by Melbourne in the 2014 Rookie Draft.
Reinvented by Roos as a rebounding defender, Jetta has excelled in his second chance on the list and is on track to play his 150th game for Melbourne in 2019.
The McDonald Brothers
2010 and 2014 National Drafts – Pick 53
By pure coincidence, Tom and Oscar McDonald were taken with the exact same pick of number 53 in separate drafts in 2010 and 2014.
Looking back, it was a valuable move by the Club with Tom and Oscar now pivotal components of Melbourne's defensive and attacking structure.
2019 should be a big year for Tom and Oscar McDonald after fantastic seasons by both in 2018.
The crop of 1996 – Russell Robertson, Shane Woewodin and James McDonald
1996 National Draft – Pick 68 + 1997 Rookie Draft – Pick 48 (Robertson)
1997 Pre-Season Draft – Pick 18 (Woewodin)
1997 Rookie Draft – Pick 78 (McDonald)
Melbourne's recruiters scored big with three late picks in 1996, landing Russell Robertson, Shane Woewodin and James McDonald.
Each member of the trio won a Keith 'Bluey' Truscott Memorial Trophy, with McDonald winning two in 2006 and 2007.
Woewodin of course pulled together an outstanding 2000 season, winning the Brownlow Medal and the 'Bluey' Truscott Trophy in the Grand Final year.
High-flying Tasmanian, Russell Robertson, was actually drafted twice that off-season – selected in the National Draft, before being delisted and redrafted as a rookie.
He would go on to kick 428 goals across 228 games for Melbourne, leading the Club's goalkicking in four seasons and winning the 'Bluey' Truscott Trophy in 2003.
Woewodin, McDonald and Robertson weren't the only great recruits that off-season, with 2000 Grand Final team members Anthony McDonald, Brent Grgic, Daniel Ward and Alistair Nicholson also joining Melbourne at the time.
Future Adelaide star Nathan Bassett was another solid recruit that off-season, although he was traded to the Crows after one season on Melbourne's list.
Aaron Davey
2004 Rookie Draft – Pick 3
After excelling in the NTFL and VFL, Aaron Davey was overlooked by all clubs in the 2003 draft and was taken by Melbourne in the Rookie Draft.
Davey had an instant impact as a rookie in 2004, finishing as runner-up in the Rising Star award, while winning the Harold Ball Memorial Trophy as the Demons' best young player.
He would go on to become one of Melbourne's finest Indigenous players, winning the 2009 'Bluey' Truscott Trophy and playing 178 games in 10 years at the Club.
James Harmes
2014 Rookie Draft – Pick 2
James Harmes was another gun who missed the National Draft, taken by Melbourne as a rookie in 2014.
Harmes would make his senior debut in the back half of the 2015 season and has since been a regular in Melbourne's side since.
He exploded in the last half of the 2018 season, earning plaudits for his ball winning and tagging abilities.
Cameron Bruce
1999 National Draft – Pick 64
Drafted as a 20-year-old, Melbourne great Cameron Bruce was selected at pick 64 in the 1999 draft.
Bruce was part of a fruitful Melbourne draft crop in 1999, with Brad Green, Paul Wheatley and Matthew Whelan also joining the Demons in that time.
Bruce would play 224 games for the red and blue, winning the 2008 'Bluey' Truscott Trophy and co-captaining the side that season.
Other notable draft steals
Andy Lovell – 1986 National Draft, Pick 42
Matthew Whelan – 1999 National Draft, Pick 50
Guy Rigoni – 1997 National Draft, Pick 77
Jayden Hunt – 2013 National Draft, Pick 57
Aaron vandenBerg – 2015 Rookie Draft, Pick 2
Alex Neal-Bullen – 2014 National Draft, Pick 40
Colin Garland – 2006 National Draft, Pick 46
Andrew Leoncelli – 1996 Pre-Season Draft, Pick 10