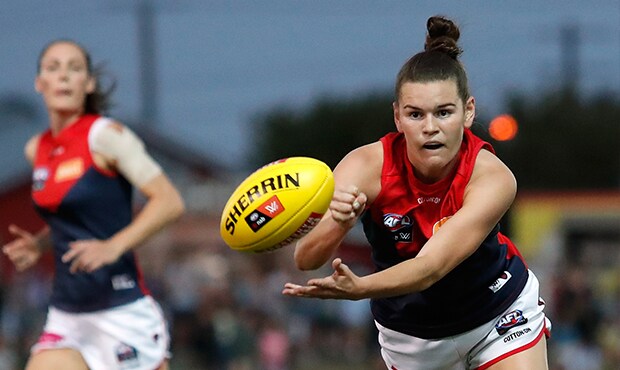 They're all going to bring great energy to the group. It's a really exciting prospect for us girls to have new faces running around, and for them to challenge us to be the best team in the competition
Lily Mithen on Melbourne's new recruits
LILY Mithen says she can't wait to regroup with her Melbourne teammates next week when AFLW pre-season training begins.
Speaking to Melbourne Media, Mithen said the team was fully focussed on using the pre-season to build towards greater heights in 2019, after consecutive third-place finishes in 2017 and 2018.
"I'm super excited about [pre-season]. It'll be great to get everyone back together training as a group," Mithen said.
"It's a bit daunting going into it, because it's always a tough few months. But when you do it all together, it makes it good fun.
"Everyone's been putting in the hard yards in the off-season and we're all excited to come together at Gosch's to get the job done."
Next Tuesday night's session will also be the first time Melbourne's 10 off-season recruits will join the wider playing group.
Mithen said the extra injection of talent had provided a boost to the playing group.
"They're all going to bring great energy to the group. It's a really exciting prospect for us girls to have new faces running around, and for them to challenge us to be the best team in the competition," Mithen said.
"Maddie [Gay] and Talia [Radan] are going to be fresh inductions, but at the same time they'll be pretty equipped with what we're doing, because they've been around the program as Melbourne players since the Trade Period
"It will also be great to welcome the likes of our new draft picks, who are all fresh into the AFLW system."
While the AFLW off-season has lasted eight months, the majority of Melbourne's playing group have been plying their trade in the VFLW and other state leagues in the winter months,
Mithen, who played for the Darebin Falcons in 2018, said this had provided an ideal build-up into the 2019 AFLW season.
"At Darebin, we were able to continue developing our game individually and as a group. We're all still playing and all of our programs are looked over by our strength and conditioning staff and coaches at Melbourne," Mithen said.
"Everyone is kept on the right path and we're made to be prepared for when pre-season rolls around. It is a long off-season, but in a similar sense, we actually do play two seasons and footy never really stops."