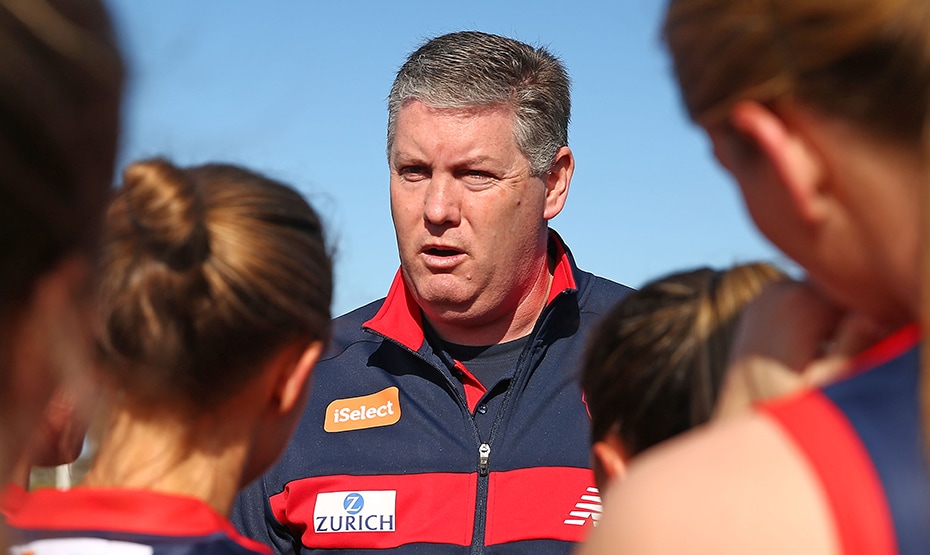 After what he was able to do last year starting a week before the season, it's going to be a lot easier for him; to develop strong relationships with the girls over pre-season and certainly prepare them for a strong performance through the 2019 VFLW season
Josh Mahoney
DAMIEN Keeping will again take the reins as the Casey Demons' VFLW coach in 2019 after signing a contract extension with the Club.
Keeping was appointed Casey's VFLW coach on the eve of the 2018 season, following the departure of Colin Garland.
He went on to lead Casey to five wins, while seven VFLW squad members – Casey Sherriff, Chantel Emonson, Shae Sloane (all Melbourne), Jordyn Allen, Georgia Gourlay, Maddie Shevlin (all Collingwood) and Taylor Mesiti (North Melbourne Tasmania) – were added to AFLW lists for 2019.
Melbourne GM of football operations Josh Mahoney said the Club believed Casey's women's program was in the right hands with Keeping.
"We're pleased that Damien has signed on for another year. He came on late last year and we're really pleased with what he was able to do with our program," Mahoney said.
"His work was highlighted by seven girls getting drafted in the AFLW for next season. That's a priority for us with the VFLW team, in that we want to create pathways to the AFLW for the girls.
"Damien was able to play his role within that and we're pleased that with this announcement, he can build his own program and start putting resources around him to make it the best program it could be."
After Keeping's short lead-up to round one in 2018, Mahoney said that the VFLW side would benefit from a full pre-season under the senior coach.
"After what he was able to do last year starting a week before the season, it's going to be a lot easier for him; to develop strong relationships with the girls over pre-season and certainly prepare them for a strong performance through the 2019 VFLW season," Mahoney said.