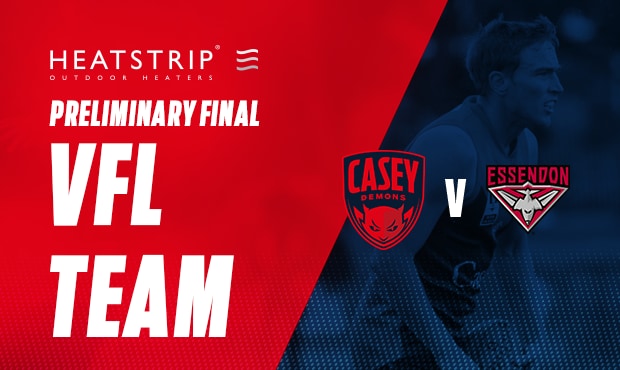 BERNIE Vince will make his return from a shoulder injury in Casey's VFL Preliminary Final with Essendon on Saturday.
Vince is one of six additions into the extended squad, with Mitch King, Jaxon Briggs, Jay Kennedy Harris, Angus Scott and Aidan Quigley also included.
Pat McKenna is the one out from the squad, which will be cut down to 22 players prior to the first bounce on Saturday.
Vince, who will retire at the end of the season, will play his first game in just over a month after injuring his shoulder in a VFL match against Sandringham.
The winner of this match will progress to the VFL Grand Final at Etihad Stadium next weekend.
The Preliminary Final will be televised on Channel 7 from 2pm on Saturday in Victoria.
Casey squad: Preliminary Final
Team to be finalised prior to first bounce
B: Dion Johnstone, Declan Keilty, Joel Smith
HB: Jayden Hunt, Harry Petty, Jack Hutchins
C: Mitch Gent, Jay Lockhart, Jay Kennedy Harris
HF: Cory MacHaya, Josh Wagner, Bernie Vince
F: Will Collis, Tim Smith, Jeff Garlett
R: Cam Pedersen, Corey Wagner, Tom Bugg
I/C (from): Jaxon Briggs, Mitch King, Mykelti Lefau, James Munro, Aidan Quigley, Angus Scott, Cory Stockdale, Mitch White
23P: Tom Freeman
In: King, Vince, Briggs, Kennedy Harris, Scott, Quigley
Out: McKenna