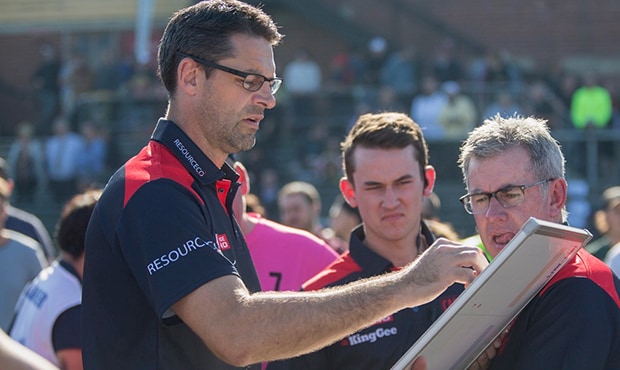 BEHIND any great sporting club there are some hard working people.
People who commit enormous amounts of time and effort to provide an opportunity for the players to perform.
At the Casey Demons, Garry O'Sullivan is one of those people.
O'Sullivan is the manager of footy operations for the men and women, as well as controlling the facilities at Casey Fields.
Since joining the club at the start of the season, O'Sullivan has had a notable impact off the field, allowing everything at Casey to run smoothly.
In fact, according to senior coach Jade Rawlings, O'Sullivan has been one of the "best recruits of the year".
"He's an absolutely terrific person," Rawlings told Melbourne Media.
"Great work ethic, great experience in the competition and I've really enjoyed the genuine relationships he's built with people."
O'Sullivan's role is a demanding one, but one Rawlings says he completes incredibly well.
"He's basically the head of Casey football," Rawlings said.
"So anything to do with the men or women's program, he's the manager of it.
"It's a big job. He does it positively and knows what his role is. I really rate him highly."
While the role is undoubtedly a challenge, O'Sullivan thoroughly enjoys being a part of the club.
"I'm just wrapped that Casey gave me the opportunity after I finished up at the Northern Blues," O'Sullivan told Melbourne Media.
"I'm really loving it and enjoying it. It's great that the team's winning obviously. Even though they are long days, I enjoy them.
"When we lose you probably don't enjoy it as much, but it's part of it.
"We've all been in it long enough to know that you win them and you lose them, but it's certainly great to be right in the middle of it all."
While a football match occurs over the best part of three hours, O'Sullivan's days are far longer than that.
The devoted worker gets to the ground early, prepares all necessary equipment and stays on top of any other formalities – all before the players arrive.
"We haven't got a properly designated property manager, so I look after that on a match day," O'Sullivan said.
"It's an early start to make sure I get all the gear (to the ground).
"I like to get everything set up for the women in their rooms so once they get here, it's all set up for them.
"I just want them to do their stuff – play the game."
When O'Sullivan has completed his pre-game preparations he then prepares for his second match day task.
In a crucial managerial role, O'Sullivan sits on the boundary line throughout each game, coordinating the bench and communicating Rawlings' message to the players.
"I'm connected to Jade up in the coaches box," he said.
"We have the phone connection between him up there and me down on the ground, so anything that he needs to get to the runners or the players goes through me.
"So there's a direct connection there, and I just make sure the bench runs smoothly because it can be a fairly volatile place on a match day, so just keeping everything calm."
O'Sullivan's job has many aspects – all crucial influences on the way Casey perform during a match.
But his primary objective is to allow the players to have an uninterrupted experience.
"Just make sure we put the show on so the boys and girls can do the rest," he said.
"I've been doing it for a long time so it's a labour of love."
And while O'Sullivan receives little exterior credit for his devotion to the club, Rawlings said he is a well valued member who enjoys the successes as much as anyone.
"He love's winning," Rawlings said.
"This job is about developing and creating a better environment.
"What I love seeing is what it means to people when we win and Garry is one of those people.
"He's a positive influence around the place and I think our club is so far ahead of where it could be because of someone like him."