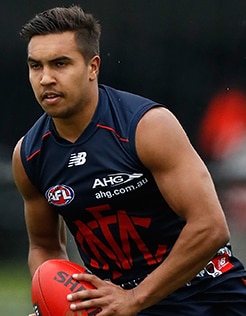 MELBOURNE will enter the 2017 home and away season with at least eight players on the sidelines, including recruit Michael Hibberd, utility Aaron vandenBerg, defender Josh Wagner and speedster Jay Kennedy-Harris.
Elite performance manager Dave Misson said Hibberd (Achilles – 2-3 weeks), vandenBerg (heel – 4-6 weeks), Wagner (fibula – 2-3 weeks) and Kennedy-Harris (arm – 2-3 weeks) were all in varying stages of their rehabilitation.
"Hibbo settled really well over the weekend and he ran well today (Tuesday), but because he's been a little bit up and down, he's probably a couple of weeks away," he told Melbourne TV.
"Vanders has that heel stress fracture and it's been a little bit slow, so he's still in a boot at the moment and will probably come out next week. He'll need a reloading program to get him up to play.
"Josh started training Tuesday, so he'll continue to do that for a couple of weeks, because he's been out now for nearly five weeks. He'll need a couple of weeks training before he comes back to play.
"Jay Kennedy-Harris is actually going really well. He sees the surgeon early next week to get the clearance for contact, so he could actually be training with the group by next week and playing the week after that, so he's going well."
Defender Colin Garland, who will miss the 2017 season after he ruptured his anterior cruciate ligament playing for Casey against Port Melbourne at Casey Fields last Sunday, will have surgery next week.
"He's looking to have surgery next week, so unfortunately it'll mean the season for Col," Misson said.
"He's a great competitor and a very professional athlete, so we expect to go pretty well."
But tall Sam Frost (toe) could return to play for Casey in a practice match this weekend.
"Sam trained again with the group on Tuesday and will do so again on Thursday," he said.
"It's just a decision about whether he plays for Casey this week or next. It's a bit about getting enough football into him before he plays his first game.
"He trained really well both on Friday and today (Tuesday) again."
Youngsters Mitch White (ankle) and Liam Hulett (hip) will also miss the start of the season.
"Liam unfortunately strained his hip flexor playing very late in the game – it was actually the contest before Col hurt his knee late in the game for Casey last Sunday. That's probably a three to four-week [injury]," Misson said.
"Mitch has had that ankle problem that was a little bit slow to start with, but he's going really well now and he's probably due to play with the group on Thursday. He's similar to Josh Wagner and will need a couple of weeks of training before he plays."
Ruckman Mitch King, who missed all but the opening VFL game last season, is getting closer
"Mitch has had a few little minor hiccups along the way, with that rehab after his ACL injury," Misson said.
"He's going really well now and is lifting well in the gym, and he's been training well and he'll look to do another session with the group on Thursday.
"He's on the long-term injury list, so he isn't due to play until round two of the VFL, which is round five in the AFL. It gives us an opportunity to get a lot of training into Mitch before he plays his first game, so we can really set him up for a good year."
Melbourne injury list: round one
Sam Frost (toe) – test
Colin Garland (knee) – season
Michael Hibberd (Achilles) – 2-3 weeks
Liam Hulett (hip) – 3-4 weeks
Jay Kennedy-Harris (arm) – 2-3 weeks
Mitch King (knee) – 5 weeks
Aaron vandenBerg (heel) – 4-6 weeks
Josh Wagner (fibula) – 2-3 weeks
Mitch White (ankle) – 2-3 weeks