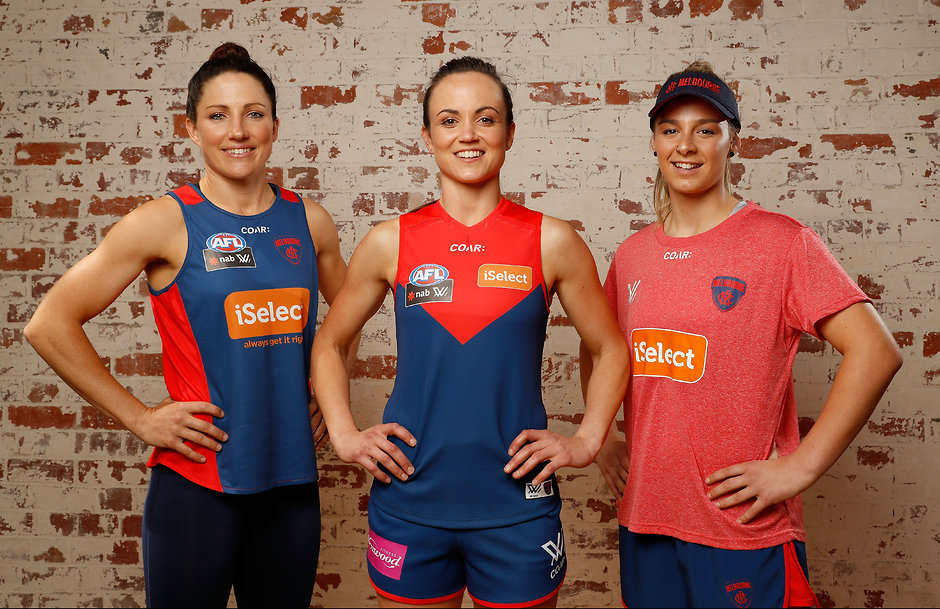 MELBOURNE has announced its jumper numbers for its 2017 women's squad.
Marquee selection Daisy Pearce, who wore No.31 in the exhibition series from 2013-16, will wear No.6, which is the number she has worn for most of her playing career.
No.6 is also the new number for boom men's recruit Jordan Lewis.
Melbourne's other marquee pick Mel Hickey will wear No.18.
Free agent Meg Downie will don No.2 – the lowest number to be worn by a Melbourne women's player next year.
Melbourne's first pick in the recent NAB AFL Women's Draft – Elise O'Dea – will don the No.5 guernsey.
No.44 will be the highest number for the women's squad next year, which will be worn by Mia-Rae Clifford.
Number one, 12 and 17 are the only vacant numbers in the top 25.
Harriet Cordner will wear No.21 – made famous by her Brownlow Medal winning grandfather Don, who wore No.21 for Melbourne.
Jessica Anderson (No.28), Richelle Cranston (No.30), Cat Phillips (No.35), Ainslie Kemp (No.36) and Clifford are the other players to wear numbers higher than No.25.
2017 Melbourne women's squad guernsey numbers
2 – Meg Downie
3 – Emma Humphries
4 – Karen Paxman
5 – Elise O'Dea
6 – Daisy Pearce
7 – Deanna Berry
8 – Sarah Lampard
9 – Alyssa Mifsud
10 – Sarah Jolly
11 – Laura Duryea
13 – Katherine Smith
14 – Lily Mithen
15 – Lauren Pearce
16 – Aliesha Newman
18 – Melissa Hickey
19 – Jasmine Grierson
20 – Shelley Scott
21 – Harriet Cordner
22 – Pepa Randall
23 – Stephanie De Bortoli
24 – Brooke Patterson
25 – Maddie Boyd
28 – Jessica Anderson
30 – Richelle Cranston
35 – Cat Phillips
36 – Ainslie Kemp
44 – Mia-Rae Clifford