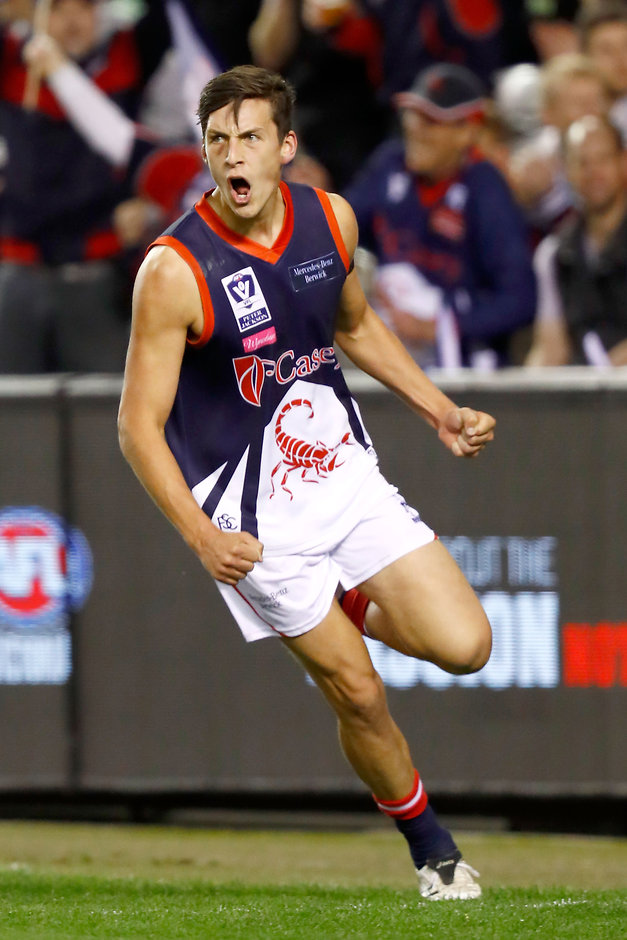 First quarter: Footscray 2.7 (19) to Casey Scorpions 2.1 (13)
Footscray got the first one on the board and at quarter-time took a six-point advantage into the break. But the Dogs could've been further in front, after registering nine scoring shots to three.

The Bulldogs squandered several opportunities in front of goal and when Lin Jong hit the post after the siren, a scuffle broke out. Casey managed two goals for the term via Melbourne-listed duo Mitch White and Sam Weideman.

Scorpion Tim Smith threw a scare through the camp, when he hobbled off with a knee injury.

Second quarter: Casey Scorpions 6.3 (39) to Footscray 4.9 (33)
It was goal-for-goal early in the second term, until Casey landed back-to-back majors midway through the quarter. Smith, who looked in genuine trouble with a knee injury late in the first term, bounced back strongly. He booted Casey's first two goals of the quarter and had the chance to kick a third.

But when Weideman bobbed up with his second, the Scorpions gained a seven-point lead, which was the equal biggest lead by both teams in the first half. A strong mark over the top of the pack and subsequent goal by Liam Hulett came late in the term and at the main break, the Scorps led by a goal. Ben Long and Brad Lynch were the Dogs' goalkickers in the second term. Clayton Oliver had a game-high 17 touches in the first half, as Jack Grimes and Ben Kennedy were next best with 16 each.

Third quarter: Footscray 12.13 (85) to Casey Scorpions 6.3 (39)
With the game set for an intriguing second half, Footscray turned the game on its head in the third term. The Dogs slammed on a remarkable 8.4 to zip for the quarter.

The Scorpions didn't even manage a behind for the term. AFL-listed Bulldog Tom Campbell and Nick Jamieson booted two goals for the term, as Footscray had six individual goalkickers for the quarter. At three quarter-time, Footscray led by 46 points.

Final quarter: Footscray 13.19 (97) d Casey Scorpions 10.6 (66)
The game was all but over entering the final term. Although Casey booted four goals to one in the final term, it still managed to fall short by 31 points. Smith booted his third major, as former Melbourne co-captain Jack Trengove, midfielder Ben Newton and Casey-listed player Angus Scott kicked majors. Oliver finished with a game-high 31 disposals.

The official attendance was 17,348.