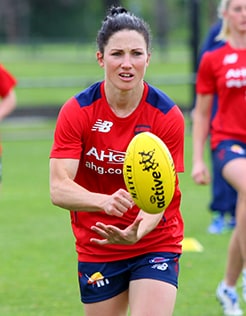 AS MELBOURNE'S second marquee selection for the 2017 Women's AFL season, Melissa Hickey has achieved a dream that at one stage looked like a race against time.
"It's just a dream come true," declares Hickey. "When it was announced that the marquee players were going to be a thing, I set it as a goal that I really wanted to be a marquee player."
On June 15, Hickey was revelling in the announcement of the eight licensed Women's AFL teams when she received a call from Melbourne coach Michelle Cowan notifying her that she was on the short list for marquee selection. The day before the marquee players were made official, the dream came true in a notification from Melbourne Women's Football Operations Manager Debbie Lee.
Hickey was chosen as a marquee after her Darebin Falcons' teammate Daisy Pearce, the media face of female football. The Falcons are through to the inaugural VFL Women's Grand Final after an unbeaten home and away season, with Pearce and Hickey both playing integral roles.
Hickey is renowned for consistency and efficiency as a defender in VFL Women's. Blessed with a sure pair of hands, Hickey's ability to read the play and deliver the ball accurately by hand and foot belies the late start to her football career.
"I've only played just over a hundred games," says the 31-year old Hickey, who incredibly first pulled on a pair of boots just seven years ago. The long push towards a national women's competition gathered momentum following the support of AFL CEO Gillon McLachlan: it was music to the ears of the defender.
"They'd always talked about 2020 being the start date, which I knew was going to be right at the end of my career," reflects Hickey. "When Gill McLachlan announced that 2017 was on, obviously I wanted to be a part of that, so it's come for me at such a great time."
Hickey works alongside another marquee position player in Western Bulldogs' forward Katie Brennan. Brennan, who is the third of four Darebin players to be nominated as a marquee along with Carlton key position player Darcy Vescio, has opened a public training facility known as the kb. performance centre in Coburg. Hickey says the facility is somewhat of a testament to the faith and hard work shown by female footballers to reach a national competition.
"It's so cool to be able to work with young girls," she says. "And there are even girls coming in who play senior footy as well who are just keen to get better and improve their skills and fitness."
Come Saturday night Hickey may well line up on Brennan, who has kicked 82 goals thus far in the VFL Women's season. No fewer than eight Falcons have been named for the match, with Hickey set to come up against three in Brennan, Vescio and Lauren Arnell.
"It's weird, but in a way you just want to tackle your teammates harder," she laughs.
The Women's All Stars match against the Western Bulldogs starts Saturday night at VU Whitten Oval at 7.00 pm.