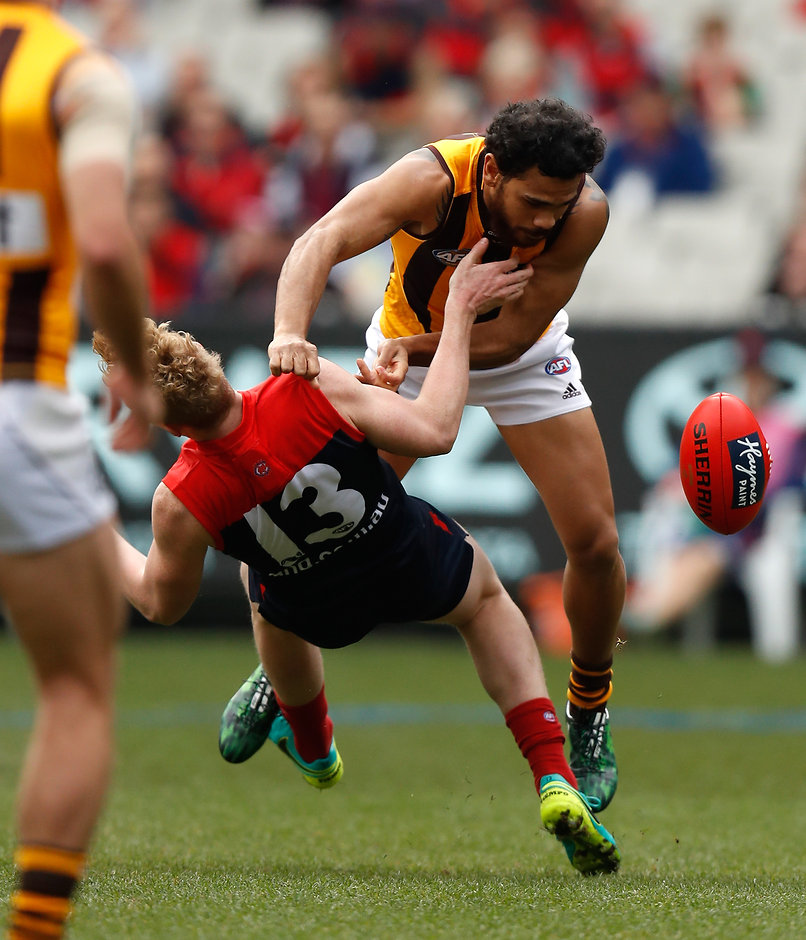 To Clarry's (Oliver) credit, he got back up and he actually got into Cyril [Rioli] later in the game
Nathan Jones
THE first game of Sam Weideman and the ability for Clayton Oliver to bounce back after copping a heavy knock from Cyril Rioli have earned praise from their skipper Nathan Jones.
The two 2015 draftees played important parts in Melbourne's 29-point win over Hawthorn at the MCG on Saturday and Jones said the duo was the type of players the club had targeted in recent times.
"Weide's been terrific all year [for Casey] and I thought he was a chance [to debut] earlier in the year, but he's stuck at it down there and he's got some real form under his belt and he's kicked a few goals," Jones said.
"Just to see his pure ability at jumping at the ball – that's what we see down at the VFL all season and not many of us have seen a player like that of his age, be able to attack the ball in the air like that.
"It was pretty promising for us – he got the boys up and about to take a big contested mark first-up and finish with the goal. He's an exciting player and prospect for us and I'm pretty keen to see him and Jesse [Hogan] in the same team."
Jones said Oliver was "as tough as I've seen a kid come into the game".
"Cyril's not one you want to run into and probably that hit [on Oliver in the first quarter] – I was pretty close by – was the most flush I've seen someone get nailed before," he said.
"To Clarry's (Oliver) credit, he got back up and he actually got into Cyril [Rioli] later in the game.
"That shows he's willing to dish it out, but can also take it, so it's a promising sign for us. These promising young players that are coming through, they're made of the right stuff. They've got terrific attitudes and they play footy the right way – hard and fair, which is what we're trying to build our club around."
Meanwhile, Jones said the best way to send off Paul Roos, who has three more matches as Melbourne coach before handing the baton to Simon Goodwin, is to keep on winning.
"I think the best thing we can do is honour him through our performances," he said.
"What we did last weekend made him really proud and we've shown improvement.
"But winning matches and playing our best footy over the next three weeks will go a long way to satisfying Roosy. I think at least for now, he's Melbourne through and through."