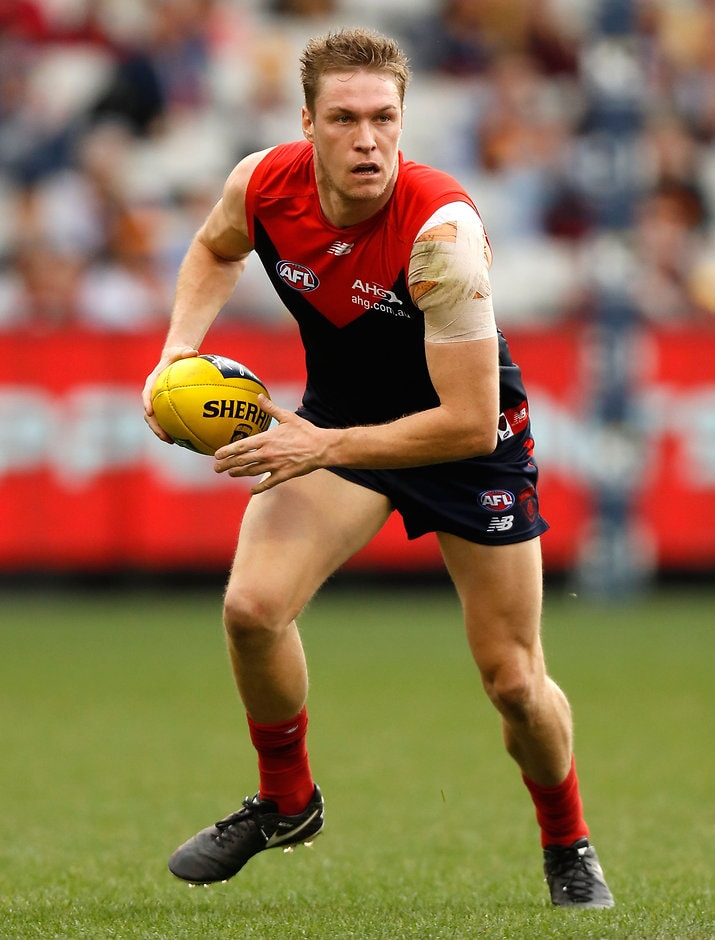 It feels as though it's come quickly, even though it's six years now since I got to the footy club. It's an achievement, because I never thought of myself getting to this point, so I'm pretty proud to have been able to make it
Tom McDonald
LEADER Tom McDonald says he's proud to have achieved 100 AFL games, when he never envisaged he'd make it to triple figures.
McDonald, who made his AFL debut in round 23, 2011 against the Gold Coast Suns at the MCG, will play his 100th game against the same club at the same venue this Sunday.
The 23-year-old, who has finished third twice in Melbourne's best and fairest award in 2012 and 2015, has become an integral part of Melbourne's side, specifically down back.
Originally from Edenhope-Apsley/North Ballarat, McDonald, who was drafted at No.53 in the 2010 NAB AFL Draft, said it was "pretty exciting" to reach his milestone.
"It feels as though it's come quickly, even though it's six years now since I got to the footy club. It's an achievement, because I never thought of myself getting to this point, so I'm pretty proud to have been able to make it," he told Melbourne TV.
"I didn't play much in my first season, but since then I've played consistently in the senior team. I've been pretty lucky with injuries – there have been plenty of guys who don't get the chance because they get struck down by serious injuries.
"I've been relatively lucky, so I'm just really proud that the Melbourne footy club has given me the opportunity and I've been able to play 100 games for them."
Given he has tasted just 25 wins in his first 99 matches, McDonald acknowledged it had been "a real up-and-down journey for the first five or six years and 100 games".
"There has been a lot of losing along the way and a lot of tough times," he said.
"We've seen some good things in the last couple of years and some flashes of real potential.
"We still haven't got the consistency to be a top level team [yet], but I think there has been enough to show that hopefully that will come in, in the near future. So there are a lot of exciting things to come."
After having an outstanding season last year, particularly in the first half of the season, McDonald said he still had the ability to take his game to another level.
"I still think there is another step to go to – you're never really satisfied with where you are in the game. You can always do better," he said.
"I think there is a lot of growth left in my game and I'm working on that and my consistency and level of production being at a high level every week.
"Hopefully that leads to the team being better and playing finals and playing well in big games as well, which I haven't had the opportunity to be a part of yet.
"I think it's been a big journey of getting better, improving and learning different ways to play and even changing throughout a season has been tough to learn."
As for next year and beyond, McDonald said he simply wanted to become "a consistent football player".
"I think I still have an impact in all games, but there are games where I let myself down with certain aspects, which is frustrating. I really want to set a minimum level of performance every week, which doesn't mean you have to be best on ground every week, but just doing my job and doing it well," he said.
"I really want to grow and improve, and play different roles and play on a variety of opponents – whether that's a key forward or sometimes a small forward. That's my opportunity for the off-season – just to improve and grow as a player, and as a leader as well. I think I've got to be a better leader, being the most experienced in the backline.
"I have to really improve that side of my game to lift them, and when things aren't going well, help those guys who haven't played much footy and help them through."