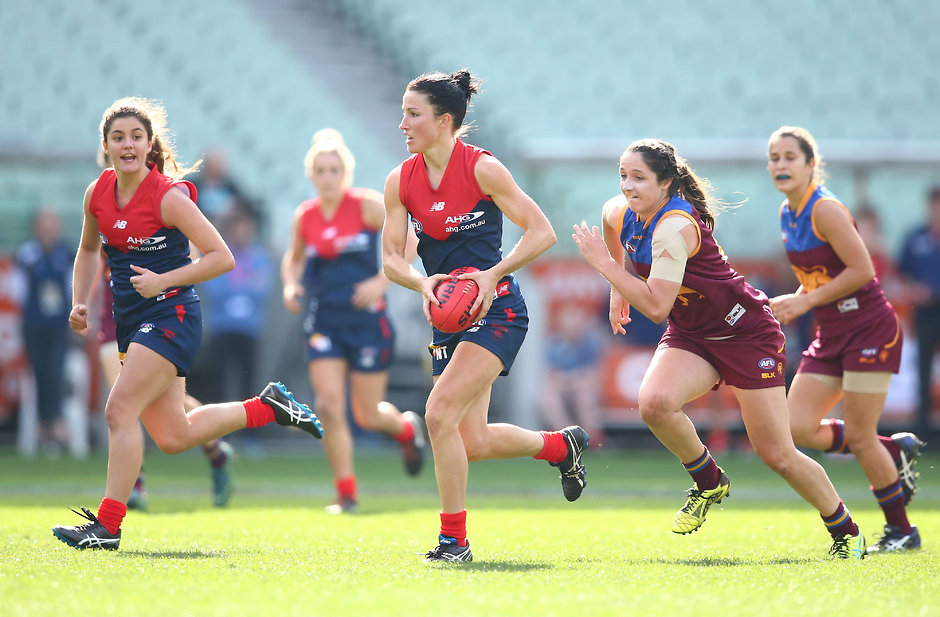 Living in Mildura, country footy was a big part of our family growing up
Melissa Hickey
IT'S FITTING that Melissa Hickey is part of the pioneering AFL women's league, given that one of her relatives Pat Hickey played in the first ever VFL/AFL round for Fitzroy back in 1897.
For the extended Hickey family, football runs in its blood.
Not only did Pat Hickey play in Fitzroy's first ever game against Carlton at Brunswick St Oval on May 8, 1897, he was a member of its first two flags in 1898-99.
He also played in Fitzroy's Grand Final in 1900, but was on the losing side to none other than Melbourne, which won its first VFL/AFL premiership.
Later on, the family connection continued via Reg Hickey, who etched his name as a football great and later became a member of the Australian Football Hall of Fame and captain of Geelong's team of the century.
Although Melissa Hickey played in the first women's AFL match in 2013, she will also be a foundation player for Melbourne when it plays its first game next year.
It's been already been a big journey for Hickey, who grew up in Mildura, where football was part of her life.
"Living in Mildura, country footy was a big part of our family growing up," she said.
"My dad was a country footballer and our family followed Geelong. My cousins played footy and my grandfather as well, so footy was really strong in our family.
"I remember kicking the footy with my cousins and Dad – and I remember kicking the ball to myself for hours and kicking goals through the trees. I played in my grade five and six primary school team."
Hickey's father Peter even trained with Richmond, before returning to the family farm.
"The way he tells it is that his Dad wanted him back on the farm, where he'd get paid more. He probably could've given it a go, but he got called back to the farm," she said.
"I think he was the first player to get paid up in the Mildura league, which is pretty cool."
"There is a team up there in Mildura called 'The Imps' (Mildura Imperials) and my Dad's cousin Tony Hickey, he's won lots of league best and fairests and premierships, so it's a really strong connection – the Hickey family and footy."
After playing netball during her teenage years, it wasn't until Hickey moved to Melbourne for university that she started playing football again – at age 24.
"I played football and netball in that first season and then I quickly gave away netball and footy has been my obsession since," she said.
"I'm 31 and I had a year off with my ACL, so this is my seventh season. I've played for Darebin for a couple of years and then I had one season at the Spurs and then did my knee and then went back to Darebin.
"And now I can't wait to continue playing for Melbourne next year."