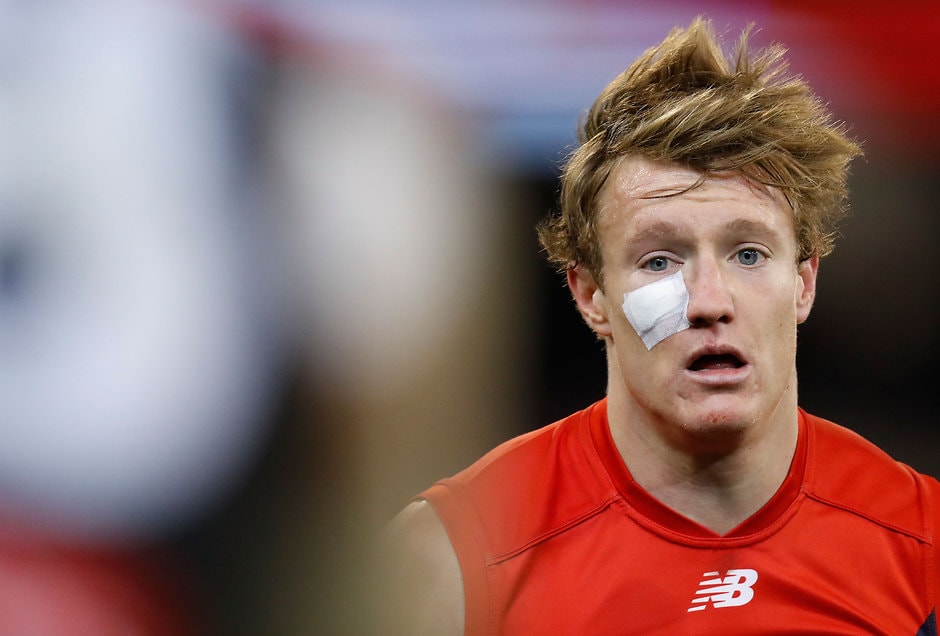 It's definitely a managing injury, but it's certainly a lot better than it was at the start of the season, which was great
Aaron vandenBerg
HARD-nut Aaron vandenBerg says he is having to manage an ankle injury, which interrupted his pre-season and forced him to miss five matches from rounds four to eight.
Although vandenBerg has played the past two matches with Melbourne – after just one match back with Casey – he said his ankle was on the improve.
"It's definitely a managing injury, but it's certainly a lot better than it was at the start of the season, which was great," he told Melbourne TV.
"I'll take it week by week and whatever it throws up."
vandenBerg missed the last match of Melbourne's NAB Challenge matches and then was sidelined after the first three home and away matches.
But he said it became a problem after Melbourne's close loss against North Melbourne in round three.
"It was manageable throughout the pre-season and then unfortunately I tweaked it a little bit in the NAB [Challenge] series," he said.
"I tried to come back for the first three rounds and it just deteriorated from that.
"I had an extensive rest period and I didn't get to play a lot of footy, but that was OK. I was away from the footy field and on the training track, and credit to the rehabilitation coaches and the whole performance guys – they kept me in really good condition.
"When I came back in and started playing, I didn't feel like I missed much footy, which was great. Hopefully now I can sustain a good period of games until the end of the season."
Now, vandenBerg has set his sights on building his form and continuity in the second half of the season.
"I just want to keep backing up week to week and improving my game. Missing five weeks was frustrating, because you can't build up a set of form," he said.
"I've had a couple of games now at AFL level and I just want to keep maintaining and hopefully improving my form as the season goes on.
"I've played entirely forward since coming back into the team, but I might be able to get a little dabble in the midfield, which would be great. But at this point in time, I'm just focusing on where the team wants me to play a role."
Sporting a black eye, stiches under the eye and some scratches, vandenBerg said it came about in an incident with former teammate Jeremy Howe during last Monday's Queen's Birthday win over Collingwood at the MCG.
"It's not too bad now. It was pretty sore after the game," he said.
"Unfortunately I copped a little bit of a knock from old mate Jeremy Howe in the first quarter and got patched up, but it's recovering well.
"It's not too bad. Thankfully it didn't close completely over. It was a bit uncomfortable at first, but now I've got full eye sight back and it's not too much of a worry now.
"I've got a couple of stitches unfortunately and my face is pretty scratched up, so it's not ideal, but you have to deal with that and that's footy."