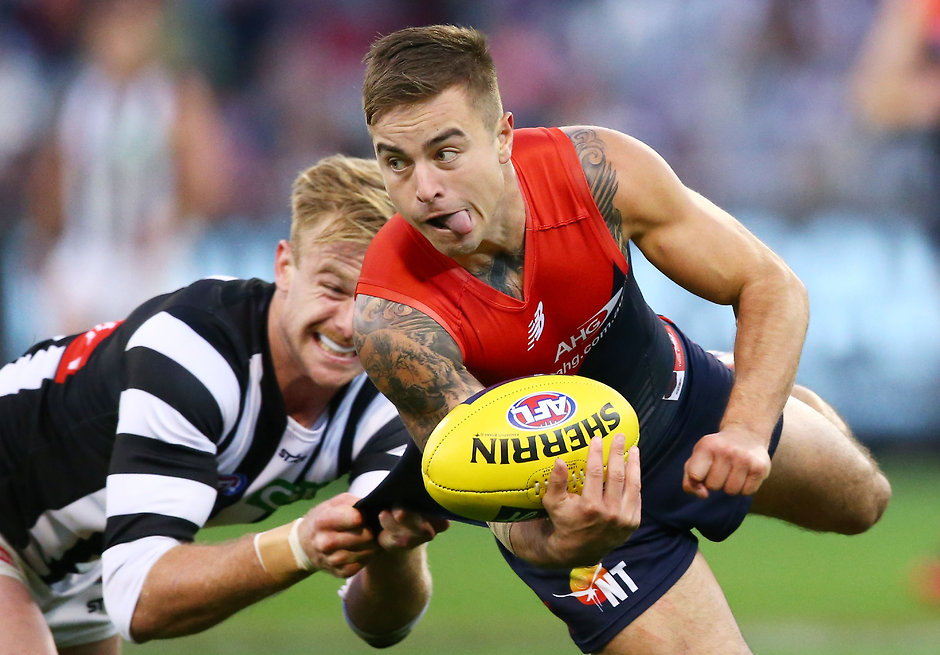 There were a few mixed emotions going into the game but at the end of the day I didn't really consume myself too much with it
Ben Kennedy
MELBOURNE forward Ben Kennedy admits he was quick to circle the Queen's Birthday clash against his former side when the fixture was released at the start of the season.
After being traded from Collingwood to Melbourne in the off-season (as part of a four-way deal that saw Jeremy Howe land at the Magpies, Paul Seedsman at Adelaide and Jimmy Toumpas at Port Adelaide), Kennedy has fitted in almost seamlessly into his new surroundings.
On Monday, he played perhaps his best game in his new colours, racking up a career-high 29 disposals, three score assists and a goal in a sweet 46-point victory over his old club at a packed MCG.
"There were a few mixed emotions going into the game but at the end of the day I didn't really consume myself too much with it," Kennedy told AFL.com.au.
"I tried not to overdo it too much. I think that's the risk when you go back and play against your old side that you might want to go and try to play really well and show off a bit."
Kennedy responded to his omission to the VFL last weekend with a strong performance to force his way back into the seniors, with 30 disposals and three goals. To coach Paul Roos, the resilience he showed highlights Kennedy's character.
"He had a lot of the footy, a lot of critical possessions," Roos said.
"Certainly his ball use has improved significantly since being at the club. He had a really big impact early in the season, just dropped off a fraction, that's why he went back to the VFL.
"We were really pleased with his response last week and today (Monday) once he started using hands and bringing his teammates into the game in the second quarter he was a different player and really contributed significantly to the win."
Kennedy said his demotion to the lower level was an important lesson in his journey as an AFL footballer, after limited opportunities in his three seasons at Collingwood.
He has grown as a player in 2016. He's quick, he's smart and most of all, Melbourne absolutely love his competitiveness.
"I went a little bit away from my usual game for a couple of weeks there. I didn't focus in on my role as much as I did in the first five or six weeks," Kennedy said.
"It was a bit about fine-tuning my game and what it really takes to be an AFL footballer. That was the most amount of games I'd played in a season (in a row) before so it was to teach me a bit of a lesson in a sense about what is really required to play AFL footy."
The 22-year-old played the opening 10 games of the season consecutively to add to the 25 games he played at the Magpies after being drafted with pick No.19 in the 2012 NAB AFL Draft.
"The coaching group here has faith in me and going forward they think I can be a good player," Kennedy said.
"To be honest, I'm not satisified with just that. I think we've got a very good group (at Melbourne) and I've loved every second being here.
"Everyone believes what we're doing here and going forward we're all on the same page."