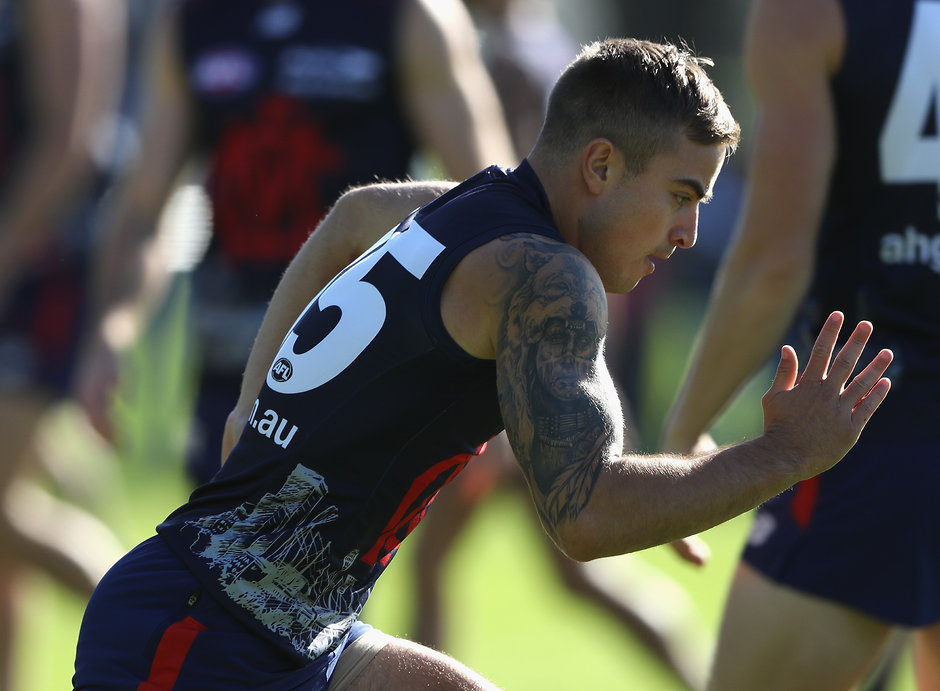 CASEY coach Justin Plapp reviews the Melbourne-listed players who played in the VFL
2016 Peter Jackson VFL
Sunday, June 5, 2pm, Casey Fields
Casey Scorpions 12.14 (86) d Port Melbourne 7.9 (51)
From the coach …
"It was typical wet weather footy where it was pretty tight, a lot of stoppages, a lot of contests. We were able to start the game really well without putting a lot scoreboard pressure on Port Melbourne. Due to that, we allowed them to get back into the game through the middle part of the game – it was just your typical, grinding game of wet weather football. We were able to put some things in place in the last quarter and change some things up and we really dominated the contest and we had a few things go our way in regards to free kicks. We finished the game off really well and came away as 35 point victors so it was a really good result without getting over-excited. They're the sort of games you want to be winning because they're not easy games. We felt that the players handled the conditions really well and it was just a solid win." – Justin Plapp
Lynden Dunn: Dunny was injured just before quarter time with a leg complaint. I'm not sure what the diagnosis is but he didn't take any further part in the game.
Jack Grimes: Jack had 25 possessions, five inside 50s and 14 tackles. [It] was a really typical Jack Grimes game with a lot of tight contested ball wins and it was really fantastic to see him involve himself in the game with his tackling - having 14 tackles is a massive result. It was a solid game again from Grimesy and he played that wing, on-ball, half-forward role. His performances at VFL level have been very consistent.
Liam Hulett: Liam had 15 possessions, two goals and two tackles. He was really active yesterday as a forward, even in the conditions where it makes it a lot harder. He played with speed and was clean with the ball when he won it. He used the ball really well and just provided us with a really solid focal point forward.
Matt Jones: It was Matt's first game back from injury after six weeks. He had 11 possessions and five effective tackles. Coming back from injury, he was on limited time. He worked his way into the game well even though he was playing more that outside role. After having a fair bit of time off footy, I thought it was a solid return to footy.
Ben Kennedy: Ben had 30 possessions, 10 tackles and he finished the day with three goals. It was a fantastic game from Ben after being dropped back from AFL footy. The way he started the game with his willingness to work and work from contest-to-contest was a real highlight. He won a lot of critical contested balls and he was also fantastic with the defensive part of his game, putting a lot of source pressure on the ball-carrier and he kicked three really classy goals. Full credit to Benny; it would have been easy for him to be down about being dropped but he came in with a really good attitude, prepared really well and got some really good results out of that.
Jay Kennedy-Harris: Jay was another one who was returning from a long lay-off – he's had about seven weeks off. He had 12 possessions and nine tackles so from an output point of view, obviously Jay has had some time off footy and was on restricted game time. He was another one who worked his way into the game really well and he was very active in and around our forward 50 with his defensive pressure, playing that high half-forward role. He was seen to be moving across the ground really well and for a day that probably didn't suit smaller-type forwards; he worked his way into the game really well.
Max King: Max had 10 possessions, four marks and five tackles. Like a lot of the other players, Kingy being a tall forward and playing that back-up role, a lot of the focus around those players is that it's not going to be a day where they have a massive impact from a possession point of view. One thing I loved about Kingy's game on the weekend was his ability to get himself involved in the defensive part of the game and he had three fantastic chase-down tackles that resulted in either goals or us winning the ball back. From that point of view where it wasn't easy for taller players, he certainly got himself involved in the defensive part of the game which was really pleasing.
Viv Michie: Viv had 20 possessions, four inside-50, kicked one goal and had six effective tackles. Viv started off half-back and worked his way into the game well with some really good ball use from half-back and created some of our offensive change from deep 50. He was moved into the middle of the ground in the last quarter and became a really important reason why we were able to get ourselves the win like we did. He won some critical contests and also gave us some really class ball use when going forward to set up two goals.
Alex Neal-Bullen: Alex had 23 possessions, six inside-50s and 13 effective tackles. It was just another typical day for Alex; the conditions suited the type of player he is so there was lot of heavy contested work around the contest. It was just the type of day where Alex is going to have a really good impact because he is a bit of a workhorse and competitive beast when it comes to the contest part of the game. He was another player to come back from AFL level as well and we thought he came back with a really good attitude and real purpose about the way he wanted to go about his football.

Ben Newton: Ben had 27 possessions, 17 handballs, seven inside-50s and 12 effective tackles. [Ben] was another great contributor on the day and played mainly through the midfield. He was able to win critical contests, win the contested ball and able to get the ball to our outside players. He worked pretty hard defensively with the 12 effective tackles but it was another good effort from a player who was coming back from AFL football. He came to the game ready to play and played with a good attitude as well.
Cameron Pedersen: Cam had 13 possessions, five marks and six tackles. As with a lot of our other forwards, it was never going to be a great game for him as well from a possession [point of view] but Cam was able to compete really well over the course of the game. He was able to halve contests and the play that really typified his day was in the last quarter where we needed a really strong contest and a really brave effort, he went back with a flight to the ball and was able to halve a contest and allowed us to get numbers around the ball and we drew a free kick which we ended up scoring off. There were little instances around the game where we needed Pedo to stand up and use his size and create a contest and he was able to do that over four quarters so we were really pleased with his contribution.
Jake Spencer: It was probably one of Jake's better games for the year. He had 11 possessions, 48 hit-outs and six effective tackles. He really had the upper-hand in the stoppages and was able to give our mids some really good use. His follow-up work and his ability to clear space and put the opposition under pressure when the ball was in his area was very good. He was also able to push forward and also kicked two goals which was a positive.
Dean Terlich: Dean had 20 possessions, four effective tackles and was also one who kicked two goals. We've changed his role up a bit over the last few weeks and he's been able to have really good impact in that role, he's playing more that high half-forward, small forward role where he's putting the opposition under pressure. He was able to have real impact on the game and was able to create a couple of scoring opportunities with his forward pressure and ball winning. Moving forward, he just needs to be able to continue to bring his teammates into the game but also maintain a high level of defensive pressure and defensive mindset.
Sam Weideman: Sam had 12 possessions, three marks, kicked one goal and had three effective tackles. Sammy competed really well and was able to create some good contests that were able to bring our ground-level players into play. Like a lot of the other forwards I spoke about, it wasn't going to be any easy day to be able to mark the ball but Sammy keeps fronting up and competing really well. We see these games as really good learning games for him as there's a lot to take out of these games from his positioning and his reaction time to get back and make sure he gives us an option going forward. Weids played his role without starring.
Mitch White: Mitch had 24 possessions, six marks and two effective tackles. He's had a really good first half of the season, his defensive work has been really sound and his aerial work to compete in hard contests has been really good. The challenge for Mitch is to maintain a really high level to try and get an opportunity to play senior footy this year. He continues to improve and continues to play really solid football.

AFL Victoria Development League
Sunday, June 5, 11am, Casey Fields
Port Melbourne 18.8 (116) d Casey Scorpions 14.11 (95)
No Melbourne-listed players featured in the Development League