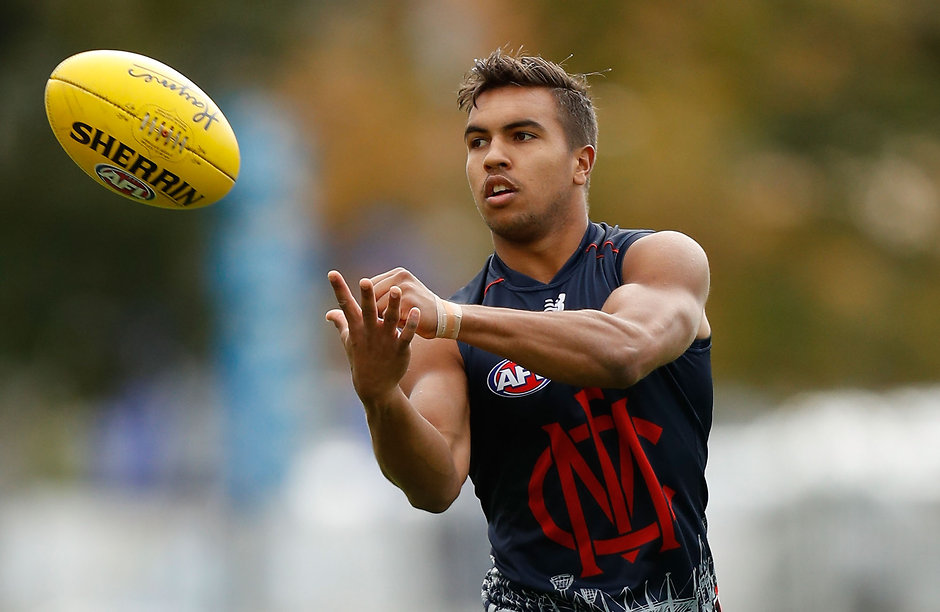 It's been a long layoff, so I'm not going to put all of my eggs into one basket. If I can get through training tomorrow (Thursday), which I should do, then I'll have all of my rehab boxes ticked off and I'll play on the weekend
Jay Kennedy-Harris
SMALL forward/midfielder Jay Kennedy-Harris says he's determined to hit the ground running when he returns from injury – most likely for Casey this Sunday, when it plays Port Melbourne at Casey Fields.
Kennedy-Harris has hardly played any matches this season – aside from a VFL intra-club match, a Casey practice match and the opening round of the season for the Scorpions.
Other than that, he has been injured with two separate hamstring injuries – the first sustained in the pre-season and the other in the opening VFL round against Frankston at Casey Fields.
Kennedy-Harris has to tick off training on Thursday before playing this weekend.
"It's been a long layoff, so I'm not going to put all of my eggs into one basket. If I can get through training tomorrow (Thursday), which I should do, then I'll have all of my rehab boxes ticked off and I'll play on the weekend," he told Melbourne TV.
"There have been moments of frustration where the thing that I've really learned throughout the whole process is how to make a positive out of it.
"I've put in a lot of hard work behind the scenes with coaches, so when I come back, I'll make sure that when I come back I'm ready to go. Hopefully that shows out on the field in the next few weeks."
Kennedy-Harris, who has played 22 matches since making his AFL debut in round one, 2014 against St Kilda at Etihad Stadium, said he had learned to "respect my body a bit more and not over train" and "resilience" from both incidents.
"The first one came in the pre-season, when it's a bit easy to get overexcited about trying to get yourself as fit as possible to set yourself for the season. It was a little bit like that and I probably did a little bit too much work and then during one of our match play sessions it went," he said.
"I learned that if I wanted to work that hard, I had to match it with my recovery – physio and massage, so I stepped all of that up and got to a really elite level as an athlete, in terms of my professionalism.
"The second time I was just a bit unlucky and I was sprinting and got pushed at the same time and it was reassuring that I was doing all of the right things this time around. I just got a bit unlucky.
"To give me an opportunity, I've got a lot stronger through my legs and I've learned a lot about the game with the coaches. I've spent a lot of time with Macca (Brendan McCartney) now, so there was a little bit of learning in it. There was a little bit of luck that didn't go my way, but at the end of it, I've definitely come out a lot better footballer than I was beforehand."
Kennedy-Harris, 21, said he was itching to play and ready to spend greater time on the wing and not just up forward.
"I'm not going to come back and get into the swing of things. I'm looking to come back and hit the ground running," he said.
"I've had a huge load of fitness work and I'm as fit as I've ever been, and I'm really strong through the legs and the skills haven't wavered too much, so I'll hit the ground running.
"It's a different role [for me] this year, I'm using my running ability up on the wing to give us that and then having the ability to give us that and then having that ability to go forward, so it's about having that versatility to go through both."
Kennedy-Harris, who was recruited from Kew/Oakleigh Chargers after being selected at No.40 in the 2013 NAB AFL Draft, said he didn't have a preference for whether he played in the midfield or up forward.
"It changes here and there. I definitely like playing on the wing – it's where I get to use my running capability to blow the other team up. I get to use my skills coming inside 50 a bit," he said.
"Being down forward also has its perks and you get to finish off, but there is a pretty strong forward line when we're up and going down there.
"As long as I'm in the team these days, I don't really mind what role they have for me."