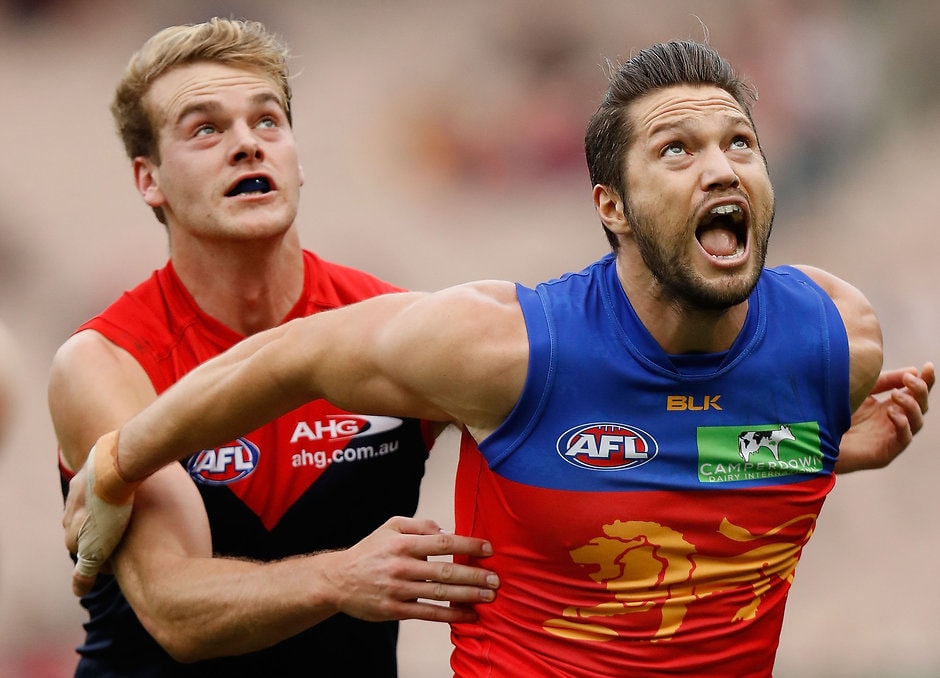 I thought he (Watts) was terrific, the way he competed and put pressure on around the ground, because he's such a great kick – I think he set up eight or nine scoring opportunities for us
Paul Roos
COACH Paul Roos has praised the performance of Jack Watts, who added an extra dimension to his game against the Brisbane Lions by playing as a back-up ruckman.
With Cameron Pedersen withdrawing in the lead-up to the match, due to illness, Watts assisted No.1 ruckman Max Gawn, as Melbourne notched up its fifth win of the season with a 63-point victory at the MCG on Sunday.
Roos said Watts, who finished with 19 disposals, seven hit outs and a goal was impressive for someone who hadn't played that role.
"I thought he was very good [when he went into the ruck]," he said post-match.
"It was a tough role and we lost Cam Pedersen, who was crook. Max [Gawn] has been playing a lot of minutes, but it is a risk if your main ruckman goes down. We talked about it, but there was not much we could do about it [if that happened].
"I thought he (Watts) was terrific, the way he competed and put pressure on around the ground, because he's such a great kick – I think he set up eight or nine scoring opportunities for us.
"Some were forward and some were in the midfield, and Christian Petracca came in and did a bit of third-up work for us as well, which helped us out. For a role that he (Watts) wouldn't have played – not [necessarily] ever, but probably since under 12s – he did a really good job."
But Roos said they wouldn't play Watts in the ruck on a regular basis, even though he added genuine flexibility to the 22.
"It does give you a bit of a different look, so for him to be able to do it, it was important for today, because we only had one ruckman," he said.
"But it is something that we can perhaps go to, as he responded really well and he played a good game."
Although Gawn still managed 29 hit outs, Roos said it didn't matter that his disposals had been down compared to his phenomenal start to the season.
"I think it's just reinforcing to Max our expectations are possibly different to external expectations," he said.
"Probably with Max, it's just about reminding him that his craft is really good around the ruck contest and that's his No.1 role. If he's doing that, we don't really care about how many possessions he gets.
"So we've just got to keep educating them about our expectations and not external expectations."
Meanwhile, Roos said he was bemused by the rushed behind, which was called against Lion Pearce Hanley and resulted in a free kick and goal to Melbourne skipper Nathan Jones in the first quarter.
"I thought we were going to look at it (the rushed behind), at the end of the year," he said.
"I was confused and we were talking about it in the box at the time.
"Maybe I missed the memo to be perfectly frank. I thought they (the Lions) were really stiff … I don't like it to be honest. I don't think you can make changes like that during the season.
"Maybe if it's obvious when a bloke kicks it through for the opposition, but I thought they were really stiff and I don't like it, but that's just me."
Roos also wondered if the deliberate rushed behind had been a focus this round.
"That's what I've been told … there's never a rule of the week," he said.
"I can't work that one out, but I just thought they were really stiff and I don't like it, but there is not much we can do about it."
As for Christian Petracca's disallowed goal, which was deemed touched, Roos was simply at a loss.
"I looked at the replay and I don't know how you could pick it from the replay?" he said.
"Did it look obvious? No, it was ridiculous. Unless there is a snickometre – I'm happy … [for it to be] definitely overturned'. But I thought it was a goal, unless there was absolute irrefutable evidence that it's not.
"Again that's the reality and I didn't think it was irrefutable evidence, but so be it."