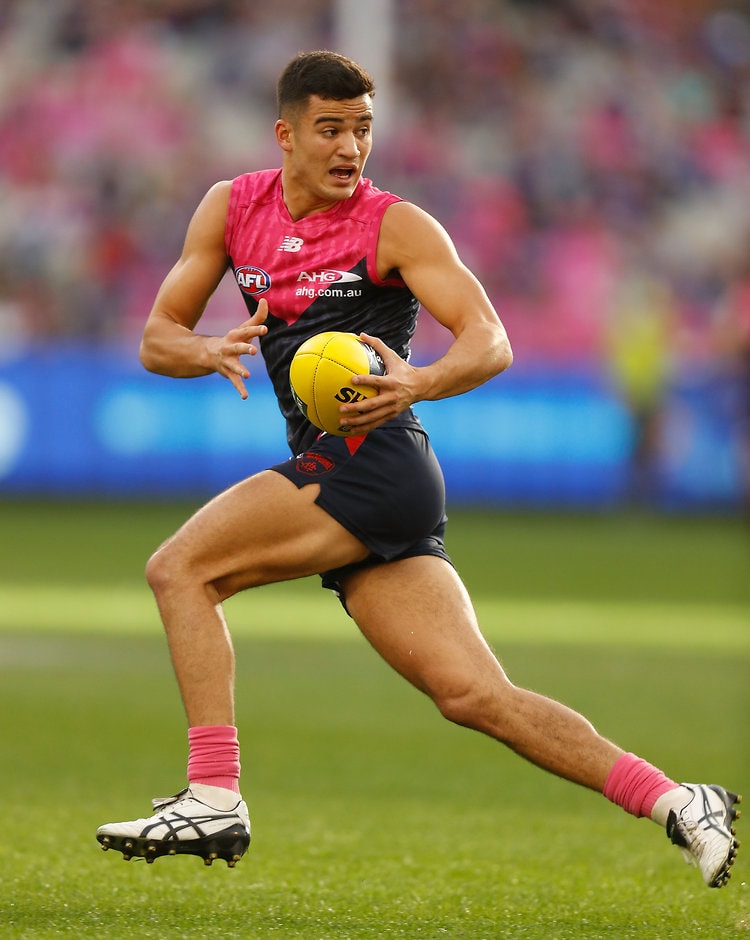 [I have] a lot [more confidence], knowing that I'm capable of finding the footy at AFL level. I feel like I can play good footy at that level and that's the challenge for me to back that up week in, week out
Billy Stretch
EMERGING midfielder Billy Stretch says he gained plenty of confidence from his impressive performance against the Western Bulldogs at the MCG last Sunday.
Although Melbourne went down by 32 points, Stretch was one of Melbourne's best with a career-high 25 disposals.
Entering this Sunday's clash against the Brisbane Lions at the MCG, Stretch says he has more belief compared to this time last week.
"[I have] a lot [more confidence], knowing that I'm capable of finding the footy at AFL level. I feel like I can play good footy at that level and that's the challenge for me to back that up week in, week out," he told Melbourne TV.
"There is a lot of pressure on for spots at the moment and we've got blokes playing really good footy in the VFL and everyone wants to be out there playing for the ones.
"We've got a healthy list and not too many injuries, so the pressure is on and we're developing a great brand of footy, so I want to be a part of that."
"Just being involved in four quarters and not having too many lapses in the game does give you a bit of confidence. The challenge for me is just trying to back that up and keep working on my game, and taking it to the next level."
A determined and focused young man, Stretch said despite his effort against the Dogs, it was disappointing not to get the win.
"We're trying to develop a game that stands up anywhere, anytime and it was good to get a bit more of the ball, get involved and get amongst it," he said.
"I know I've got a lot of areas to improve and trying to maintain that consistency over a period of time is a challenge, so that's the next step for me."
Although noted for his ability to run, spread and win uncontested possessions, it was his 10 contested possessions that also caught the eye against the Dogs.
"I want to play to my strengths and use my run and speed and endurance," he said.
"When I have to, I have to be strong and reliable in the contest and that was probably a weakness, and still is a little bit of weakness in my game, that I need to keep developing at, especially with big bodies out there in AFL footy.
"You need to be able to be strong around the ball and be clean with my hands."