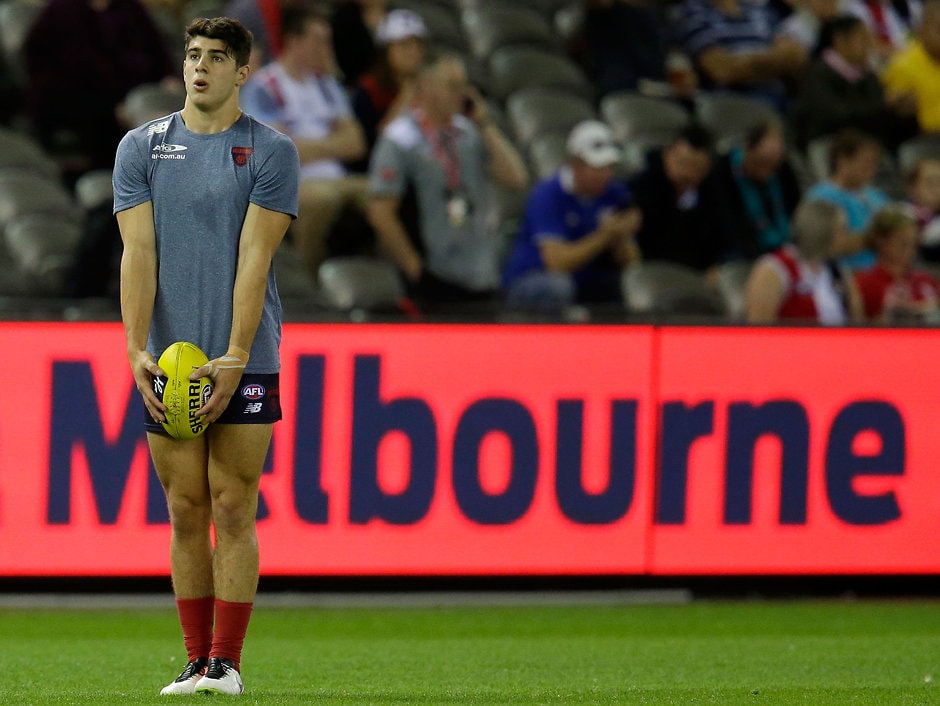 I've dreamt about this since a young kid and after doing my knee last year and now losing my first game – it's not really the fairytale, so you've got to cop it on the chin and move on to next week
Christian Petracca
CHRISTIAN Petracca says his first AFL match was a bittersweet moment.
The 20-year-old, who was the second player selected in the 2014 NAB AFL Draft, said he had achieved a lifelong goal on Saturday, when he played his first game against St Kilda at Etihad Stadium, but experiencing a 39-point defeat was not part of the plan.
"I've dreamt about this since a young kid and after doing my knee last year and now losing my first game – it's not really the fairytale, so you've got to cop it on the chin and move on to next week," he told Melbourne TV.
"It was pretty nerve-racking. As I went for a walk [on Saturday morning before the match] and took the dog for a walk, I just tried to take my mind off the game.
"It's all you can think about, because it's the biggest thing in your life. I'm just happy being out there and having a kick and a run – as long as I got through unscathed – that was all I really cared about."
Petracca said the whole experience of debuting was "a bit of a rollercoaster".
"I was bit nervous not knowing what to expect. Getting out there, I thought I struggled to be honest," he said.
"I didn't look up to pace, but that'll slowly get better and it was my first game. But it's a disappointing feeling, because I wanted to get the win.
"It's an amazing feeling [playing your first AFL match] and hopefully we can get the win next week, and prepare, train and recover well."
Petracca, who had 16 disposals, acknowledged there was a considerable step-up to the highest level.
"I felt all right and once I got my hands on it, I made good decisions, but it was a step-up from the VFL, which I didn't quite expect," he said.
"I thought I did OK, but I'm just disappointed we didn't get the win – that's all.
"We've got recovery in the morning [on Sunday] and we'll just prepare for next week."