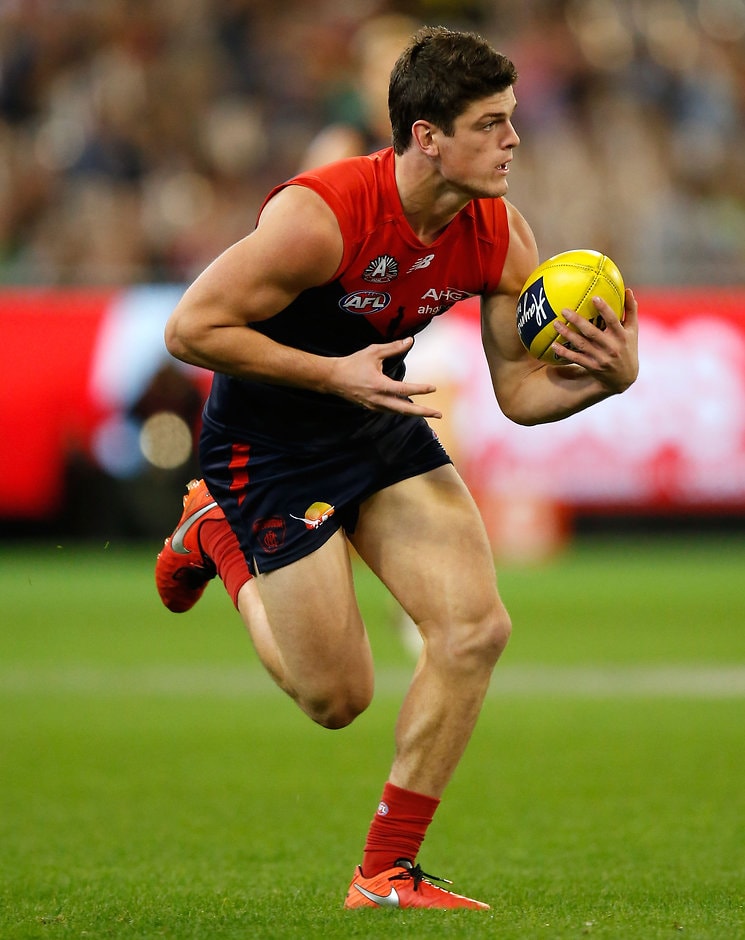 I'm confident that, whether it's two weeks or three weeks, he'll be back in the side and much better for the experience
Paul Roos on Angus Brayshaw
COACH Paul Roos says he confident Angus Brayshaw will come back strongly after he was left out of Melbourne's side for Saturday's clash against St Kilda at Etihad Stadium.
Roos said Brayshaw's knee injury, which he sustained in the opening seconds of Melbourne's first NAB Challenge match against Port Adelaide at Elizabeth in February, had interrupted his start to the season.
"When he did his knee in that first NAB Challenge game, [it] knocked him around more than we felt," he said on Friday at AAMI Park.
"We got him in [the side] and then sent him back for a week, so who knows how long he'll be back in the seconds for.
"We just need to give him a block now and say 'get yourself fit and get yourself confident', because we know he's super talented on what he did last year, but he's a fair way off that.
"I'm confident that, whether it's two weeks or three weeks, he'll be back in the side and much better for the experience."
Roos said the club had decided to rest emerging forward Sam Weideman from the VFL this weekend.
Meanwhile, Roos said he was pleased with the way Tomas Bugg addressed some on field moments during last Sunday's win over Richmond at the MCG.
"I really liked the way he handled himself early in the week and that was unprompted," he said.
"During the course of the game, things happen in the heat of the moment, but I think the way [Richmond's Alex] Rance and Buggy presented early in the week says a lot about our players.
"I know they get a lot of negative feedback at times, but I think the quality of young men that we've got representing all footy clubs has never been at a higher premium.
"There have been some discussion over whether they should or should've done it, but the reality is that they both put their hands up and they were both slightly embarrassed by what they did. They took responsibility for it."
Roos said Melbourne wants to be known as a hard footy club, as Jack Viney mentioned early in the week, but "we don't need to be seen to go outside the rules".
"I know things happen and Buggy understands that, but I was really pleased he rang [general manager of football operations] Josh Mahoney and said 'that's not the way I want to be seen and that's the not the way I think the club should be seen'.
"I think it's great that we've seen two players take full responsibility."