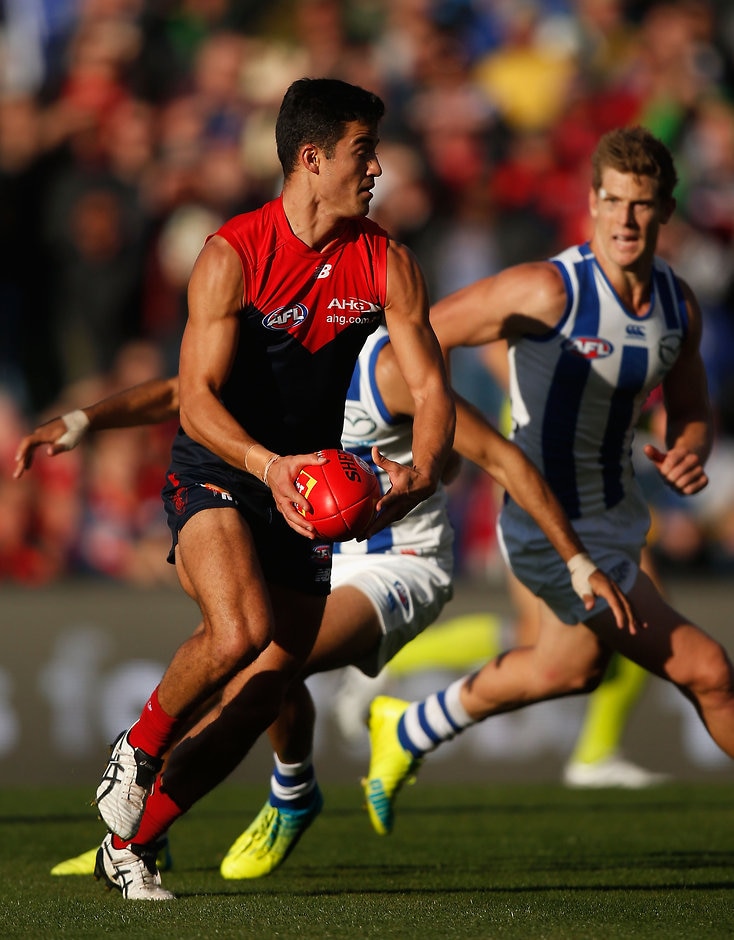 I went up to him straight after the game and said keep your head up man. It's hard and tough for him, because he did have that last shot of the day, but that really doesn't make or break the game
Jack Viney on Billy Stretch
BILLY Stretch is an outstanding young man.
Diligent, focused and quietly determined. He has a genuine passion for the club and a desire to continually improve.
On Sunday, against North Melbourne at Blundstone Arena, he played his first home and away match for 2016, after playing 11 in his debut season last year – a fine effort, for a first-year player with a young body.
Just before the end of the game, Stretch's moment came when he won the loose ball – after his attempted mark in windy conditions was spoiled by opponent Lindsay Thomas – and snapped for goal.
In a tense, game on the line situation, Stretch's shot missed for a behind to the right of goal at the David Boon End, as the siren sounded.
As it turned out, the score wasn't registered. Initially, it appeared on the live stats as a behind, but the siren just sounded before his kick went through. As a result, the Kangas held on for a thrilling five-point victory.
Time might've beaten Stretch, but it was still a tough moment for the young man.
Not surprisingly, he carried himself with aplomb post-match.
Although it was a missed opportunity, his shot shouldn't be remembered as the one that cost the red and blue.
It was the end of what was quite simply a phenomenal game of football.
Either side could've won, as the lead changed several times and Melbourne had its chances.
Really, North Melbourne's seven-goal to zip start, plus four behinds from Melbourne in the final term (not counting Stretch's kick), along with several goals kicked by the Kangaroos from red and blue free kicks were more pertinent in the loss.
In his post-match assessment, coach Paul Roos said there were "a lot more positives than negatives" to take away from the defeat. But he highlighted several moments late in the game that were missed opportunities.
"You'd have loved Billy to mark that ball, go back and kick the goal – that'd be nice," he said.
"I said to Kenty (Dean Kent) after the game [when he kicked his fourth goal with 20 seconds remaining], it would've been nice to give us five or six more seconds with his kick for goal – but it was a great goal. It would've been nice if Vanders (Aaron vandenBerg) had have kicked his as well [at the 31-minute mark], but those things happen in such a close game.
"We executed really well in the last 20 seconds and if the kick [from Tomas Bugg] had have been a little bit lower [to Stretch] – it was a good effort [by Thomas] to get there and spoil – the result might've been different, but it wasn't."
In a sign of good leadership and care, Jack Viney made a point of going up to Stretch soon after the moment, urging him to keep his chin up.
"I went up to him straight after the game and said keep your head up man. It's hard and tough for him, because he did have that last shot of the day, but that really doesn't make or break the game," he told Melbourne TV.
"There were opportunities throughout the game – starting from the first quarter and although I'm sure Billy's taking it pretty hard, he shouldn't be at all. It was a team effort.
"We'll watch the tapes and find where we missed those opportunities and didn't take advantage of."
In summary, Stretch's last shot of the day was always going to be the focus of 'the one that got away' – even if it wasn't the reason for the result.
Final stages of any close sporting contest are always analysed to the nth degree – Sunday's not immune from that.
Still, if Stretch can take away several things from the day, it's the fact he's experienced such a moment in just his 12th AFL match.
Remember, one J. Stynes endured a tough moment in just his 13th game, when he ran across the mark in a famous preliminary final in 1987.
Stretch won't be defined by the moment. He'll learn from it and move on.
He'll have his moments for Melbourne – no question.
We suspect there will be many, too.