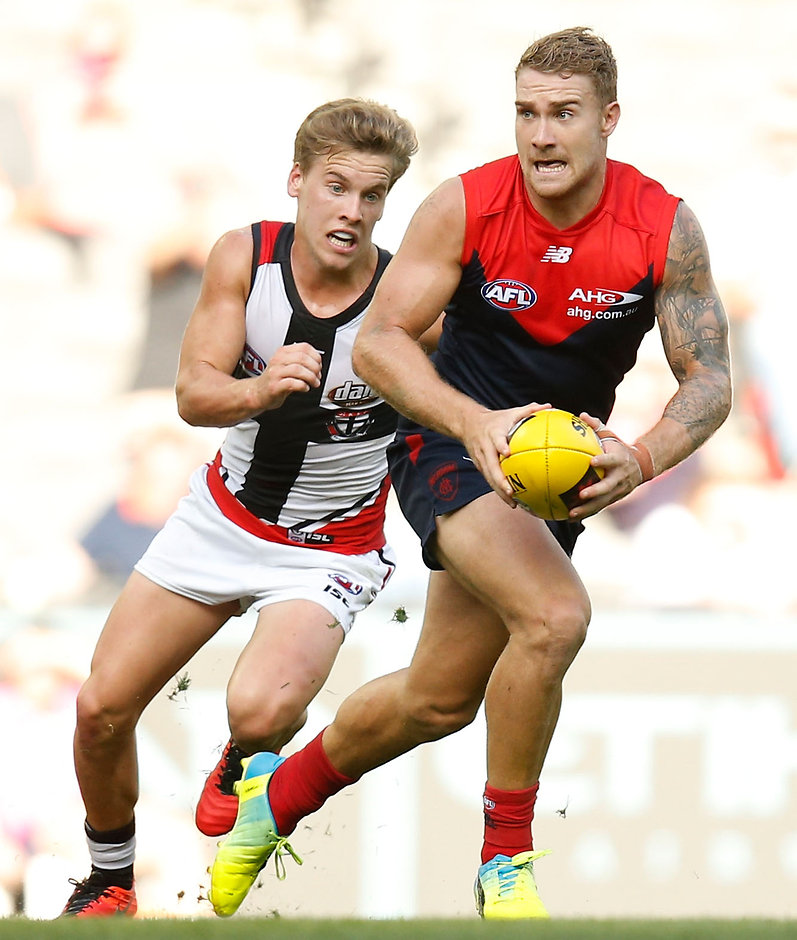 SMALL forward Dean Kent says it's exciting to see selection pressure heading into round one.
Melbourne played a strong team throughout the NAB Challenge, winning its three games against Port Adelaide, Western Bulldogs and St Kilda.
Kent, who played the entire pre-season after having an injury-interrupted 2015, said there was plenty of competition for spots ahead of Saturday's season opener.
"It's actually a really exciting time [and] obviously coming off three wins in the NAB Challenge, there's a lot of boys putting their hands up for round one," Kent told melbournefc.com.au.
"I don't think there are many guys who are set in stone to play round one so it's all just a waiting game and hopefully you get picked.
"Personally, I just can't wait to go out and play footy again, so it's a really exciting time."
Kent is one of a number of small forwards looking to have an impact in 2016, with Jeff Garlett, Ben Kennedy and James Harmes all impressing through the NAB Challenge.
With intense forward pressure a clear focus of Melbourne's pre-season, Kent said it was important to have multiple options inside the forward 50.
"It's definitely been a focus for a while now," Kent said.
"There's a lot of small guys down there who can play similar roles but we're all different types of players.
"It's definitely exciting having so many guys that can go down there and create pressure and forward half turnovers, which we'll be looking for this year."
Kent, who occasionally "sneaks up onto the wing" but primarily plies his trade up forward, has made an impression with his competitiveness and aggression around the ball.
The West Australian, who is known for his pace and tough tackling, said he prides himself on his forward pressure.
"It's just something I try and build my game on," Kent said.
"Obviously I like to get a bit of body around the ball, I wouldn't mind getting a few more tackles but that will come.
"That's something I try and do for the team, is use my forward half pressure and all the goals and the good stuff will come after that. That's one of my focuses going into a game."
The West Australian said he was also enjoying playing alongside close friends Harmes and Jesse Hogan.
"A lot of us are really good mates anyway but being out on the field together we can help one another out," Kent said.
"It's just an exciting time for the club, we've got a lot of young guys stepping up and I just can't wait for round one."