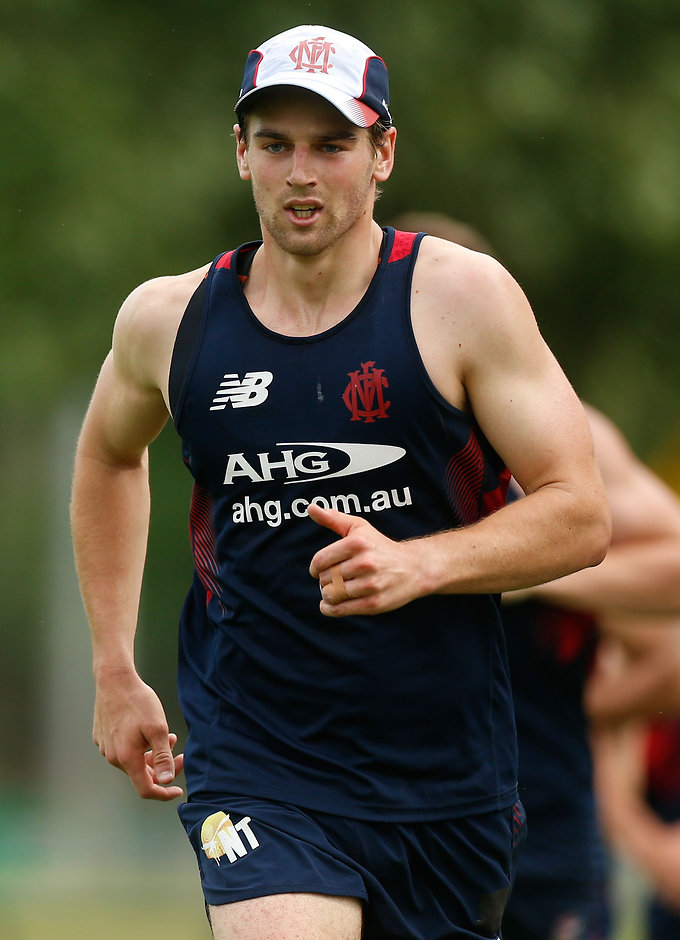 If I had my time again, I would have just initially rested when I first heard it [my knee] against Richmond in round four; I probably tried to play on it and it didn't quite heal as I planned
Dom Tyson
DOM Tyson says he has full confidence in his body going into the 2016 season.

Tyson, Melbourne's 2014 best and fairest runner-up, missed six games in 2015 after sustaining separate hamstring and knee injuries.

Tyson said that while he had found it tough, he was choosing to take the positives out of the year.

"I couldn't get a full 100 per cent out of my body," he told Dee TV.

"Just as I felt like I was coming into a nice bit of form, there was a little medial strain in my knee or a hamstring strain in my hamstring, so there were some frustrating moments, but I've learned a lot this year about my body and about my game.
"I [don't necessarily] think it's a year that you have to have but it's one that just keeps you going and keeps you motivated to continually improve and get better as a player."

Reflecting on the impact of his injuries, Tyson said that recovery time had made it difficult for him to build consistency throughout the season.

"If I had my time again, I would have just initially rested when I first heard it [my knee] against Richmond in round four; I probably tried to play on it and it didn't quite heal as I planned," he said.

"Eventually I needed those two weeks off and then you need a few weeks just to get back into the swing of things.

"It goes really quick to be honest; it's round four and then suddenly it's round 10 so it just all goes really quick in the cycle of playing AFL footy."

Despite the setbacks, Tyson said that he had not lost any confidence in his body or in his ability to play AFL.

"I still remain really confident. I can see as a collective where we're tracking a lot clearer than last year which makes me confident on a collective basis," he said.

"Individually, I'm just excited to get healthy and keep working hard.

"I've got a long way to go to get to where I want to get to as a player so by no means am I satisfied but I'm super confident in my ability and the path I need to take."
Overall, Tyson said that his season had only made him more determined to have an impact on field next year.
"I reckon we're building really solidly and I want to be a part of that has much as I can," he said.

"I like the way that it's all building and where the players are at and I'm just really excited so that's going to push me all through the pre-season."