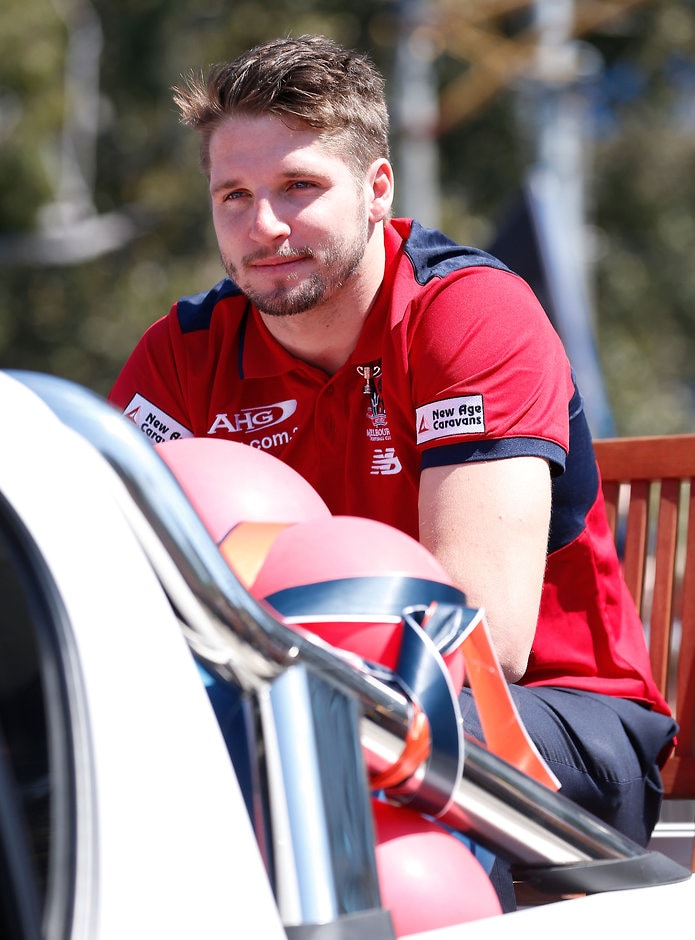 We've already met with Jesse and we've gone through our plan as a club and we've presented that to him and made an offer for an extension for Jesse
Josh Mahoney
MELBOURNE will attempt to extend the contract of 2015 NAB AFL Rising Star winner Jesse Hogan, according to general manager of football operations Josh Mahoney.
Speaking to Dee TV, Mahoney said extending Hogan's contract past the end of the 2017 season was right on the agenda for the Demons.
"It's a question I get asked everywhere I go by a Melbourne supporter," he said.
"He is contracted for two more years, but we're certainly conscious that if there is any opportunity for us to extend [his contract], then we'd like to. We've already met with Jesse and we've gone through our plan as a club and we've presented that to him and made an offer for an extension for Jesse.
"What he showed last year, it probably wasn't a surprise to anyone at the footy club, but a lot of people haven't been able to see it. We've seen it at training and we saw it in his VFL year, but he's going to become a very important player for us."
Mahoney said with the club now having the likes of Hogan, plus Angus Brayshaw, Christian Petracca, Tom McDonald and Dom Tyson, it was an exciting period for Melbourne.
But he added that the club needed to make sure that players were locked in for "an extended period of time".
"It's something that we've got to be wary of as well, when we're targeting players. It can't be at the expense of maintaining our young group," he said.
Mahoney said the club was confident with its younger brigade and used Jack Viney as an example of a player taking his game to another this year.
"Jack Viney, as a player this year, compared to the season before, you can't undervalue [having another] 20 games in a young player," he said.
"He's got real talent and he's competitive, so we're going to have another number of guys in that category.
"If you look down our list, there are not many players where you'd say 'they had a season this year that they can't replicate next year'. Maybe Bernie Vince might be in that category, but he's a bit of a Benjamin Button and seems to be getting better with age really.
"Apart from that, all of our guys are younger guys you'd be expecting to get better naturally."
Mahoney said the club had also unearthed some youngsters this year.
"Even signs late in the year with Mitch White coming off the rookie list late in the year to play a game – he didn't look out of place at AFL level.
"Oscar McDonald played the last couple of games and James Harmes probably played his best game for us in our last game.
"To debut eight or nine guys last year – we think that those guys made us better straight away. We think that regardless of what the games average looks like, we've got a lot of confidence in our group moving forward."