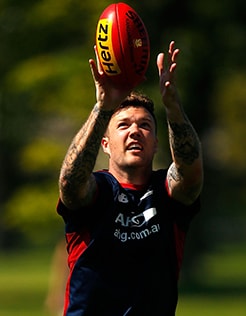 Melbourne Football Club wishes to advise that Mitch Clark will be retiring from the AFL.
Mitch has informed the Club that he will be unable to commit to a full-time career due to his battle with mental illness. 
Mitch's decision to retire is effective immediately.  
Mitch has been battling a mental illness for the past 12 months and has been diagnosed with clinical depression.
Mitch was recruited to Melbourne in 2012 to play a key role in our forward line. Unfortunately Mitch incurred a long-term injury during his first year when he damaged his Lisfranc in Round 13, 2012. Since that point, Mitch battled a number of physical injuries, which limited his ability to play for the Melbourne Football Club.
Melbourne's Manager of Football Josh Mahoney said: "Mitch's health has been the priority in this situation and after assessing all potential options, Mitch decided it was best for him to retire from AFL Football. The Melbourne Football Club supports this decision."
"The Club has been supporting Mitch throughout his illness, providing the best resources to assist him in his rehabilitation. We will continue to support him throughout the next phase of his life."
Mitch Clark said: "I just want to say thank you to the Melbourne Football Club, firstly for giving me the chance to play for them and secondly for taking care of me during my time there."
"Everyone at the Club has been so supportive of me during some very challenging times, which I will always be appreciative of.
"Finally I want to say thank you to the players and members for being there for me. I'm sorry I wasn't out on the field more, but with my injuries, it just wasn't to be.

"I am very grateful for everything Melbourne has done for me.  I will always consider myself a Melbourne player and a Melbourne person."