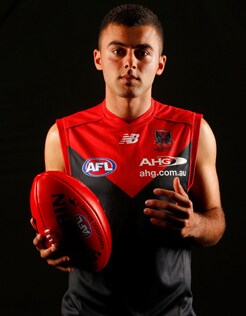 CHRISTIAN Salem – Melbourne's first pick (No.9) in the 2013 NAB AFL Draft – says he wasn't sure if he would become a Demon or Magpie entering Thursday night's meeting on the Gold Coast.
The outstanding young midfielder believed he was headed to Melbourne or Collingwood, but was blown away when the Demons called his name out.
_____________________________________________
Draft recap with Paul Roos
Draft recap with Jason Taylor
Pick 9: Christian Salem interview | Highlights
Pick 40: Jay Kennedy-Harris highlights
Pick 57: Jayden Hunt highlights
_____________________________________________

"It's amazing. I knew I was around this range. I didn't know it would be Melbourne, but I knew it would be either Melbourne or Collingwood, but as soon as I got my name read out I was stoked and so excited," he told melbournefc.com.au.
"Coming across to meet Roosy (Paul Roos) I was just speechless. I just can't wait to get to the club and meet the boys."
"I first met him (Roos) at Draft camp. He just said 'welcome and g'day'. My dad owns a couple of restaurants, so he said he was looking forward to [giving Roos] a few free feeds."
Salem, who was one of the most sought after draft prospects this year, said he was ready to get down to business at the Demons.
"I am a hard working footballer who is respectful towards people and I'm in it to do the hard work and get the best out of myself and put the team first," he said.
"It is everyone's dream growing up to play AFL. Even back in Auskick I still remember thinking I just want to play AFL one day … I am so grateful and humble to be given the opportunity."
A strong and damaging midfielder, Salem said his best friend, who was at the NAB AFL Draft, was overwhelmed, when he was selected by the Demons.
"I barracked for Essendon, but my best mate that I brought up here [to the Draft] is a mad Melbourne supporter and I thought he was about to pass out [when I was drafted by Melbourne]. He was over the moon," he said.
"I didn't think he was going to make it to the pick, because he was so nervous, but I just gave him a little fist bump when I was going up.
"He is a great [mate], so I'm pumped."