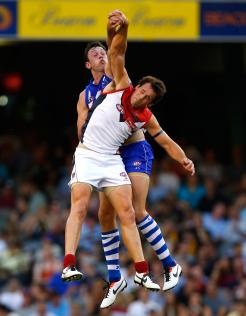 Hopefully, when we play them (North Melbourne) in round 18, [I] can impart a bit of knowledge and help get the win next time.
Cameron Pedersen
ALTHOUGH Melbourne didn't register a win from its opening NAB Cup encounter, versatile tall Cam Pedersen says playing against his former team in his first official match for the Demons was a great, yet unusual experience.

The 25-year-old said he couldn't have been happier donning the red and blue for the first time, knowing that he has a genuine opportunity to show his wares at Melbourne.  

"It was interesting … but I'm more than happy to be at Melbourne and I can't wait for the [premiership] season to start," he told melbournefc.com.au.

"It doesn't matter who you play against, it's just that I had a greater knowledge of them (North Melbourne), so I didn't really think about [who I played against] until after the game.

"I didn't have to check myself, but I knew what they were about to do, because their game plan is still the same. Hopefully, when we play them in round 18, [I] can impart a bit of knowledge and help get the win next time."

Despite Melbourne going down to North Melbourne by two points and then to Richmond by 15 points, the 25-year-old said it was pleasing to get a run under his belt.   

"It was really good to implement a lot of the things that we learned over the pre-season," he said.

"Unfortunately, we didn't get a win, but combined, we only lost by 14 points.

"There were a lot of good signs, especially with the young boys and we can only get better when we get our more senior players back."
Pedersen said the second match against Richmond was simply like a second half fade-out.

"The Melbourne boys have been talking about how after half-time they came out sluggish and we tended to do that again tonight (Friday)," he said.

"But in the second half of the Richmond game, they didn't score a goal, so we showed some good signs and some good fight."
Pedersen played exactly the role he was recruited for on Friday night – predominantly as a forward, with time in the ruck.

"I played about 90 per cent in the forward line and then moved into the ruck for about 10 per cent to give [Mark] Jamar and Pencil (Jake Spencer) a bit of a chop out. I'll probably tend to do that a little bit during the year as well, so it'll be 90 per cent forward and 10 per cent in the ruck," he said.

"We had about 15 blokes go through the forward line, so we'll probably get more continuity when we get a settled six or seven, instead of playing two different games.

"It's really exciting, especially when the head coach (Mark Neeld) says there is a role for you. Hopefully I can keep my form up and hopefully Melbourne can climb up the ladder and we'll get a bit of respect back."

Among the new Demons, Pedersen said young-gun forward Jesse Hogan – who is ineligible to play in the 2013 premiership season, but will be officially listed in 2014 – was particularly impressive.

"Hoges was really good. He's a big lad and he's only going to get bigger and stronger, and he works really hard and he presents well," he said.