Here you'll find engaging activities and tips on wellbeing to keep your mind active!
Indoorphin Challenge
Did you know that exercise can help make you feel happier by increasing your endorphins? See it for yourself with our 30 minute 'Indoorphin Challenge'
Did you know that exercise can help make you feel happier by increasing your endorphins?
Show your gratitude

Make your own thank you card
Show your 'Attitude of Gratitude'!
Think of someone who is special in your life, or perhaps someone who has recently done something kind to help you (Maybe your big brother helped you with your homework, or your classmate invited you to join in their footy game at lunchtime).
Show your thanks by clicking on the image below to download and print your thank you card.
Once printed, simply fold in half to make a card.
There is space to add your own illustration on the front of the card and you can write your message on the inside.
When finished, share your card with your special person to make them smile!
*Tip: Cardboard rather than paper is a great option for this activity.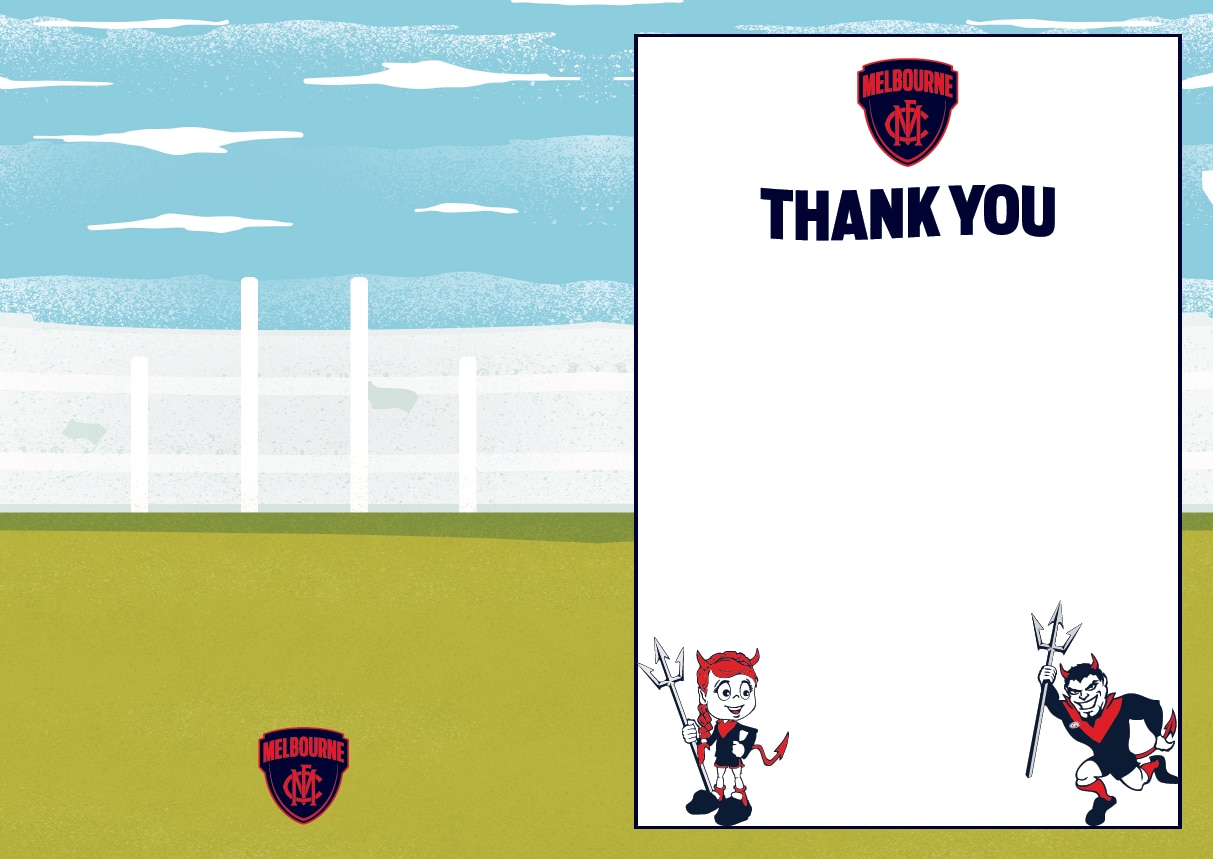 Lights Out
Just like one of our biggest stars of the Melbourne Football Club, Daisy Demon, our bodies and brains need plenty of sleep - and not just before game day!
Create your own bedtime routine below consisting of all the things you like to do each night to help you get ready for a great night's sleep.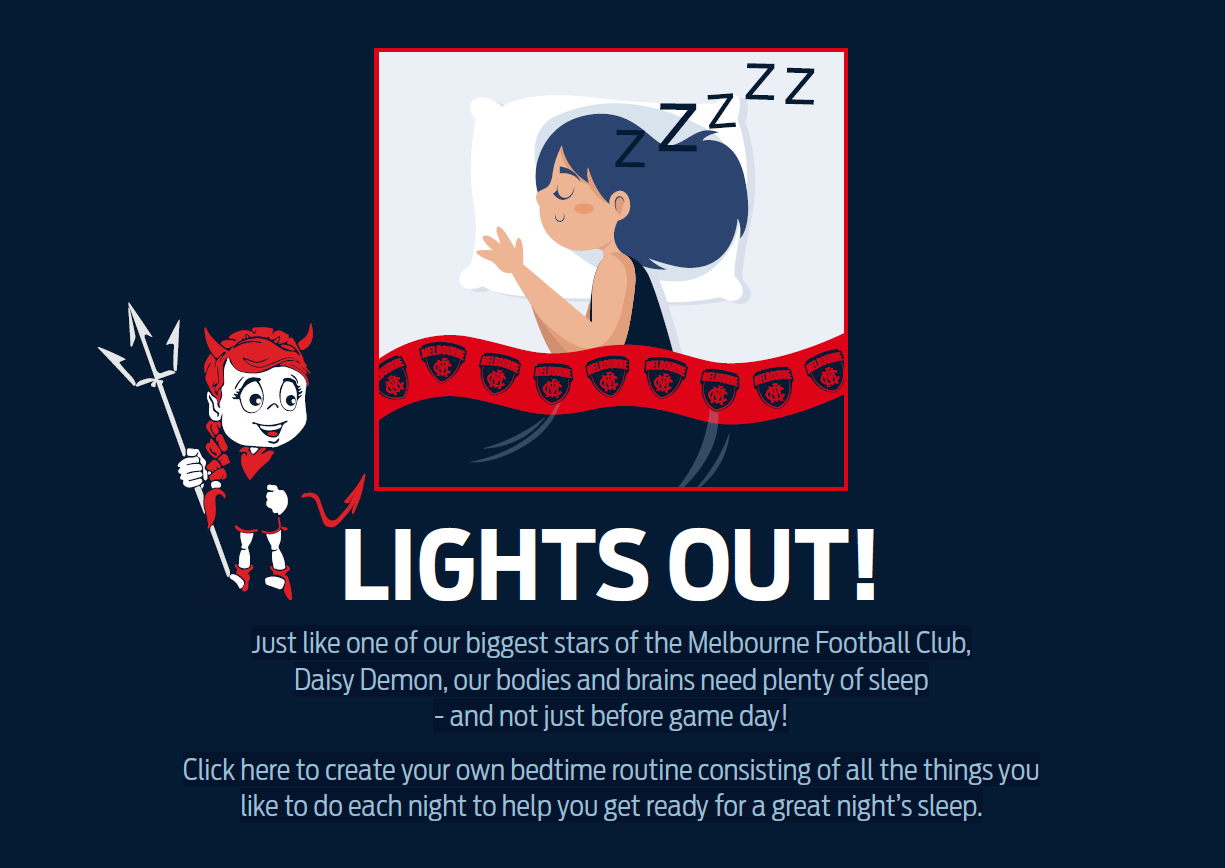 Colouring Pages
Print out a set of colouring-in sheets, featuring our mascots Daisy, Check and Flash.

Ways to stay healthy
Whether you're young or old, looking after our physical health is just as important as our mental health.
Here are some ways you can look after yourself.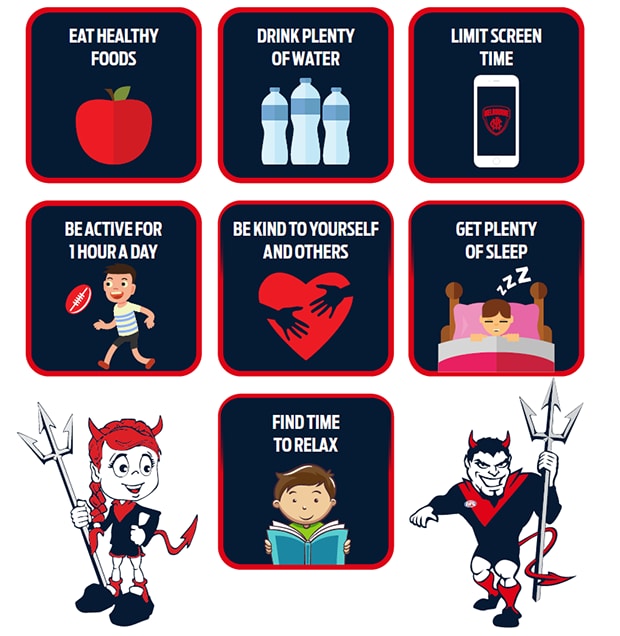 Download and print a guide of ways to stay healthy HERE.
Ways to be mindful
How are you feeling today? Concentrating on something like colouring in can help when you are feeling anxious or stressed.
Why not take some time to sit, relax and focus on colouring the image below, created especially for us by Freya from St Roch's Primary School!
What makes you happy?
Did you know that Jack Viney loves his dog, Sebastian, Jake Lever loves to travel and Clayton Oliver loves….(shhh…) chocolate?!
These are some of the things that our players are grateful for because they make them HAPPY.
We'd love you to share with us some of the things in your world that make YOU happy…
Tell us what makes you happy by emailing heartbeats@melbournefc.com.au for your chance to be featured on this page!
Here are some examples:
Sasha, 9, Clayton: Playing footy in the park with my friends!
Max Gawn, 27, Melbourne: Waking up every morning and seeing my dog Charlie smiling at me! It sets me up for a great day ahead on the footy field.
Toby, 11, Sandringham: Going on holiday with my family and seeing my cousins in Warrnambool every Easter and Christmas.
Jake Lever, 22, Melbourne: Travelling overseas when I'm not playing footy! Last year I went to Singapore.