Jim Stynes was a hero in the truest sense of the word. His personal achievements were many and he left an indelible imprint on the Melbourne Football Club that will last forever. He was and always will be a Demon hero. Perhaps his proudest achievement came in 2008, when he stood in front of a group of Melbourne supporters and called upon them to 'save the club' on a night we affectionately labeled the 'Debt Demolition.' 5 million dollars was to be raised to wipe club debt and begin the movement towards success and the formation of the Foundation Heroes.

Since that night the Foundation Heroes have gone on to be the most successful supporter group in the AFL. A group of passionate Melbourne supporters, spurred on by Jim Stynes to continually stand by the club they love. Effectively, the Foundation Heroes are laying a foundation for our players and coaches to claim the ultimate success the club is striving for.

How to become a Foundation Hero

To become one of this elite group, we ask for a minimum $5000 donation, and welcome any additional donations as you see fit. Some members have achieved silver, gold or platinum status in our Foundation Legends initiative. Once a combined donation amount is reached, donors are elevated into Foundation Legends, who are entitled to an additional range of exclusive opportunities and recognition.
Donations are fully tax deductible when paid to the Australian Sports Foundation via the Red and Blue Foundation.

Foundation Hero benefits:
An invitation to an exclusive annual event. Read about our 2018 event here.
AAMI Park training facility tours
Match Day tours (MCG Games)
Priority access to the Clubs Work Experience program for family members (students aged 15-18)
Priority to junior Guard of Honour on match day
Regular newsletter correspondence
A wide range of exclusive recognition, including: honour board, yearbook and website listing, as well as an individually numbered Foundation Heroes certificate and lapel pin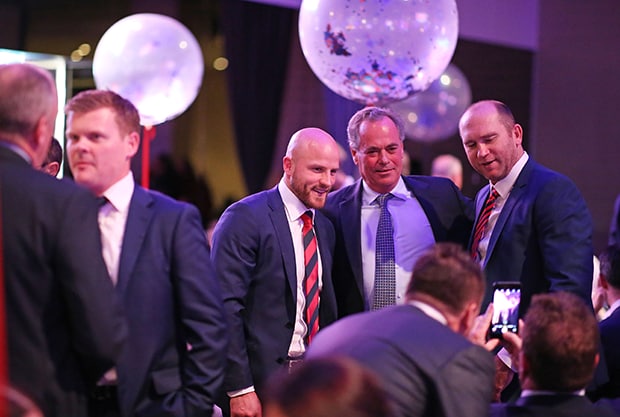 Our 2018 Foundation Heroes and Foundation Legends event
Foundation Legend benefits:

As above, plus:
A range of additional exclusive opportunities
Acknowledgement at club events
Stewardship by club leaders
Recognition – Honour board, club website and yearbook listing, lapel pin

Where donations are directed

Melbourne Football Club Development Fund
The Red and Club Foundation has registered the Melbourne Football Club Development Fund with the Australian Sports Foundation. It encapsulates four key areas that individuals can contribute to in order to help the club achieve its strategic objectives:
High performance (football)
Community and grassroots programs
Women's programs (including women's AFL games)
History and heritage
Donations are fully tax deductible and each donation will play a vital role in ensuring the development of these critical areas. Donors can select a specific project to donate to or alternatively, donations can be made to the overarching fundraising program, the Melbourne Football Club Development Fund.

By contributing to the Red and Blue Foundation, you are helping the Melbourne Football Cub achieve its objectives and in doing so field and develop a strong, competitive team and provide meaningful football and community programs. In addition to providing tax deductibility, all Melbourne Football Club disbursement is fully endorsed by both the ASF and the Red & Blue Foundation, providing assurance for the donor.

In the modern era, the costs involved with the development of critical areas of the club, and requirements to gain the edge in a highly competitive industry, have grown significantly. The club's purpose is to win games of football and to provide positive and enjoyable experiences for our members, supporters, players, staff, customers and volunteers. Our vision is quite simply to be respected and great. Football department expenditure is forecast to grow in coming years, so the support of donors and fundraising is an essential part of the club's future success. Now we need to do more than just compete with other clubs, we need to resource every aspect of our club to the highest level to give our team the very best chance at success.

High performance (football) - The ability to provide players and staff with the facilities and resources required to maximise their potential is a fundamental objective for any AFL club. We operate in a fast-paced, competitive industry, which drives innovation in athlete management, preparation, strength and conditioning and coaching. At Melbourne Football Club, our innovations committee discuss and assess these innovations based on the overall benefit to our players' performance and invest when appropriate.

Community and grassroots programs - The club recognises the importance of giving back to the community and we achieve this through various programs designed to grow the sport at a community level. These include education, indigenous, grassroots and multicultural programs. Football is an integral part of galvanising the community, family and friends. The club recognises this and establishes meaningful initiatives to enhance and support healthy lifestyles and community spirit.

Women's programs (including women's AFL games) - The club continues to be an industry leader in supporting women in football. Through our AFL women's team and support of both senior and junior women's football in Victoria, we actively work to encourage the growth and development of the sport from the grassroots level through to elite senior football. The club has actively pushed for a women's national competition and saw its efforts come to fruition in the form of the inaugural AFL Women's Draft and AFL Women's Exhibition Match in 2013. Melbourne has drafted some of Australia's best female footballers, providing them with an opportunity to train and play at an elite level and will continue to be a force in the AFL Women's competition in the future.

History and heritage - The Melbourne Football Club is the oldest professional football club in the world and we are very proud of that fact. In almost 160 years it has naturally accumulated stores of memorabilia and priceless artefacts that need to be made available for public viewing. Whether it is online or in a museum from within our training base, a dedicated recognition of the Melbourne Football Club's past is an important part of club operation. The club has undertaken a cataloguing exercise of its collections in readiness for the day it has raised enough funds to undertake such a venture.

To find out more about the Foundation Heroes and Legends, and other ways to support the club, please contact us directly on:
Key Contacts:

The ASF's privacy policy and terms and conditions can be found at www.asf.org.au