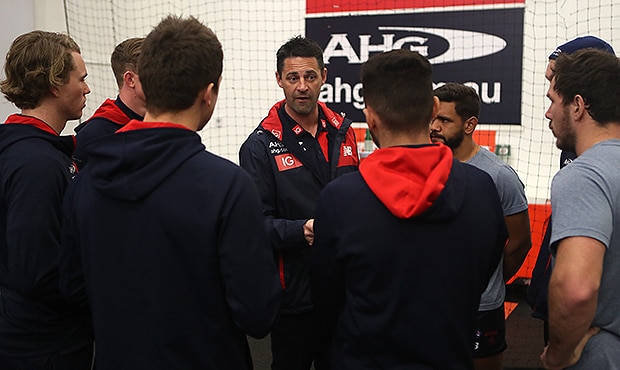 JADE Rawlings has been appointed Casey Demons senior coach for 2018

Rawlings has replaced Justin Plapp, who will become a member of Melbourne's AFL coaching squad.
Plapp, who steered Casey to last year's VFL Grand Final and coached Casey to this year's finals series, also coached the VFL state team in 2017.

Rawlings was Richmond's caretaker coach in 2009 before Damien Hardwick was appointed in 2010.

Following that, Rawlings was also an assistant coach at the Brisbane Lions before joining Melbourne at the end of the 2011 season where he initially held the position of backline coach before taking on the position of defensive coordinator.
Rawlings, who previously coached Coburg in the VFL when it was aligned with Richmond, was eager to pursue the opportunity to coach his own team, but also remain in the Melbourne coaching system.

In return, Plapp was ready to move into a full-time role in an AFL environment.

General Manager of Football Operations Josh Mahoney said Rawlings would bring a wealth of experience to the role.

"We are very fortunate to have someone of Jade's experience to be appointed to the position of VFL Senior Coach of the Casey Demons for next year," he told melbournefc.com.au.

"The VFL program is a critical part of the development of our players and to have Jade with his experience and knowledge leading the team of coaches is a fantastic appointment for us.

"Jade has formed an important part of our AFL coaching structure for a number of years, particularly in our defensive area and this is a great opportunity to add a broader skill set to his coaching career and running a full football program.
"Jade will also become an important spokesperson for our football program in the region as we look to build a genuine pathway for boys and girls from a young age through to VFL and VFLW level."

Rawlings said he was extremely excited for the opportunity ahead.

"Since my time coaching Coburg in the VFL 10 years ago, I have always thought I would like to go back to coaching my own team," he said.

"I can't thank the Club enough for providing me with this opportunity. The Melbourne Football Club and the Casey Demons have built a strong relationship which I look forward to further contributing to in the future.

"Something I am passionate about is developing and teaching players to become the best they can, not only on the field but also in their personal lives."

Mahoney commended Plapp's work at Casey over the past three seasons.

"Justin Plapp has done a terrific job as Casey Demons senior coach for the last three years and he has developed extremely well over that period of time," he said.

"In the coming weeks we will be transitioning him into a full time role within the Melbourne coaching structure for next season.

"The best football programs have coaches that have the skills that provide some flexibility in the roles that they can perform, we see this as a real strength for us as a club and for the individuals within the coaching structure to continue their development."

Melbourne has also recently bolstered its resources within the Casey program with the addition of Peter Maynard.

"We are investing more resources into our activities at Casey Fields and the South East region with the recent appointment of Peter Maynard to the role of General Manager – Casey Football, where he will oversee the VFL, VFLW and Next Generation Academy programs," Mahoney said.