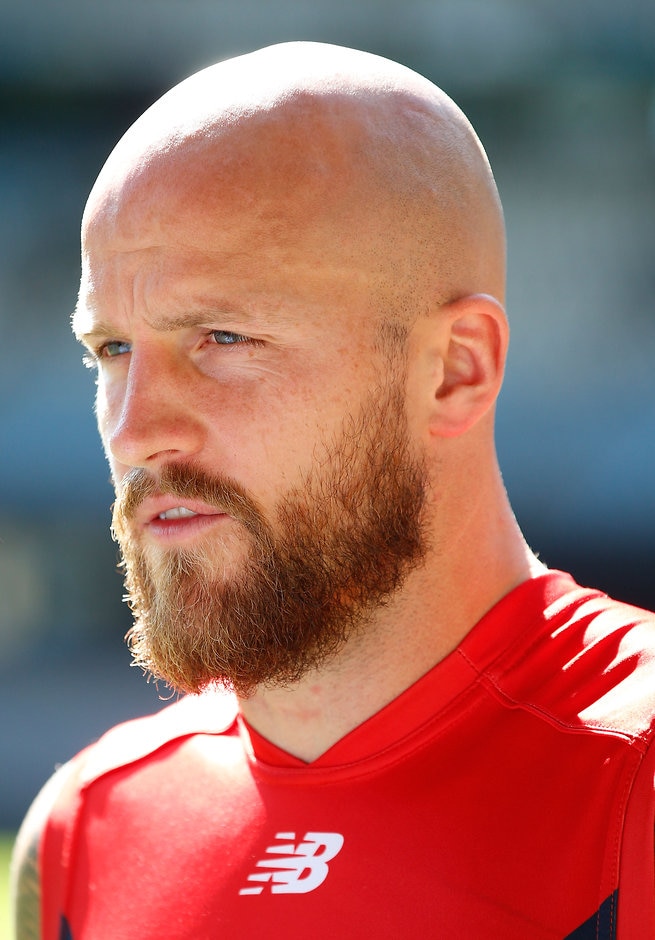 CAPTAIN Nathan Jones says it's exciting to have selection headaches heading into round one.
Melbourne has close to a full list available for selection, with several players regaining fitness through the VFL last week.
Jones said while some players would be unlucky to miss out on the final 22 for Saturday's game against GWS Giants, it was a "great position" to be in.
"We feel prepared – I reckon we've had a really strong NAB Challenge campaign and a pretty tough pre-season and our list is in great shape," he said on Wednesday.
"I think it's going to be tough for selection this week, there'll be some unlucky guys and some guys in form [missing out].
"From our point of view, I think we're in a great position and I'm really excited about the challenge ahead."
Melbourne split the points with the Giants across their two clashes in 2015, winning the second game at Etihad Stadium in round 23.
Jones said he expected Saturday's game to be another tough contest between two developing sides.
"We're facing an in-form GWS – I've been really impressed with them over the NAB Challenge series," he said.
"They've got some real talent and there's probably been a bit of a rivalry there over the past few years.
"So I'm excited to play them and we're not really looking any further ahead than this week."
Having had a weekend off between the pre-season matches and round one, Jones said the players were ready and raring to go.
"You can really feel the shift when you get to training on Monday after having the week off leading into the first game of the season, there's real excitement," Jones said.
"I think there's that added optimism about how we've performed over the NAB Challenge and wanting to carry that form ahead and get out there and challenge ourselves for a real result, where the game actually counts for something.
"That's what we get to do this Saturday and we're looking forward to it."
Melbourne had a clear focus on offence in its NAB Challenge games, kicking more than 100 points against all three of Port Adelaide, Western Bulldogs and St Kilda.
Jones said the team had "laid the foundations" of a game based around strength around the contest and would now continue to work on its ball movement.
"We're starting to move the ball a bit more freely, which allows you to defend from better positions and gain positive territory, which allows more energy to compete around the contest and hold the ball inside your forward 50," he said.
"We've worked really hard on that and I expect that [ball movement] to continue.
"I think there'll be some ups and downs with it and we'll be tested against some better teams and particularly now going into the season when the opposition puts a bit more time into trying to stop you.
"But we're not going to change the way we play and I think that's going to be the challenge for us – making sure we get the game on our terms and continue to play that way week in, week out."