MELBOURNE captain Nathan Jones was apprehensive about letting surgeons cut into his neck this off-season but has no regrets after it instantly relieved him of crippling pain.
The 27-year-old had an operation on a prolapsed disc at the start of September, requiring doctors to make an incision at the front of his throat.
It came after the tough midfielder played much of the season with the injury, which was initially treated with cortisone injections to enable him to get through the year.
It wasn't an operation common for footballers, and unsurprisingly caused Jones some anxiety about whether it was the right move, given the delicate and complex part of the body involved.
But as the injury deteriorated throughout the season, Jones did his research not only on the procedure, but also the risks of delaying it until the end of the year.
After seeking several expert opinions, Jones and his wife, Jerri, were left completely comfortable with their decision to go ahead with the surgery.
"My wife knows how much [playing] means to me but at the same time I didn't leave any stone unturned in terms of just checking up through with surgeons and second and third opinions," Jones said on Thursday.
"At no stage was it detrimental to my future or how I feel in the long run – it was more about the decision just for the current season.
"I was really nervous heading into it; I wasn't even sure if it was going to make much of a difference.
"I knew almost straight away within 24, 48 hours afterwards it was the best decision I made.
"I'm glad I made that decision to get it done post-season and I'll be right 100 per cent heading into next season."
Jones consulted with a number of neurosurgeons about how his long-term health could be affected as the season progressed, and spent a good month thrashing out what path he should take in treating it.
He was assured the worst-case scenario was that he could end up back in as much pain as he experienced before the cortisone treatment.
Jones in contemplative mood ahead of his press conference on Wednesday. Picture: AFL Media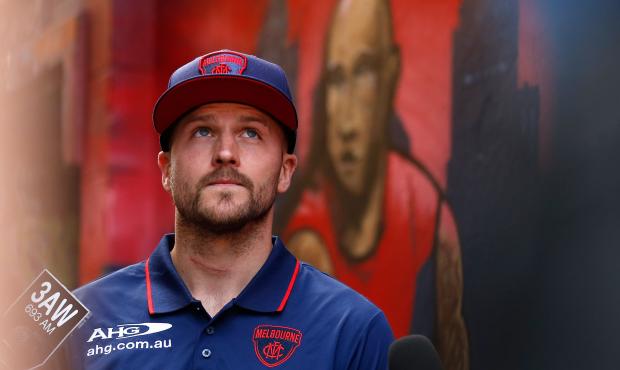 So he waited, played out the year, and had the operation on September 14.
Afterwards, he didn't go on his usual surfing off-season holiday and instead visited Europe with Jerri and their infant daughter Bobbi.
There, he reflected on what he'd been through in managing the injury, getting it fixed and how he has felt since.
"I've had no real recurring nerve pain, which I had throughout the year, since the op and mainly now it's just really re-strengthening the muscles and stuff that were hindered by the nerve being blocked throughout the season," he said.
"I'm probably a fair bit ahead of schedule but the main thing that's going to hold me back is getting involved in contact.
"My surgeon is certain I can't get hit in the head for at least the next couple of months."
Jones has been running for nearly a month but won't take part in match play until after Christmas.
He'll officially start pre-season on November 23 with plans to ramp things up after the festive break.
Jones is bullish about the Demons' prospects for season 2016 and says finals might not be "too far out of reach".
He also believes last year's No.2 draft pick, Christian Petracca, will push for round one selection after missing all of this season with a wrecked knee.
"He's in terrific condition at the moment and I expect him to keep ticking the boxes," Jones said.
"He's a terrific talent and probably was almost definite to play round one last year before he hurt himself.
"There's no pressure on him, you just expect him to keep doing what he does and I look forward to seeing him in full training … if he keeps going the way he's going I expect him to put his hand up."
The Demons revealed a new logo on Thursday in a bold Melbourne city-centric launch designed to link locals to the club and appeal to a younger demographic.
"The stereotypical Melbourne of old has wanted to find a new direction, and along with the new logo we want to connect with the city and our name," Jones said.
"The footy club is the only team in the league that holds the Melbourne name, and [the logo is designed for the club] to become more edgy and cool and I think they've done that."
Nathan Jones in front of a mural commissioned for the Demons' logo launch. Picture: AFL Media